For Rajinikanth fans across the globe, the expectations from Kaala are really high. The superstar will be seen on the big screens after a gap of two years his last being Kabali, another film directed by Pa Ranjith. But there is a lot of difference when it comes to the Rajini, who starred in Kabali, and the Rajini who is seen in Kaala.
Kaala is the first release after Rajini made the announcement on his political entry.
The actor is no longer put under the scanner only for his reel character but his real character is also being constantly scrutinised by the public. Comparisons between a roaring hero, calling for people's movement in his film, to a passive self in real life are being constantly made.
Many are finding it hard to digest the stark difference between the reel and real personalities of Rajinikanth. Rajini is known to be grounded, soft-spoken, and mindful of his words to others, witty in his criticism and his need to be pleasing at all time. This could be attributed to his humble beginning and also to his intense connection with spirituality.
Well, if there is a difference in the real and reel life Rajini, his friend and colleague from the film fraternity, who plunged into politics just weeks before Rajini — Kamal Haasan — seems to be impressing the public by recreating his reel life in real life as well.
In noted films like Indian, where he was working for ending corruption or in Thevar Magan, where he was seen as a local leader working towards bringing together rival communities and in Nayagan, where he was seen as a cult leader working again for the welfare of the people, Kamal through his political journey too has been recreating the same images through his cinema.
He has been loud, outspoken, and has been showcasing the angry man provoked by the corrupt world. Be it him in his first political rally announcing that the people are the ones to blame for the society we live in or strongly stating that he is ready to accept failure over paying for votes in the elections to come.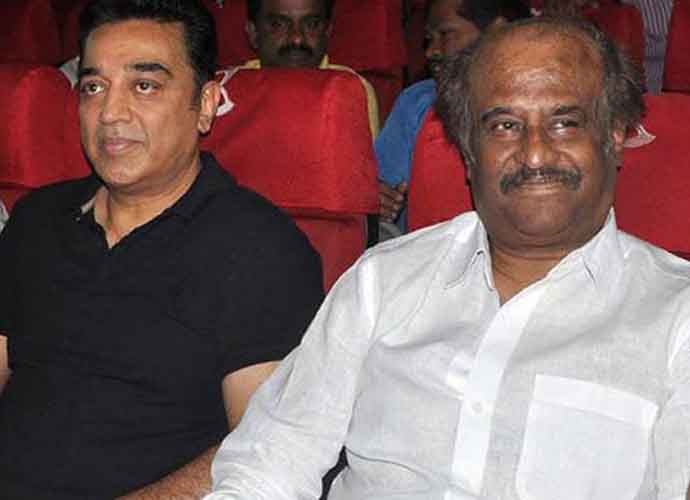 At a time when Tamil Nadu lacks a political face like Jayalalithaa, who passed away in December 2016, or M Karunanidhi, who has been out of action due to his ill health, there has been a much-needed desire for a strong political face who can fill in the void left by the two veteran leaders.
Rajinikanth was seen as someone who could fit into that role until Kamal joined the fray with his critical views on the government and its actions. Though Rajini did announce his interest in politics, he is taking it slow and ensuring a proper ground is in place before he makes any announcement with regards to a political party.
Rajini has described himself as "not a complete politician" saying his work in the political direction is underway. "Kanna… (in a typical filmy style) When it is time, I will come in and the time is not yet right," Rajini had said during the audio launch of Kaala on the issue of his party launch.
In sharp contrast, Kamal made his way quickly by making his voice heard on issues of critical importance.
His meeting with farmers or his presence at Tuticorin during the protest in April or being one of the first to reach the hospitals in Tuticorin after the violence, and also his recent meeting with Karnataka chief minister, HD Kumaraswamy, are all proof that Kamal is making swift steps to assert himself in his new avatar as a politician.
But Kamal's enthusiastic visits from one spot to the other to score political brownie points too have drawn criticism from several quarters. A few angry protesters from Tuticorin had remarked, "It is like he is doing a mini vacation jumping from one spot to another. He thinks that just by seeing his face or his assurance that he will return soon, people will be happy. But the truth is the visit is seen only as a film star just waving and leaving and not as a person who is really trying to understand our problem."
From CN Annadurai, the first chief minister of Tamil Nadu, to M Karunanidhi, to MG Ramachandran (MGR), to J Jayalalithaa, everyone had a stint with cinema before their political plunge.
Annadurai was one of the first to use cinema as a medium for political propaganda. All four have had successful stints as chief ministers.
Rajini and Kamal have established themselves in the field of cinema, but it remains to be seen if they can repeat the success story in their political avatars?