Kamala Mills fire in Mumbai shows nobody cares for safety
At least 14 people have died and about one dozen more have been injured in the fire that broke out in Lower Parel.
At least 14 people died and close to a dozen were injured after a massive fire broke out at Kamala Mills compound in Mumbai's Lower Parel suburb on Friday (December 29) just after midnight. The deceased include 11 women, most of them in their late twenties and early thirties.
The Kamala Mills premises on fire.
The fire reportedly started at the restaurant 1 Above inside the compound's premises during the birthday celebrations of one of the deceased and, tragically, the list of casualities includes many who were at the party.
Eyewitness accounts
It is believed the fire spread quickly leaving little time for people to react or escape.
There was a stampede and someone pushed me. People were running over me even as the ceiling above me was collapsing in flames. Still don't know how I got out alive. Some powers were definitely protecting me ???????? #kamalamills

— Dr Sulbha KG Arora (@SulbhaArora) December 28, 2017
The fire started and before we knew it the whole place was engulfed in a matter of seconds :(

— Dr Sulbha KG Arora (@SulbhaArora) December 28, 2017
It was under 15 seconds or so! No one knew where the fire exits were.

— Dr Sulbha KG Arora (@SulbhaArora) December 28, 2017
UNBELIEVABLE! Was damn lucky to notice this and raise the alarm in time #KamalaMills #Fire pic.twitter.com/Yx2Dt9qLGB

— Dramatical Error (@nigel_pais) December 28, 2017
The fire is believed to have been so massive that it caused the ceiling of the restaurant to collapse.
This is bloody insane.. #kamalamills stay safe pic.twitter.com/kqQWbc7QCf

— Akshay (@OpenPatel) December 28, 2017
What caused the deaths?
Initial reports suggest all deaths happened due to suffocation and not because of fire-related injuries. The fire quickly spread from the top-floor restaurant throughout the four-storey building.
After the fire.
A News18 report said that in the chaos that followed the blaze, several women rushed to the men's washroom to save themselves. Tragically, it proved to be a death trap as the washroom had no ventilation and choked them to death.
Rescue efforts
It took about 12 fire tenders over five hours to douse the blaze.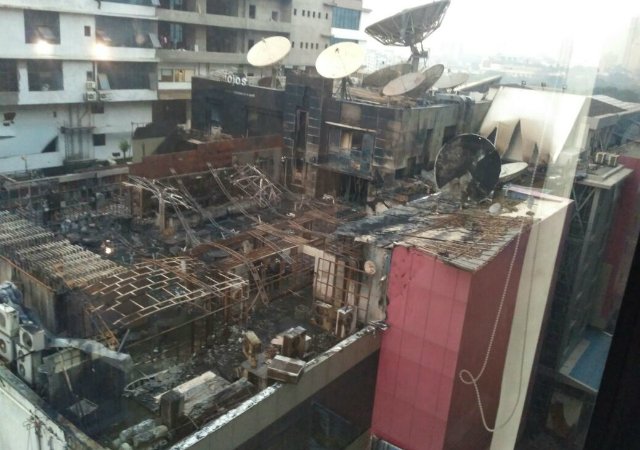 Offices gutted.
In addition to the fire tenders, four water tankers and an emergency ambulance were pushed into service to fight the blaze.
Why Kamala Mills turned deathbed
Kamala Mills in central Mumbai is among the sprawling mill compounds that have evolved into bustling hubs of restaurants, pubs and offices over the years. An increasing number of restaurants in the 37-acre premises in Lower Parel has turned the complex into a popular nightlife haunt. Several media offices are also housed in the complex.
#kamalamillsfire tragedy, I found this old video which claims of fire blows at mojo's from #KamalaMills . Is it safe? Do they have safety measures installed? Does this is the reason of fire? So many questions, but who cares. Just have money, spend it.. @MumbaiPolice @TV9Marathi pic.twitter.com/dwtZ1glD63

— Sameer Sawant (@imsameersawant) December 29, 2017
Regular visitors to the area tweeted about how Friday's tragedy was waiting to happen with authorities doing little to pre-empt it. Almost every fire tragedy in India has highlighted the fact that more people die not because of the fire itself but because there are no escapes or exit routes available.
The problem is aggravated by the fact that most fire safety equipment are found to be non-functional every time such a tragedy unfolds.
This is crazy! So glad you are safe. Most such places in Mumbai are a maze of illegal electrical wiring with wires hanging all over the place. A disaster waiting to happen.

— Nandita Iyer ???? (@saffrontrail) December 28, 2017
True Nandita, and Kamala is definitely one of them. No one even knew where the fire exits were. We were just trapped.

— Dr Sulbha KG Arora (@SulbhaArora) December 28, 2017
Agree on this. Have visited kamala mills many times but during day. With so much mess around can imagine what it must be at night.

— RITESH MISTRY (@rit_76) December 29, 2017
Access to @VerbenaMumbai at #KamalaMills from the 3rd floor is a narrow staircase. This Pub Bar flouts noise norms every night. More than 25 calls to the police have gone on deaf ears. @Dev_Fadnavis @MCGM_BMC @Ranjitpatil_Mos

— sandip sabharwal (@sandipsabharwal) December 29, 2017
Ironically, just a day before the Kamala Mills fire, a DNA report brought to fore the fact that as many as 4,500 thousand high-rises in the city were not fire-safe. This means the lives of lakhs of those staying in the 4,500 buildings are only at the mercy of fate.
A victim being moved to the hospital.
The Brihanmumbai Municipal Corporation and Fire Brigade have failed in not just creating awareness about fire safety but also in ensuring that safety regulations are followed in letter and spirit.
While the cause of the fire remains a matter of investigation, the apathy of authorities in ensuring safer public spaces is a story so routine that it fails to enrage us.
Also read: Triple talaq bill: Why we need to doubt Modi government's intentions