"My home was demolished today, your arrogance will crumble tomorrow," said Kangana Ranaut to Maharashtra Chief Minister Uddhav Thackeray in a video message using "tu", not "you". She couldn't have said you because she was talking in Hindi and she couldn't have said aap because come on, who uses aap janab in a war?
The first war casualty has been Ranaut's 'Ram Mandir' in Mumbai's Bandra, which according to the "Bullywood" actor was demolished by 'Babur and his army'. Whether she considers Uddhav 'Babar' or the title went to Sanjay Raut is not immediately known. Either could be Babur.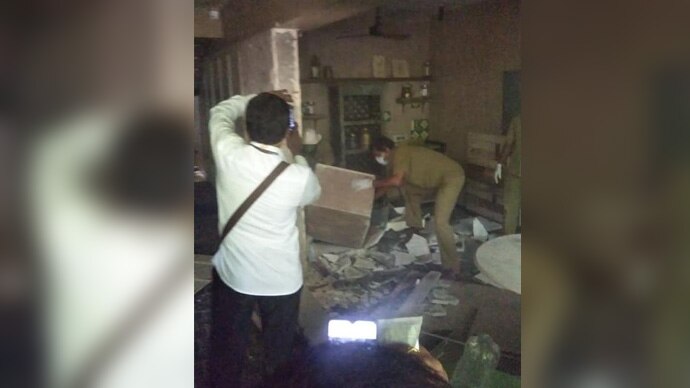 Kangana Ranaut's demolished office. (Photo: Facebook)
"I am never wrong…" began a tweet from actor Kangana Ranaut after being proven right by Brihanmumbai Municipal Corporation (BMC) this morning. The tweet came in a series of tweets before and after her very own 'Ram Mandir' was demolished.
The Bombay High Court has put a stay on further demolition. But BMC has said there could be more trouble for Kangana because she may have to face the legal implications of 'illegal construction work'. With a stay on demolitions till September 30 in the wake of the pandemic, the BMC may also have to explain why it woke up early and hurried with its JCB machines to demolish the property. Also, why BMC, which can't even fill potholes in the city, has shown this unseen swiftness in the demolition drive.
Destruction is always easier than construction. Simple.
So all war and no work? Ranaut, who landed in Mumbai with sister Rangoli, has announced she will now work on a movie on Kashmiri Pandits even as she is working on a movie on Ayodhya.
The office has been demolished but the drama is building. There is also more drama unfolding. That is happening in the death of Sushant Singh Rajput. Rhea Chakraborty, Sushant's girlfriend, was sent to Byculla Jail today before the focus shifted to the demolition drive. We will get back to the focus on the jail later. Because for now we want to focus on what people have been focusing on since yesterday. A T-shirt Rhea wore.
The T-shirt and the message. (Photo: PTI)
There is a general sense that Rhea chose the T-shirt to convey that she is a victim of patriarchy. Rhea has neither confirmed nor denied that the T-shirt was worn with a purpose. That is because she was never asked. Investigating authorities are asking her only about drugs for now. But some chose to extend support to Rhea by taking the message on her T-shirt to their Twitter and Insta accounts in a bid to take it ahead. That of course, came after some chose to call her 'arrogant' for that slogan on her T-shirt.
Rhea may or may not be a victim of patriarchy in this case, but there is no woman who hasn't been a victim of patriarchy in one case or the other. So, the case against Rhea notwithstanding, patriarchy needs to be smashed on all days, including Sundays. For that we need to know what patriarchy is.
Patriarchy, the Word Of The Day, literally means 'the rule of the father'. It comes from the Greek word 'patriarkhēs', which means 'father or chief of a race'. Let's break the compound word to get to its core. Patria means 'lineage or descent' and arkhy means 'domination, authority, sovereignty'.
Historically, patriarchy as a term has been used to refer to autocratic rule by the male head of a family. Since the late 20th century, however, it has also been used to refer to social systems in which power is primarily held by men – men in houses, men in offices, men in public places, men on Earth, men in water, men in air, you name it. The result of a patriarchal society is women raped, molested, paid less, denied opportunities, denied freedom and also blamed for the vices of their male partners. In a patriarchal society, women are also blamed after being raped for provoking men to have done it.
You can debate whether Rhea wore the T-shirt to convey a message or just for comfort, but there is no debate over the need to smash patriarchy.
Where is Rhea? In Byculla Women's Jail, a jail known for being a hell hole. Rhea's bail plea will be heard tomorrow so for today at least, she will have to stay in that hole.
It is the same jail in which 45-year-old Manjula Shetye was killed after she found out that only 200 eggs, instead of the mandated 300, were being provided to the inmates. It was Shetye's death that lifted the veil off the hell that the jail was. On June 23, 2017, just a few months before her sentence was to end, Shetye, who was made jail warden because of her good behaviour, was distributing food to the inmates at 9 am. She noticed two eggs and five slices of bread were missing and learnt that 100 eggs were being taken away from the share of the inmates every day.
She went to jailer Manisha Pokharkar's office to ask about the missing food. What inmates heard next were only Shetye's screams. She was dragged back to her cell with a scarf tied around her neck. Eyewitnesses said that female constables held Shetye's legs apart while the male ones inserted their lathis into her vagina. She was left bleeding in the cell. In the evening she was taken to the washroom where she fell unconscious. The staff rushed her to hospital, where she was declared brought dead.
Subsequent probe found how badly women in the jail were treated. Inmates were given one soap bar to wash utensils, clothes and themselves. Only six sanitary napkins were given to each inmate. You dared not say you need more. The food had worms in it. Anybody who spoke up was beaten.
Next time you see people fighting over eggs in the Bigg Boss house, you do not need to recall Shetye. There is no comparison between the two.
Contestants move into the Bigg Boss House next month. Omar Abdullah is moving out of his house, which was a government house, before next month ends. He would be out and about by October end because he wants to do it and not because someone served him a notice to do it. So Omar is house hunting and would leave the government accommodation as soon as he has hunted the house.
Omar Abdullah's letter to the J&K authorities. (Photo: Twitter/@OmarAbdullah)
Sourav Ganguly, meanwhile, has left India and landed in the UAE to take stock of the preparations for the Indian Premier League that kicks off on September 19 amid a raging pandemic.
With some players testing positive, some choosing not to join their teams and some returning from UAE, the IPL has hit some roadblocks, which Ganguly needs to clear now.
Sourav Ganguly before leaving for UAE. (Photo: Instagram/souravganguly)
But who will clear the roadblock that the vaccine trials have hit? AstraZeneca Plc has said it has paused a late-stage trial of one of the leading Covid-19 vaccine candidates after an unexplained illness in a study participant. AstraZeneca and University of Oxford researchers are working on the vaccine in collaboration. The work will resume when it is safe to resume work on the vaccine; that is, after scientists have figured out why the participant developed the illness.
That will take some time, but tomorrow Florence Parly, Minister of the Armed Forces of France, will land in India and be the chief guest at the event organised to formally induct the Rafale aircraft into the Indian Air Force. The event will have two chiefs with Indian Defence Minister Rajnath Singh as the other chief guest.
From Himachal to Maharashtra wars are breaking out, but we do hope the need to use Rafale in a war doesn't arise. Talking of war, however, US President Donald Trump has been nominated for the 2021 Nobel Peace Prize after helping broker a peace deal between Israel and the United Arab Emirates.
A pyjama ad being shot in Dubai.
On that peaceful note, we will take your leave on a war-torn day, with a hope that tomorrow there will be news of some truce.
Have a peaceful day, or what remains of it.
Now get the all new DailyOh in your mailbox. Click here to subscribe.