Has India turned into a society of relentless, simmering and organised barbarism in the era of "acche din"? On the day our Constitution should be celebrated did it instead, turn Hobbesian. Did it reflect a retrograde, cracked image of Khaled Hosseini's Talibanic regime and social order in Afghanistan - with a thousand terrible suns? Have mob violence and xenophobia, as a daily public spectacle, become legit in post-Davos India?
As Kasganj near Mathura refuses to normalise with the death of a 22-year-old man (still unclear - shot by whom?) looming over the tense by-lanes and empty terraces, you can still hear the screams of little children in a school bus in Gurgaon. The administration has failed in protecting children, who are the hope for the future of this democratic republic. No one could protect them from the mob violence unleashed by criminals of Karni Sena.
Children held on to their teachers trying to duck as glass windows were smashed with iron rods amid screaming and hysteria. Not knowing what had hit them, little children crawled on the floor of the bus amid trauma and fear.
A bus with 30 passengers had earlier been burnt near the same area. Luckily, the passengers survived.
The 13-second video shot inside the ill-fated school bus captures the essence of a society which has been dehumanised, where such violence can be unleashed brazenly without even an iota of shame, often with the tacit support of the political class and the ruling regime. Such violence is being increasingly witnessed in the BJP-ruled states.
With scores of Muslims arrested in Kasganj, predictably, and with their shops and homes burnt down, the area will never be the same again.
All verified reports point out that violence started when members of the Muslim community were trying to hoist the national flag in their locality as part of Republic Day celebrations. They had arranged chairs on the road with the help of donations made by locality residents.
While celebrations were underway, a group of ABVP/RSS men holding the Tricolour entered the area and disrupted the peaceful flag hoisting ceremony. There is evidence to this, however, it has been ignored by much of the television media.
The ABVP/RSS men demanded that the chairs be removed for their bike rally - an irrational and indecent demand on a solemn occasion. When asked to join the programme, they shouted the usual anti-Muslim slogans such as "go to Pakistan". Members of the Muslim community called in the police. After a lot of shoving and pushing, the police managed to avoid a clash. The aggressive saffron Tricolour rally subsequently moved to another locality, also inhabited by Muslims. That is when the violence began, followed by bloody chaos.
Why is it that the Hindutva storm troopers can't hold their hold their own celebrations peacefully and harmoniously in their own glorious company? Why do they have to enter other people's domains, their private, secular, intellectual and religious spaces, their cinema and seminar rooms, their collective celebrations and mourning, their literature and theatre festivals?
This is exactly what they did when they entered a reasonably rational seminar - held with permission - at Ramjas College in Delhi University, beat up students and teachers, broke glasses of the seminar hall, and branded all the participants and organisers "Pakistani and anti-national". The violence was started accusing the speakers as "anti-national", targeting two student leaders of JNU. Later, a video was found to be doctored much like the doctored JNU video that was shown on a television channel.
The dark irony is that the Zee Jaipur Literature Festival, organised by the same TV channel, now faces a public threat from the Karni Sena. Prasoon Joshi might be a successful ad maker, and a successful lyricist, but as the censor board chief appointed by the central government, his position has been clearly pro-BJP.
He and another ad honcho, reportedly helped design Narendra Modi's public relations campaign in 2014.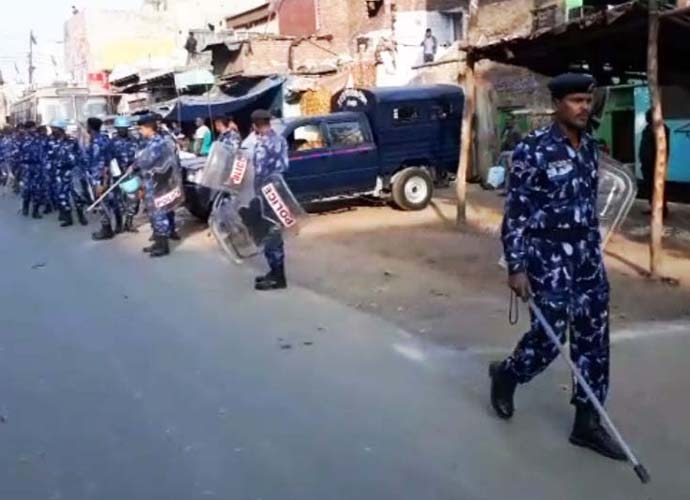 It is a classic case of chickens coming home to roost when Joshi himself has to back out of the Literature Festival, because the Karni Sena, which is patronised by the BJP regime in Rajasthan, has threatened not to let him enter Jaipur. This has come after public threats to cut the nose of actor Deepika Padukone among other grotesque threats.
Truly, a spectre is haunting India. A spectre of legitimised and unstoppable violence unleashed by mobs with political backing. It is like the murderous attacks on Jews in Hitler's Germany, and the neo-Nazi assaults on their life and property, much before the actual mass slaughter of the Holocaust and concentration camps began.
Communities are under siege, writers, filmmakers, actors, students, dissenters, journalists, are under siege. Muslims and Dalits are continuously under seige, with the state also targeting them. The Tricolour cannot be hoisted without their permission, films cannot be released if they don't want it, books can be banned and burnt, history can be rewritten arbitrarily, Darwin can be proved wrong; universities and academic institutions can be politically ravaged, the media can be made to bend and crawl. And, now, even little children in a school bus will not be spared by this cult of mob lynchers and pseudo nationalists let loose on the streets by the politics of hate and polarisation.
Even as we look at the 13-second horror video of the school bus, we have almost forgotten the gruesomeness of the "live" murder - burning alive and hacking of a Bengali worker, Mohammad Afrazul, at Rajsamand in Rajasthan. In more than one psychological thread, the proud and pathological killer of Rajsamand has become a symbolic reality of the mobs in India.
In this method to the daily madness, the mobs have scored one "victory" after another: Akhlaq in his home in Dadri, Pehlu Khan on the highway, Junaid on a train, others on the road, outside dhabas, inside ghettos and public places. The sinister forces that are watching this game with diabolical glee, know quite well that a society steeped in mindless violence will finally consume itself in its own blood and gore. And then there will be no redemption. Is this the India residing in their deepest, innermost, mann ki baat?