Keeping Up With The Kardashians has given Kim Kardashian everything she needed, wanted and more. Fame, attention, money, careers, love, you say it and she had it.
The world has also learnt to be obsessed with her. So much so that, 273 million followers look for Kim's Instagram updates every day even though the famous show is over. The last season (Season 20) of Keeping Up aired in June 2021, but that doesn't seem to affect the Kim K influence over the world. She is famous, no matter what.
Here's a look at some shocking things that happened to/for Kim after the show ended in June 2021. 
1. Kim was recently in the news for her fantastic SNL monologue, where she told the audience that she was not just a pretty face. She poked fun at many members of her family (including Kanye West) in style (cos her Hot Pink Balenciaga Catsuit was hot!). Watch it here. 
2. Then she proved that she was not just a prettty face by passing her Baby Bar Exam in her 4th attempt. She celebrated with a photoshoot in a Blue Balenciaga Catsuit and her followers were impressed. 
But recently, her Christmas shenanigans got her into a different kind of news. 
3. Kim sitting on the armrest of a chair next to Santa on Christmas Eve, (in a Brown Balenciaga Catsuit) caused a slight uproar. 
Some asked her why she was in a Met Gala dress, while others noted how she always wore Balenciaga on EVERY occasion. It seemed like Balenciaga was blackmailing her to wear their stuff, because there was no way she would have worn them by choice apparently. Someone also mentioned how it must have been a Merry Christmas for Mr Santa, who had the pleasure of sitting next to Kim in a photo, even though Mrs Santa would have been disappointed.   
Photo: Getty Images
4. Then news dropped about her ex-husband Kanye West reportedly buying a US $4.5 million home, next to Kim's home in the Hidden Hills estate. Though Kim and Kanye are in the middle of a divorce since February 2021, Kim has moved on and is dating Pete Davidson.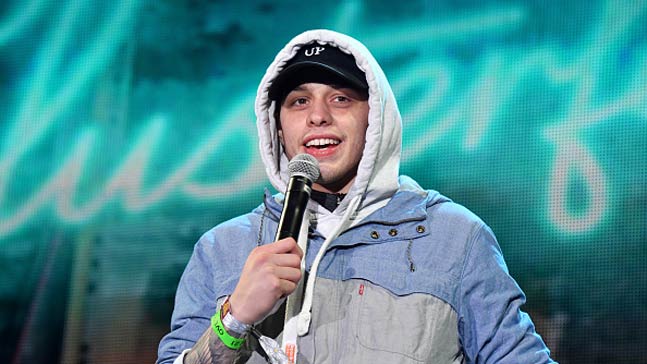 Photo: Getty Images
However, Kanye wants to reconcile with Kim and has bought this place to make co-parenting with Kim easier. (There was a meme fest on Kanye v/s Pete, btw). ICYMI, Kim appeared for the Met Gala 2021 in a Black Balenciaga Catsuit which caused another level of meme fest on Twitter. 
5. And then Kim did something that is considered a strict no-no for Marvel fans. 
She happened to watch Spiderman: No Way Home twice; once when it was released on the weeked, and the next time, from the comfort of her private theatre. And then she shared spoiler images on her Instagram stories, which she quickly deleted. But by then, it was too late since some of her 273 million fans were annoyed at the lack of a heads-up. Many of them have muted keywords for Spiderman on their social media pages to avoid spoilers, but then Kim did it for her fans. (Who knows what coloured Balenciaga Catsuit she was wearing here!) 
People did not take it kindly. 
It's actually not a big deal considering that the movie released weeks ago and its not Kim's fault that many haven't watched it yet. Also, loyal Marvel fans would have watched it already! But a small heads-up before sharing the spoilers would have been nice? Looks like it's Kim's chance to say, "There are people dying! And all you care about is this?" 
(If you remember, Kim lost her diamond earrings in the ocean and started crying, to which Kourtney replied, "There are people dying!")