For most of us who have grown up in India in the 1980s and 1990s before the advent of the internet, Amar Chitra Katha was an absolute integral part of our lives. The magic of the illustrations with the stories about Indian mythology taught us as much as our grandparents' bedtime stories, if not more. The stories have eternally been inclusive of various cultures across the country and taught us to appreciate diversity.
One of the tales on why Deepawali (or Diwali, however you like to say it) is celebrated is that of Krishna and Narakasura. So much so, that in the region south of the Vindhyas, Deepawali is also called Naraka Chaturdashi, and is celebrated on the fourteenth day of the waning phase. In the North, it is on Amavasya or the day of the new moon, which is usually a day after Chaturdashi, when Ram is said to have returned to Ayodhya after his exile.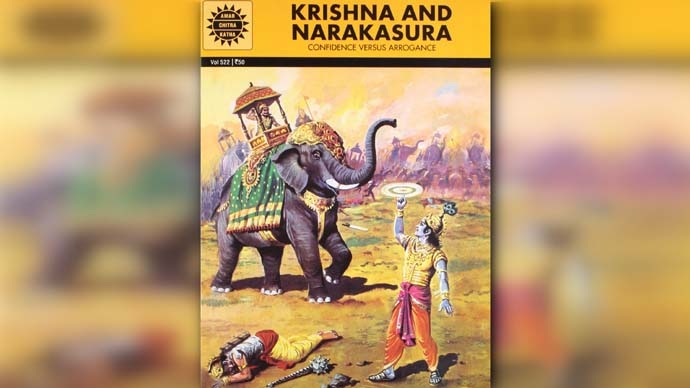 As the story of Naraka goes, he was the son of Varaha (Vishnu's incarnation as a wild boar) and Mother Earth, born in Krita Yuga. As is wont to be, the mighty warrior son of Vishnu was drunk with power and went on to wage (and win) a war against the Devas and established his supremacy over the three worlds.
Though he was a just ruler, his disdain towards the Devas earned him the moniker "Asura" or demon — Narakasura. His atrocities against Devas went on for Krita Yuga, followed by Treta Yuga and then into Dwapara Yuga. When the Devas could bear no more, they appealed to Vishnu, who had incarnated as Krishna. Mother Earth incarnated as his consort Satyabhama. The couple waged a war against Naraka (their son from the previous birth).
Naraka aimed Varaha's tusk at Krishna, who fainted but remained unscathed. Meanwhile, Satyabhama continued the battle and Naraka found her a formidable warrior. When Krishna regained consciousness, he killed Naraka with his discus — Sudarshana. With life ebbing away from him during the darkest hours before the dawn on Chaturdashi of Krishna Paksha, Naraka is said to have seen in the light that Krishna was none other than his father. He remembered Varaha's words, "Use your great powers to do only good and uphold dharma, son" and his eventual downfall was a punishment for his atrocities.
Naraka requested Krishna that people remember him as an example and not judge him too harshly. Krishna granted him the boon that on this day of his death, people will observe the day as the one to emerge from darkness to light. Hence the festival of lights — Deepawali.
Amar Chitra Katha's retelling of the mythology, folklore and history in comic form makes such narrations accessible to everyone. The vibrant illustrations by the very talented MN Nangare and script by Kamala Chandrakant, the simple dialogues and engaging narration, make this comic book an ideal read and gift this Deepawali.