"Dry toilet?" my friend asked in a perplexed tone as I showed her the photos of a dry toilet from my recent trip to Ladakh. Typical city slicker, she had not even heard of the concept. I am sure, many of you too have not heard or read about it either.
Over the past two decades, Ladakh has emerged as a popular tourist destination. But as much as this tourism explosion is important for the jobs-scarce Ladakh, the infrastructure development in the name of tourism, especially in Leh town, is proving to be an unwarranted tax on one of its precious natural resources – water.
Starting June, Ladakh sees a peak of tourist inflow in July and August (the summer tourist season extends from May till September, post which there are relatively very few winter tourists). Apart from the regular "selfie-clicking" tourists, Ladakh attracts people for its religious tourism, adventure sports and wildlife tourism. The tourist arrival numbers in Ladakh, both domestic and international, bear this out: as against just 16,449 tourists in 1994, it has increased to 2,35,482 in 2016.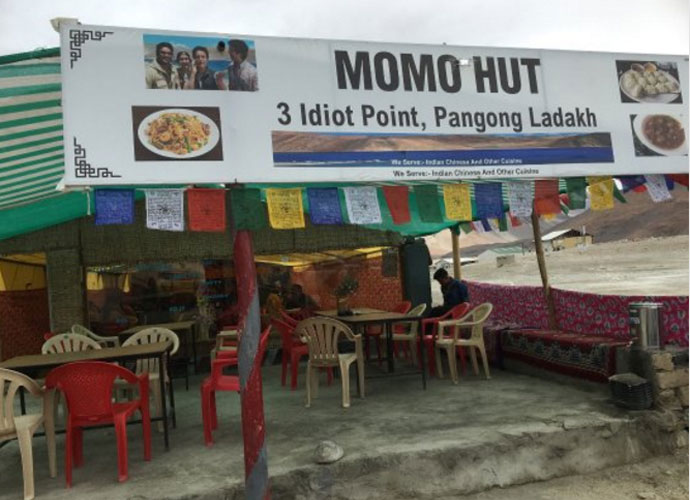 A momo hut at Pangong Tso Lake. (Image courtesy: TripAdvisor) 
Leh town, like other places in Ladakh, is highly dependent on spring water for domestic use. Of late, the town has seen an exponential rise in concrete buildings as hotels and guest houses – each of which has a modern toilet and most also have showers – have mushroomed all over. Such establishments are possible only with 24X7 water. And almost all of them have dug a borewell for it.
As per Ladakh tourism department's records, as in 2016, there were 650-plus hotels of all categories and more than 400 guest houses that offered a whopping 6,008 double rooms and 458 single rooms. This means as many modern toilets and bathrooms. Now, juxtapose these against Leh's approximately 4,300 households (as per 2011 Census), majority of which still use the traditional dry toilet, which needs zero water.
And it is not just water. The kind of eatables (imagine the cold desert Leh has establishments selling dosas (which needs fermentation) and aaloo tikki) / ready-to-drink beverages in tetra-packs, all kinds of wafers/chips and of course, any and every variety of booze. All this even when it adds to huge transportation cost. Everything that generates such trash that the fragile trans-Himalayan ecology just cannot degrade and bear the burden of.
Ladakh is situated up at higher altitude (roughly 11,000 feet) and, also, in the north-most part of India, hence any and every other part of India is called "down" in local parlance. "Down se aanewala log (people coming from down – rest of India)" is a common usage by taxi drivers, hotel staff, local shopkeepers, basically by all Ladakhis.
From irresponsible to responsible tourism
Some three years ago, fed up with what it described as "creating a mess with Ladakh's environment during Chadar trek (on frozen Zanskar river) and the Stok Kangri expeditions", the All Ladakh Tour Operators' Association sent a surprise inspection team to that company's camp site.
To their horror, the team claimed it found rubbish scattered all over and there were poly bags full of human waste very near the water body. Same applies for the pristine Pangong Tso (lake), which has of late, been a hugely popular, must-visit spot what with a selfie-point a la Kareena Kapoor in Three Idiots and number of snack stalls etc.
Each year, the trash that is generated across such popular spots is just adding to the delicate natural surroundings.
The landfill site on the outskirts of Leh town. (Image credit: Nivedita Khandekar) 
"Promoting tourism in parts of the Hindu Kush Himalayas has emerged as a promising avenue for development, but one that requires careful attention to the landscapes in which communities hope to attract increasing numbers of travellers. While the increased tourist visits will raise income levels and economic opportunity, communities will be challenged to accommodate that visitors sustainably, which is to say, with minimal impact on the resources and environment, including biological diversity. Striking this balance between promoting tourism while protecting the environment is more difficult than it may appear at first," warns David Molden, director general of the Internal Centre for Integrated Mointain Development (ICIMOD).
So, how can we, the people from "down", be responsible tourist and not add to the woes of Ladakh. For this destination, it translates to few simple things. Apart from not increasing plastic junk and adding to its municipal solid waste woes, sustainable tourism in Ladakh also would mean choosing a homestay over a modern-style hotel. This would give you a peep into the Ladakhi lifestyle and an opportunity to savour Ladakhi cuisine. But most important of all, by using the traditional Ladakhi dry toilet, you would not just save water, prevent further water pollution but also contribute to most important ingredient in Ladakhi farm practice – the dried human excreta being used as an organic manure.    
Year 2017 is UN's International Year of Sustainable Tourism
The United Nations has already declared the year 2017 as International Year of Sustainable Tourism, terming it as a tribute to myriad entrepreneurs, companies, creative individuals involved in tourism that celebrate its "transformational power on global efforts to create a world that is cleaner and greener, more equal and more inclusive".
Rightly so. Antonio Guterres, the United Nations Secretary General, in his message, on the occasion of the International Year for Sustainable Tourism for Development, had said: "Every day, more than three million tourists cross the international borders. Every year, almost 1.2 billion people travel abroad. Tourism has become a pillar of economies, a passport to prosperity, and a transformative force for improving millions of lives. The world can and must harness the power of tourism as we strive to carry out the 2030 Agenda for Sustainable Development."  
So, are the people from "down" being a "transformative power" in the right sense of the word? Or by being irresponsible, we are leaving a negative footprint that is set to damage the fragile mountain ecology in the trans-Himalayas? 
Ladakh's Sonam Wangchuk, the enterprising innovator engineer-turned-educator – who has won awards for his unique ice stupas for storing snow in winter for usage in summer and for solar passive housing – says, "The need is to take away the burden from Leh to other areas. Also, deviating from two-three months of excessive tourists in Ladakh's summer, people too need to opt for winter tourism that too to places other than Leh."
Ultimately, it all boils down to what you as an individual tourist decide. The International Year of Sustainable Tourism for Development asks you to consider the impact of your travel on sustainable economies, societies, environments and cultures, along with peace. Perhaps, a simple pointer can be what Erik Solheim, executive director of United Nations Environment (UNEP), suggests.
Solheim wrote in the piece , Let's make all tourism green and clean, that he co-authored: "You can use your holiday to make more than memories. With sustainable choices, you can help make our world cleaner and greener. And you can be a global ambassador for respect – respect for our planet, our culture and the communities that welcome us with open hearts."