"Bye, Felicia" is the ultimate dismissal, and there has been no comeback devised yet for the phrase combined with a sassy movement of the hand. Sohaya Misra of Chola presented 'Bye Felicia' at the Lakme Fashion Week this season and made drag queens walk the ramp in a radical interpretation of the phrase, taking a stand that it was the final farewell to "all things restrictive and irrelevant".
But the tools were stereotypical like the choice of gray as the colour of in-between. The expression was through androgynous silhouettes but they have been around for a long time now. But Misra's bold move to have drag queens on the runway can condone all the other stereotypical notions and literal references like token moustaches on women and male models wearing red lips. Actor Prateik Babbar in 'drag' closed the show with make-up artist Jason Arland dressed as his bride in a veil and a peach dress.
Gender fluidity? Prateik Babbar and Jason Arland at the Chola show. (Credit: Twitter/@LakmeFashionWk)
So far Indian fashion hasn't seen a fashion overhaul unlike the West where there is an inherent ability to question things, including diversity on the runway. And questioning in a sense that makes disruption a great tool for fashion, which is becoming more and more of an indulgence rather than a creative force that can break stereotypes. But then, fashion itself is guilty of perpetuating stereotypes sometimes.
Barring a few, there haven't been enough designers and artists taking a stand. But that's a known thing. Front rows, Instagram posts, quick reviews is what we got in terms of fashion journalism and nobody to tell what works and what doesn't.
But coming back to the rebel children in fashion, the cause is topical with a bunch of magazines and online portals writing about the drag culture in India. And of course rebellion is sexy. It is believed to be the domain of outliers. Fashion wants to sell uniqueness. They want us to live on the borrowed idea of "cool" and it is all good but borrowing can be cooler if you struck the right note.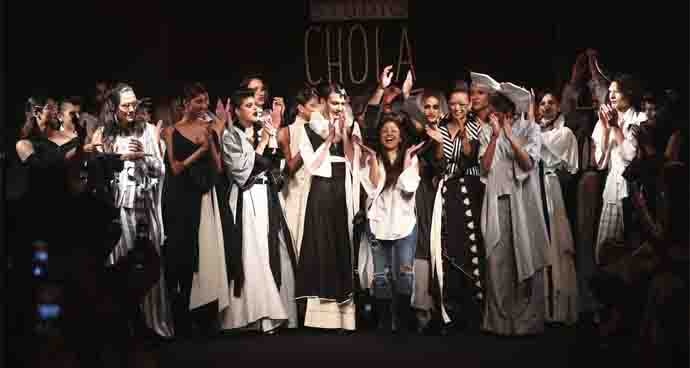 Self-exploration: Designer Sohaya Misra with her models. (Credit: Twitter/@LakmeFashionWk)
As an observer from the sidelines, I feel the label has taken a leap of faith with its presentation of an idea, a subculture. But that's it.
What do we mean by 'drag fashion'? In its most simplistic definitions, it means "a costume, outfit, clothing typical of one sex worn by a person of the opposite sex", according to Webster.
While acknowledging the creative license in fashion and art and in the process of interpretation, the nuances of drag, which makes it the most liberating and one of the bravest acts of self-expression and an exercise in self-empowerment, is lost to gimmicky presentations. The problem is that fashion and art are both running short of narratives because understanding often comes from disrupting one's own sense of the world.
I am not by any chance suggesting an anthropological research into the subject, but when someone chooses the "disenfranchised" to borrow from their "cool", it echoes appropriation, which is what is happening everywhere. And most mimicking is done by the privileged, who have never faced the kind of discrimination the marginalised have. The "cool" is often a reaction, a statement and a way to assert identity.
Designers take fashion seriously. It is evident in the press notes by the dozen in inbox where every presentation is a serious attempt at saving a lost cause like handloom. There are enough of Rumi quotes in the concepts where it seems like the designer is going to facilitate a spiritual awakening of sorts. There is already a fatigue settling in with all this talk about sustainability and handloom with lazy attention to pattern-cutting or even a strong narrative for an honest attempt at disruption. Drag is about extremes. It is merciless in its mockery of gender binaries. It is irreverence.
The drag queens I have been with tell me how this performance is a way of mocking constructs with padded hips and stuffed bras. But it is also a way of liberating oneself from impositions of gender or any such limiting paradigms. While drag fashion satirises fashion, it also has fun with it. Lush Monsoon, a Delhi-based drag queen, often designs his own outfits as an exaggeration for performance.
A little anthropological dig does no harm. For instance, grey is the easy way out. To say gray represents the in-between is stereotyping things. I am sure grey stands for more.
Now, drag queens have been on the runway before. Marco Marco shows are fierce with drag queens sporting the signature underwear.
Jeremy Scott, the fashion designer, said: "I will just come out of the closet here and say, This is fashion."
And that's disruption right there. Marc Jacobs has featured Don Donigan, known as Milk, in their campaigns.
Not to say that Chola didn't try. Except they didn't try hard enough. But it failed to show the inherent toughness of a subculture that has been around in India with female impersonators for a long time except the jatra and other performing arts used men in female roles because of patriarchy.
Fashion needn't be flippant: It can be a great medium to start conversations. (Credit: Twitter/@LakmeFashionWk)
In that sense, the drag art form is new India and a bunch of men are leading what they call a "tiny revolution". But drag is also contextual and of course it is great for a designer to use it as a concept but then, the referencing has to be truthful because any appropriation demands that the point of privilege is collapsed and the tropes used stay true even in its interpretation. Fashion is often accused of being flippant, but it can be a great medium to start conversations.
Unfortunately, in India it has become more about Bollywood showstoppers rather than a creative showcase.
And whether it is homage or a rip-off, the dangers of offending someone will always lurk. But as creative people, fashion designers can do more than just grab eyeballs. And fashion weeks have become more of a "show of strength" and a half-hearted indulgence in subcultures with a bunch of terms like androgyny and gender-bender thrown in to make it seem like an act of irreverence.
Bollywood showstoppers: Kareena Kapoor Khan on the runway for the Monisha Jaising grand finale presented by Lakmé Absolute. (Credit: Twitter/@LakmeFashionWk)
But irreverence is when you see the drag queens walk the runway at a night club in bright shiny outfits from flea markets or elsewhere customised to celebrate the nonchalance towards identity politics. And that's when you know that drag fashion is about trampling over the idea of with six-inch pumps bought from superstores.
When a drag queen in a hotel room extends his eyes with the liner, holding a mirror in his left hand and applies blue glitter on his eyelids, you understand that at the heart of it all lies the idea of transfiguration and transformation.
In the JK Rowling's series of book, the author talks about transfiguration. "Transfiguration is some of the most complex and dangerous magic you will learn at Hogwarts," professor McGonagall says in the book.
In an interview in 1998, Rowling said: "With a transfiguration you change its nature completely; the molecular structure alters..."
And fashion's greatest moment shouldn't be an act of appropriation only. It should be appropriating truly to the idea of rebellion and not just selling the idea. And the designer should understand that you don't need a Bollywood star to walk alongside drag queens to make the show a success. Drag queens don't need that endorsement. Being themselves is endorsement enough.
In the lab of identity with Sushant Divgikar, who walked the ramp for Chola
A flaming red wig. A make-believe brunette with a crown and glittering eyes. Hours have gone into crafting this avatar. The men and the boys and the queens have no less than awe when Rani Ko-He-Noor goes up on the stage, her butt padded to perfection and her breasts firmed up. The other parts have been taped away for the night. She knows she is desirable.
"We are on stage and if they touch me I step on their hand with my pencil heels! My father always told me , You shouldn't touch what you can't afford," says Rani Ko-He-Noor.
"Rani is regal, royal and straight forward. That's all that's straight about Rani and Sushant."
Sushant Divgikar, an actor and a model who won the Mr Gay India in 2014, says Drag is an art form that allows him to transform into an illusion and wow everyone, himself included.
Inspired by Beyonce: Mr Gay India Sushant Divgikar was a contestant in Bigg Boss season 8. (Credit: Bigg Boss website)
Rani, he says, is the high priestess of everything elegant and stunning.
"I am heavily inspired by Bollywood actress Rekha's looks from her movies and even her grandeur in reality. I've even worn the saree she had gifted me on Bigg Boss 8 for winning a task where I beat all the girls during a dance off. I'm also heavily inspired by Beyoncé and Lady Gaga," he says.
As he sings in a voice he has trained to sound like a woman's, the crowd latches on to every word. They love him. She jokes with them and even chides them. But they take it.
Of course, it is a struggle but that's probably what makes it fun, he says. On the night he opens the performance, RuPaul's Tammie Brown is slated to perform. But he rules it with his singing and later, his pole dancing.
The first time he did Drag was for an international film festival and then his first drag performance was in Merchant of Venice — the play directed by Vickram Kapadia and starred Jim Sarbh, Bhoopalam, Luke kenny and some more theatre and film actors.
"I did the opening piece which required me to split and kick and twist and turn in 6-inch heels. I absolutely loved it," he says.
"I wouldn't like if I was just offered everything on the platter even when I didn't deserve it. When I am on the stage, I feel like I'm on top of the world. Because I know I look drop dead gorgeous. Why settle for mediocrity? I'm going to have a little Mariah Carey moment and honestly say that I don't know some of the other drag queens.
And I might come across as the bitch, but I'd like to remind everyone to get it right , Rani is the HBIC — head bitch in charge."
That's irreverence right there.