Across India, April marks the beginning of vaisakh, Bohag Bihu and other similar festivals to celebrate a bountiful crop. In South Bengal's Lalgarh (West Midnapore), drum beats and revelry celebrated a different and bloodier bounty. The harvest was of hundreds of wild creatures — pangolins, jungle cats, jackals, wild boar, monitor lizards, porcupines, black-naped hare (all ostensibly protected by law) beaten, bludgeoned, speared to death by mobs of some 5,000 inhumans.
The prized trophy was that of the rare, wild animal — don't miss the irony — we call the Royal "Bengal" Tiger.
Little is known about the origins of the "Lalgarh tiger", a male who had ventured out from his forest of birth — perhaps Similipal Tiger Reserve, 200km southward in neighbouring Odisha; or it is possible he was a refugee from Palamu, a "sanctuary" no less than 400km northwest to Lalgarh.
The Lalgargh tiger. Photo: West Bengal Forest Department & WWF India
The tiger's presence — pugmarks — was first noticed on January 31, 2018, and a month later on March 3, and confirmed by strategically placed camera traps.
It wouldn't have been an easy journey, even (or is it especially?) for the world's most powerful predator. Who knows what drove the tiger out of its reserve. Maybe his home forest, Simlipal or Palamu weren't sufficiently secure. Even forests reserved for tigers are rife with threats — traps that lie on unsuspecting paths, trains and vehicles that kill, canals and roads that splinter habitat.
It could be that he was young (as speculated earlier, but post-mortem reports place his age to be 10-12, which is past a tiger's prime), and looking to carve out his own territory, and find a mate. Pretty much like young men (and women) who venture out of the cocoon of their homes to make a living, a home, and their own family. Maybe he was old, and ousted by a young male in a fight over scarce resources, and territory.
A thing of rare beauty. Photo: West Bengal Forest Department & WWF_India
It is instinct that dictates a wild cats' urge to roam; the tiger is a wide ranging animal that must spread its genes over a large area to ensure a genetically robust population. It is unrealistic and naive to confine wildlife within small pockets deemed as Protected Areas. Animals don't know boundaries — a product of Homo sapiens, which we expect the wild to understand and obey; even as we ourselves don't.
In his long journey, the tiger would have swum through rivers and canals, dodged trains and trucks, crouched in shrub and fields, travelling and hunting mainly in the night to remain "invisible". The landscape he traversed — Odisha or Jharkhand, and into South Bengal is densely populated, with only patchy green cover. The magnificent Sal forests that once clothed this region have been cleared and mined extensively over the past decades. The tiger finally settled in the fragmented forests of Lalgarh, but it was only to be a brief refuge.
Though the dense sal forests of Lalgarh once supported tigers, there have been no records in the past century, none exist in the region's living memory.
The tiger had walked in to reclaim its fractured domain, but there was no joy in its return. Villagers feared for their safety, and the loss of cattle. The tiger's official guardians, the forest department was — unofficially — equally unwelcoming, apprehensive of the safety of both people and the animal. Hassled by its responsibility: What were they to do about a tiger, stranded in a fragmented forest? It was, possibly, a tiger without a future. Unless it could be tranquilised and translocated into a safer reserve — but this resulted in an unholy squabble.
Bludgeoned. Photo: Human and Environment Alliance League
While West Bengal clearly did not prioritse the tiger's safety, there was a marked reluctance to translocate it to another state. Chief minister Mamata Banerjee did not throw her weight behind the animal, only commenting that "the tiger seems to have lost its way" and asked forest officials to ensure that it does not stray into human habitat. The idea was to take it to the 'rescue' centre at Sundarbans, or a soft-release in Buxa in North Bengal, but this was equally problematic. Buxa Tiger Reserve is bereft of tigers, and rife with threats, and a multitude of cattle.
The forest department was advised to shift it to its likely home range in Odisha's Satkosia, but there was, again, the vexing issue of borders.
Though there were no concrete plans on the way ahead, drones were deployed, tranquilising teams were dispatched and, cages with live bait placed, drones deployed to locate and capture the animal. But the tiger remained elusive, one of the staff monitoring on ground called it — irony again — "a survivor". 
"In the two months in Lalgarh, the tiger largely contained itself within the 30-odd km of patchy forests," says Ravi Kant Sinha, the chief wildlife warden of West Bengal. "It avoided going into surrounding villages, didn't attack people — unless harassed. It mainly survived on wild prey, only hunting rarely feeding on livestock, but only those grazing inside the forest." 
The tiger was killed on April 13 when feeding on a wild boar — its natural prey — at Baghghora forest in Lalgarh. A mob of 500 people surrounded it — the tiger was beaten, the final, fatal blow a spear that pierced through its skull.
This was the tiger's first death.
The second death followed soon after, when its carcass was hailed as a trophy, celebrated by the crowds, which danced to drum beats, jostled to take selfies, revelled in the machismo of having killed the tiger.
The tiger was the pinnacle of a hunting frenzy, which is being passed off as an annual "ritual".
"But there is nothing traditional about this ritual," stresses Meghna Bannerjee, lawyer, environmentalist and member of Human and Environment Alliance League, who, along with her colleagues, has been documenting and working for the past two years to prevent such mass hunting. "There are atleast 50 days every year when such shikar utsavs are celebrated, where organised groups of men are out for drunken revelry, and destruction. Anything that moves is killed, and in 2016 we recorded over 2,000 dead animals — all listed under the Wildlife (Protection) Act, included Schedule I animals like pangolins, wolves and monitor lizards. There were so many birds and snakes, we lost count of both number, and species." The flesh was cooked openly, many transported in trains to be sold in the market, skins of wild cats and monitors were sold, fuelling illegal wildlife trade. Adds a forest official, "The hunters were not all tribals or local villagers, but people pour in from neighbouring villages and states to join in the fun."
A manmade tragedy. Photo: Assorted Wildlife Human and Environment Alliance League
Last year, at another location Howrah, the booty included fishing cats, an endangered, rare species, and also the state animal of West Bengal.
A forest official points out that "the hunters are not all tribals or local villagers, but people pour in from neighbouring villages and states to join in the fun".
In 2018, the tiger added to the thrill. Hundreds of villagers were inside the forest since morning, but as news of the kill and fresh pugmarks spread — besides weapons, the hunters were equipped with mobile phones — there was a fresh influx into the forest.
This recurring, illegal carnage of rare, endangered wildlife has been documented and reported in the media but there has been no effort on the part of authorities to prevent it. Though forest officials — both at the state and district level — were informed in advance, no preemptive measures were taken to stop the slaughter despite the presence of the national animal.
Forest officials claim helplessness. Admittedly, there are serious systematic issues. Sinha says a key limitation is lack of manpower. "We have 60 per cent staff shortage, how do we stop thousands of people with a handful of — unarmed — men?" Foresters who tried to stop the killing were gheraoed, three staff members, including a woman officer, were injured and admitted to hospital. Their vehicles were attacked. Tragically, earlier in March, two forest staff employees on duty to monitor the tiger accidentally fell asleep — shortage means that staff sometimes put in duty 24x7 — and suffocated to death in their vehicle.
Another disadvantage is that Lalgarh forest is a territorial division where the focus is on social and commercial forestry. The staff is also not trained, oriented or equipped to monitor and protect wildlife. "We had moved a proposal in the last State Board for Wildlife meeting to make this area a wildlife division since it has endangered species like wolves, elephants, leopards, but this was denied."
So the Lalgarh tiger died again — a victim of apathy and systematic failure.
The jungle cat. Photo: Human and Environment Alliance League
While the limitations of the forest department are appreciated, what is lacking here is a sustained effort over time to stop this practice, and coordination with police and other departments, essential to contain mobs. Sources say that the police failed to provide adequate support, or take preemptive action like enforcement of Section 144, Code of Criminal Procedure, to restrain thousands from entering into the forest to hunt. While the forest department is accountable, equally the responsibility lies with the state administration.
The scale of hunting is enormous, an off-take we can ill-afford. Unless those responsible for killing the tiger, and the other wildlife, are booked and stringent action taken as per Wildlife (Protection) Act; this will set a precedent that wildlife criminals are above the law.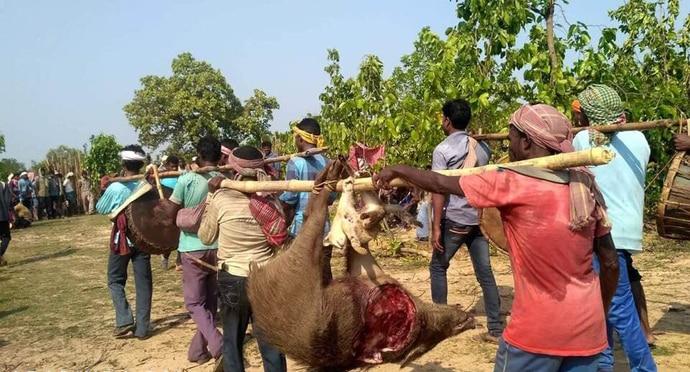 No country for the wild. Photo: Human and Environment Alliance League
What this tiger also highlighted is the vulnerability of tigers outside Protected Areas (PAs). About a third of India's tigers — 2,226 as per the 2014 census, are outside of reserves, and here, while the animal is protected, the land it occupies, isn't. Forests outside Protected Areas and corridors that serve as crucial linkages between reserves are vulnerable — and criss-crossed heavily by highways, railway lines, mines, industry and other development and infrastructure projects.
This tiger was the child of a lesser God, caught in an administrative conundrum, with little staff, and no funds dedicated for its protection.
No one killed the Lalgarh tiger
The FIR that was finally lodged in the tiger killing case named no one — even though the initial complaint had listed two accused, Badal Hansda and Bablu Hansda, who were injured by the tiger when they allegedly attacked it. The Telegraph reports that one of the accused, Bablu confessed that "a spear thrown by us hit the tiger near its shoulder. It came charging and lunged at me".
Highly placed sources revealed that there was pressure from the chief minister's office both to the police and forest departments to go soft on the mass hunting, and those involved. In fact, according to a report in Times of India, a Trinamool delegation led by district president Ajit Maity offered flowers, sweets and full support to the accused, Badal at Midnapore Medical College — where they were admitted.
The Lalgarh tiger died a thousand deaths. The state had failed the hunted — Royal "Bengal" tiger, and stood by its hunters.