5 things Lalu Yadav can do to fight back depression
Two things bogging down former Bihar CM's spirits are corruption cases and political one-upmanship between his two sons - Tejaswi and Tej Pratap.
The latest news coming from Bihar is depressing because the state's former chief minister, Lalu Yadav, who had the gall to laugh off the most serious charges of corruption and misgovernance, is reportedly going through a phase of depression now.
The two issues reportedly bogging down Yadav's spirits are: corruption cases affecting his family and secondly, reports of political one-upmanship between his two sons — Tejaswi and Tej Pratap.
Here are five things Yadav can do to beat the blues and get on with life, despite its hardships (much like the rest of Bihar did under the jungle raj perpetuated by him):
Spend time with animals
Mental health experts often suggest that spending time with pets can help people feel better and elevate their mood. Yadav is known to have kept many cows in his house, often taking out time to milk them himself.
Keeping the company of pets could help beat the blues. (Source: India Today)
The only problem Yadav could face is from the cow itself.
Convicted for having bungled the money meant to provide the cow its fodder, the bovine may not take very nicely to Yadav's company and the trick may just backfire. The cow's grievance, after all, has the stamp of approval from the courts of the country.
Take the path of spirituality that Tej Pratap has taken
Yadav should take a lesson from romantic poet William Wordsworth, who told us that child is the father of man. Having made peace with the fact that there is no shame in a father learning from his son, Yadav can take a tip or two from Tej Pratap on how not just to try and find God, but become God himself.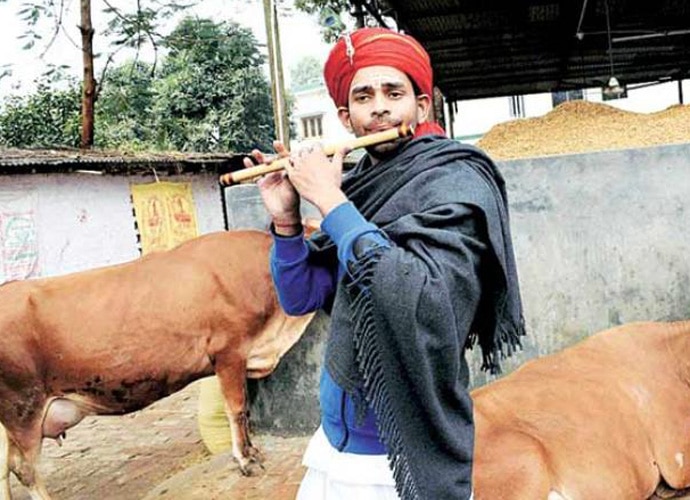 Lessons in spirituality that no one should learn. (Source: Twitter)
The problem with the strategy is that we still don't know how kindly God would take to people dressed as God.
From worshipping to being God himself. (Source: Twitter)
Finding friends
Experts often tell us to spend time with friends who can help lift our spirits. Yadav's difficulty in adopting the approach would be that in the world of politics, few convicted political leaders can find friends.
Yadav's bridges with chief minister Nitish Kumar seem to have been permanently burnt and Congress president Rahul Gandhi has taken more kindly to Tejaswi's rise as the Rashtriya Janata Dal leader than he ever took to Lalu Yadav at the helm of affairs.
It is difficult to find friends in your hard times. (Source: India Today)
Going back to jail
Indian jails are working hard to actually emerge as reform centres (remember, they are under pressure to do so after the demand of high standards being raised by fugitives Vijay Mallya and Mehul Choksi) and provide a better life to inmates. Instead of trying to avoid jail and spend time in hospitals, Yadav should head back to jail and spend time in the company of other inmates.
Lalu Yadav poses with nurses in a hospital. (Source: Twitter)
Given that Indian jails are crowded places, Yadav would find not just the company of like-minded people, but also ways to distract himself from his pressing troubles by engaging in busy tasks assigned to inmates.
Saying sorry to the cow
The cow, we are told, has great powers, including the divine. Just to soothe his heart, Yadav could well apologise to the cow for his role in the fodder scam. He could also extend that apology to the people, who have only the power of the vote, for the misrule he subjected them to.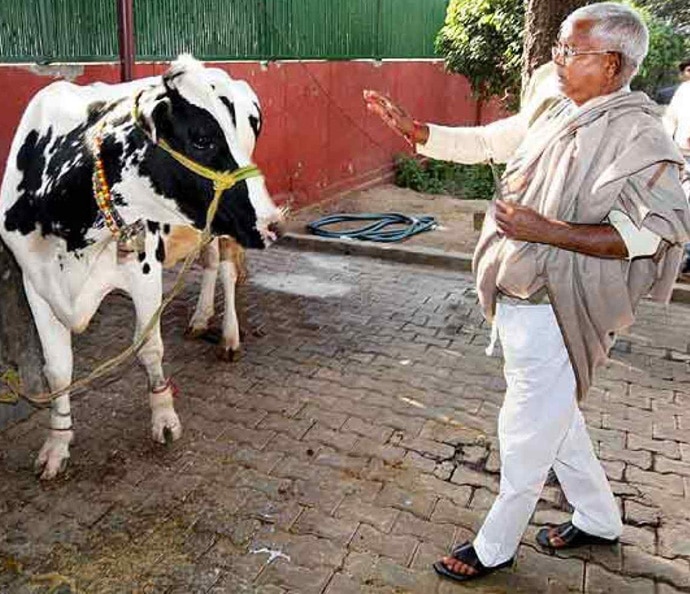 Lalu Yadav could well say sorry to the cow to atone for himself. (Source: Reuters)
That atonement may just do the trick for his heavy heart.
Here's wishing Yadav a speedy recovery.
Also read: The politics of bromance: Why Tejashwi, Rahul are singing Ye Dosti
The views and opinions expressed in this article are those of the authors and do not necessarily reflect the official policy or position of DailyO.in or the India Today Group. The writers are solely responsible for any claims arising out of the contents of this article.