DailyOh! The country that says vodka is Covid-19 cure, to why WhatsApp won't let you upload 16-second videos
Alexander Lukashenko is talking stupidity one peg at a time.

DailyBite
Hi there,
We hope you are managing to find the essential supplies to run your life amid the nationwide lockdown. Now, we do know that 'essential' means different things to different people. Just today, the government expanded the list of essentials, including sanitary napkins on it. It also added other hygiene products such as soaps and detergents to the list.
So you can keep saying what is essential for you and the government would, for now, have a say on whether your essential qualifies to make it to the list of their essentials. Meanwhile, Kerala has decided alcohol is an essential.
Kerala has decided alcohol is an essential. (Photo: PTI)
Not for everyone though. Only a doctor can decide who can't live without alcohol. The move comes after five people in Kerala decided it was better to die than live without alcohol. You may say that's stupid, but even doctors advise against turning people to cold turkey, that is, stopping suddenly after prolonged dependence on alcohol.
So, how does the government know who 'needs' it and who just 'wants' it? The answer is the government also doesn't know. It's the doctor who knows. And the government will listen to the doctor on this. 'Addicts' can go to doctors and get it in writing that the person needs alcohol. This should serve as a warning bell for all those who are on their way to becoming addicts. We are talking about the ones who say that you are not drunk till you can hold your glass. Actually being able to drink without feeling the effects could be a sign that you're developing alcohol tolerance.
Now, when alcohol tolerance becomes addiction is difficult to say. So, keep yourself in check with that peg after the lockdown too.
While alcohol vends are shut for Indians, sans Indians with a prescription in Kerala, a country is recommending it as a way to fight coronavirus. The prescription comes from the President of Belarus, Alexander Lukashenko, described as the last dictator of Europe. Lukashenko has prescribed instead of panicking "like those in Western Europe," one should have 40-50 grams of vodka daily, go to a Russian sauna two to three times a week, and keep working on a farm, as "tough work and a tractor can cure anything". We say, everything but idiocy. Since vodka and Russian sauna haven't been able to cure Lukashenko of his stupidity, he makes the cut to be our Covidiot Of The Day.
Belarus President Alexander Lukashenko thinks vodka and sauana can help fight coronavirus. (Photo: Reuters)
Belarus is one of the few countries not to impose any restrictions to prevent the spread of the global pandemic, Covid-19, at a time when Europe is the epicentre of the pandemic. Lukashenko even took part in an ice hockey game saying that "there are no viruses here", adding that ice hockey is an "anti-virus remedy".
But this is not the only instance of carelessness shown towards public health by Belarus. You will be surprised to know that people in the country continue to drink water from taps in the country. No, that's not the surprise. The surprise is that Belarus shares its borders with Ukraine, where the Chernobyl nuclear power plant disaster happened in 1986. Experts have warned the water is likely to be contaminated, but we guess, Lukashenko is too high on vodka to notice.
In 2012, when Liverpool travelled to play a Europa League tie against FC Gomel, the players, staff and fans were advised to abstain from drinking tap water, as the city of Gomel is 70 miles north of Chernobyl.
We can only wish the people of Belarus well!
We found all that information on the internet. But the internet too has taken a hit due to the lockdown in India - indirectly. What has hit it directly is more people relying on internet in the absence of physical human interaction and contact. You must have noticed videos are taking longer to download and forever to upload. Working from home is a task because limited bandwidth and slow-internet struggles. Netflix, Amazon Prime Video, YouTube and Facebook have all cut down on the quality of video streams to save the internet lines.
WhatsApp, on its part, is limiting the duration of videos that you can upload as WhatsApp Status from 30 seconds to 15 seconds.
ANNOUNCEMENT:You can no longer send videos to WhatsApp Status if they are longer than 16 seconds: only videos having a duration of 15 seconds will be allowed.This is happening in India and it's probably an initiative to reduce the traffic on the server infrastructures.

— WABetaInfo (@WABetaInfo) March 28, 2020
Now there are 1.5 billion WhatsApp users across 180 countries. The messenger app does have a really wide reach. Who would have thought the app would have such a huge success when Both Jan Koum and Brian Acton started it? We have no figures on that. But what we do know is that both Koum and Acton were rejected by Facebook and Twitter in interviews.
Facebook turned me down. It was a great opportunity to connect with some fantastic people. Looking forward to life's next adventure.

— Brian Acton (@brianacton) August 3, 2009
Now, that must have come as a blessing in disguise because it allowed the two to devote all their time to WhatsApp. But we began talking of Acton and Koum because we were talking about bandwidth issues.
And here is our suggestion: If you do not have something very important to share, avoid sharing. Videos consume internet bandwidth that can be saved for more important tasks. Also, when not in use, like when you are going to sleep, switch off your router. If possible, also switch off your mobile data. Let's share what we have.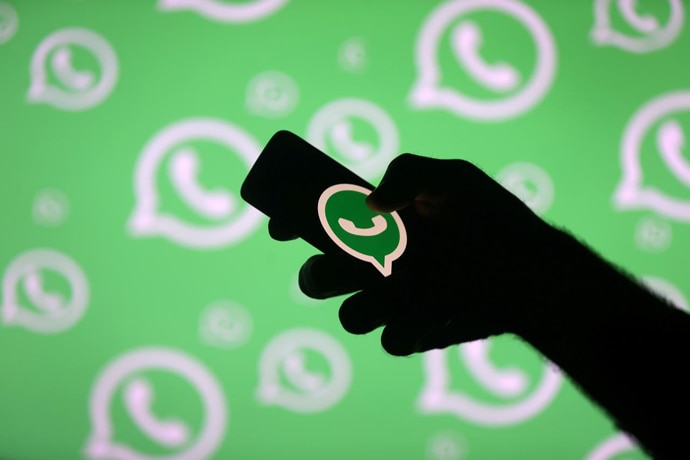 WhatsApp is limiting the duration of videos that you can upload as WhatsApp Status from 30 seconds to 15 seconds. (Photo: Reuters)
And do not fret over slow internet speed because some people are having it really difficult. Did you see the video from Bareilly in Uttar Pradesh? Migrant labourers, who are trying to return to their homes after losing work due to the lockdown, were sprayed with disinfectant.
Who r u trying to kill, Corona or humans? Migrant labourers and their families were forced to take bath in chemical solution upon their entry in Bareilly. @Uppolice@bareillytraffic @Benarasiyaa @shaileshNBT pic.twitter.com/JVGSvGqONm

— Kanwardeep singh (@KanwardeepsTOI) March 30, 2020
That is India forsaking its poor in the face of a crisis. Thousands of migrant workers have been walking back to their villages since the lockdown came into effect, after they found themselves out of work with no money to spend and hence no food to eat. Now, the government is saying it is providing food to people. But people need more than just food. Hence, the lockdown has started a reverse migration of daily wage labourers to their villages and towns.
Newspaper front pages across the world tomorrow: pic.twitter.com/4SrintV3T5

— Shiv Aroor (@ShivAroor) March 28, 2020
The migrants come to the big cities from villages, but where does the word migrant come from? We will tell you that because migrant is our Word Of The Day.
The root word for migrant is migrat, which is Latin, and means 'moved, shifted' and means to move – relating to movements from one region to another.
Bill Germano, an English professor, said one of the earliest uses of the word is seen in Sir Thomas Browne's book Letter to a Friend, in 1672. But according to Germano, Browne used the term in reference to animals. Recall migratory birds? Oxford English Dictionary defines the word rather ironically: a person who moves from one place to another in order to find work or better living conditions. The current situation should make us all think what conditions have we provided to migrants. This should be India's big lesson from the crisis that has unfolded.
Talking of migrants and movements, Prince Harry and his wife Meghan have moved to California after moving to Canada from the UK. Yes, this is old news. The new news is that US President Donald Trump has made it clear that American taxpayers' money won't be used to provide security to the British royals. Earlier, the couple was in Canada where Justin Trudeau also refused to pay for their security. No, that wasn't the reason for them to leave. They left because they realised that in Canada, they couldn't have the life they wanted to have. But why are even developed countries refusing to pay for the security of the royals? One reason is, come March 31, and the couple would have given up their royal duties. So, when you are not doing royal duties, you are not really a royal.
But that doesn't mean you don't need security. The 20-million-pound (Rs 93,71,87,939) yearly security bill for Harry and his family would be paid by the taxpayers of UK. We have no comments to make about that. We leave it to UK's taxpayers. We only wanted to share the information.
And we have something else to share to with you.
"The bad news is that everyone is a potential victim.
But the good news is that everyone is a potential solution."
Now, this is not a work of our creative genius. These are lines from a song from Bobi Wine, AKA Robert Kyagulanyi Ssentamu. Wine is a member of Parliament in Uganda. He is also a philanthropist, actor and musician.
We like the song and so we thought you must listen to it too.
On that note, we take your leave.
Will be back tomorrow. You be part of Wine's solution till then and beyond. How? Stay indoors.
Bye.
Also read: DailyOh! Why more men are testing positive for coronavirus, to how Boris Johnson could have got the infection