DailyOh! Saudi Arabia asks people to put hajj plans on hold, but where is Thai King with his 20 concubines?
Hajj has been cancelled or the number of attendees curtailed at least 40 times in the past.

DailyBite
Hey there,
Staying home? Practising social distancing? The government yesterday said the spike in coronavirus positive cases is happening because some people are not following instructions and guidelines on the lockdown and social distancing. Ensure you are not the person who is part of the 'people' that the government authorities are talking about.
Yesterday, we told you that an event organised by the Tablighi Jamaat in Delhi's Nizamuddin area has created a nightmare for those involved in tracking Covid-19 cases across the country.
Health workers in Nizamuddin. (Photo: ANI)
For now, the government has identified 10 hotspots where the search for the people who may be spreaders or may have come in contact with the spreaders is concentrated. Read this to know everything you need to know about the 10 areas identified.
Sadly, many are blaming one particular religion for this, but you know religion is never to blame. Religion is abstract. It is the people who act irresponsible. And then not all followers of any religion act (responsible or irresponsible) en masse. Some behave, some don't. Let's be the ones who behave.
Governments across the world are asking people to behave, with gatherings being cancelled and major events called off. Saudi Arabia has urged Muslims to defer their hajj plans for now. The one-month pilgrimage was due to begin in July-end. Just last year, the pilgrimage attracted 25 lakh people from all over the world. If good sense prevails, the event won't happen this year.
In 2019, the pilgrimage attracted 25 lakh people. (Photo: Reuters)
This, however, won't be the first time hajj would be cancelled. It has happened earlier too. The pilgrimage has either been cancelled or the number of pilgrims curtailed at least 40 times in the past. The most infamous of all was perhaps the cancellation that came in the 10th century AD. It came after an obscure sect took over the holy site in Mecca.
Do you know how much the Saudi kingdom stands to lose if the event doesn't happen this year? US$ 12 billion. That is Rs 912 billion, or Rs 91,200 crore (Rs 9,12,00,00,00,000).
All countries across the globe are losing money one way or the other because almost all economic activity has stopped or slowed down. For now, the choice is between livelihood and life. You know what should get precedence, don't you?
You may know, but not everybody knows. Those who do not know are called Covidiots. Thailand's 67-year-old king, Maha Vajiralongkorn, is our Covidiot Of The Day. The man, despite belonging to the high-risk age group, has fled the coronavirus lockdown to hide in a German resort. There are two problems here. One, if everyone starts to flee the lockdown (taking inspiration from the king himself), the purpose of the lockdown fails.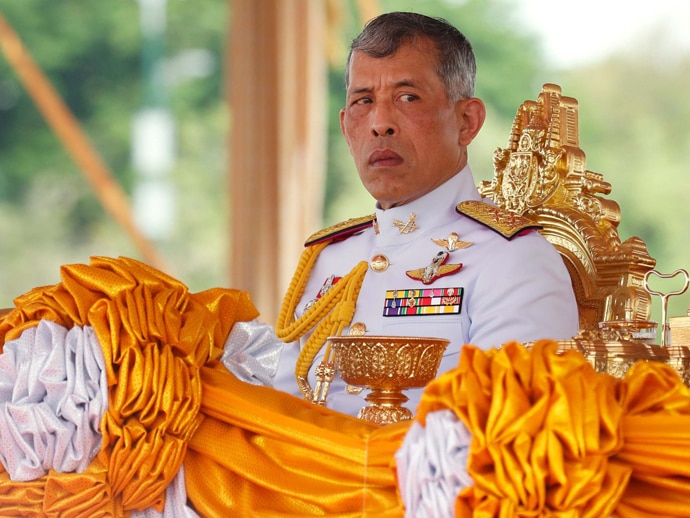 Thailand's 67-year-old king, Maha Vajiralongkorn, is our Covidiot Of The Day. (Photo: Reuters)
Two, the king hasn't fled alone. He has 20 concubines to keep him company in the resort. Now, company is precisely what we are supposed to avoid amid the outbreak. Also, imagine the money it would have cost for this entourage to shift base from Thailand to Germany. When governments need to be spending on healthcare, Vajiralongkorn's 'vacation' could have been avoided.
Now, we can raise these points because we are here in India and are Indians and we said goodbye to kings and queens long ago. If we were Thai, we wouldn't have been able to criticise the monarchy. Lèse-majesté laws in Thailand are strict and can attract harsh punishment. In fact, Thailand's lèse-majesté law is among the strictest in the world.
This law has remained unchanged since the creation of the country's first criminal code in 1908. It was tweaked in 1976, only to toughen the penalty.
In 2017, a man was sentenced to 70 years in jail in the heaviest sentence ever handed down, for his Facebook posts considered critical of the royal family. The sentence was later halved, but not before the man confessed to his crime.
All criticism of the monarchy is considered lèse-majesté, which is a French term and means "to do wrong to majesty". So, if you say 'the majesty' did something wrong, it will be considered that you are doing wrong to the majesty. Unfair? The world is an unfair place. Make peace with that and you get to live a peaceful life.
To that peaceful life, add some fun. Did you have fun today? After all, it's April Fool's Day. Did you play a prank on anyone? Maybe it would help lighten people's mood. Some people can get offended too, so watch out. But then, this year anyway looks like a long and bad joke on the entire world, so April Fool's Day is just another day in this sea of endless days we're getting through these days.
Talking of April Fool's Day, do you know how we came to 'celebrate' the day? Also called All Fools' Day, though April 1 has been celebrated for several centuries by different cultures, its exact origins remain a mystery.
Some historians say April Fools' Day dates back to 1582. This was when France switched from the Julian calendar to the Gregorian calendar. In the Julian Calendar, the new year would commence with Spring Equinox, around April 1.
People, who were slow to get the news that the start of the new year had changed to January 1 and continued to celebrate it during the last week of March through April 1, became the butt of jokes. Now, news back then didn't travel as fast as it does now. Neither did viruses, because we were not so interconnected. Yes, viruses certainly killed more because healthcare was not as advanced as it is today.
So much emphasis on April, but what about the fool? And are you really a fool if you got fooled by that April Fool's Day prank? We will clarify that and more because fool is our Word Of The Day.
The word fool came into Middle English from the Old French 'fol' meaning 'fool' or 'foolish', and from the Latin for 'bellows' or 'windbag'.
Fool has other meanings too, including a man whose job was to entertain kings, queens and other important people. This kind of fool is also called a jester. So you might have gotten fooled with that prank today, but that doesn't make you a fool. Fool is also a summer treat made of crushed fruit and cream. For now, there are no treats because there is corona and supplies are limited. So, keep your demanding taste buds under lockdown too.
Amid all this, have you heard of the controversy surrounding Badshah?
But first, listen to the song over which the controversy has broken out.
So, now let's get to the problem. So, rapper and singer Badshah released this song and everybody seemed to have enjoyed it. By everybody, we mean, Badhshah fans. People have different tastes in music. Like they have different tastes in everything else.
So the song was released and then the rapper was accused of having 'stolen' the lyrics from Bangla folk artiste Ratan Kahar. The sophisticated term for what Badshah has been accused of is 'plagiarism'. The rapper says he didn't give credit to Kahar because he did not know that it was Kahar's work.
View this post on Instagram

A post shared by BADSHAH (@badboyshah) on
We say, Badshah could have at least tried to find out who wrote the original lyrics in Bengali.
There is an interesting tale, however, around how Badshah took to rapping and also around how he could have gotten his name. Badshah started rapping when he was in Class XI. Back then, he was called Aditya Prateek Singh Sisodia.
So, Aditya's first rap was titled 'I'll defeat you'. He did it for a basketball match. A boy walked up to Aditya and asked him to repeat the lyrics. Aditya repeated. The boy, it turned out, was a DJ.
The DJ called Aditya to a club to perform. He chose Badshah as his name because he was apparently a Shah Rukh Khan fan. Badshah is also called Ishu Boy. Why? That's just Badshah's way of greeting his fans, and means It's Your Boy Badshah.
That is cool. What is not cool is plagiarism. We told you what that actually means when you drop the sophistication from the word.
Stay cool. Stay home.
We will meet you tomorrow.
Also read: DailyOh! All who attended Nizamuddin event are our Covidiots, to what killed Meena Kumari