Who will carry forward the legacy of M Karunanidhi and Dravidian nationalism?
It wouldn't be wrong to say that the Dravidian movement contributed immensely in preserving India's multi-lingual culture
Sixty years a legislator, five times CM and a formidable political player in regional and national politics — very few politicians can match up to M Karunanidhi's qualifications.
As news of the 94-year-old leader's demise spread, many obituaries called it the "end of Dravidian ideology".
Affectionately called Kalaignar (artiste and man of letters) by his fans, M Karunanidhi served as Tamil Nadu Chief Minister for five terms. (Credit: Screengrab/YouTube)
The idea of Dravidian identity that flowed from his pen in Parashakthi — the 1952 film that was one of Karunanidhi's most popular work, questioning the social constructs of the time — was an ideal that he upheld until his last. His blazing words proved to be important tool for the Dravidian movement, an ideology that Karunanidhi imbibed from Periyar and Anna in Tamil Nadu.
A file photo of Prime Minister Narendra Modi visiting DMK president M Karunanidhi in Chennai. (Credit: PTI photo)
Even though his chief ministerial achievements were dwarfed by the accomplishments of MGR and J Jayalalithaa, Karunanidhi managed to maintain his cult fan base.
He made national headlines during Emergency for bitterly opposing Indira Gandhi — something that very few politicians dared to do during that time. Karunanidhi did it and paid a price too, as Indira Gandhi dismissed the DMK government in Tamil Nadu in 1976, citing corruption charges.
It wouldn't be wrong to say that the Dravidian movement contributed immensely in preserving India's multi-lingual culture. Decades of the Dravidian movement's opposition to imposition of Hindi and the idea of "one India, one culture" emphasised on the fact that such "hegemony" will only undermine the importance of regional autonomy, language identity and culture. In a country as diverse as India, cultural autonomy also means a unifying factor, and not a dividing line.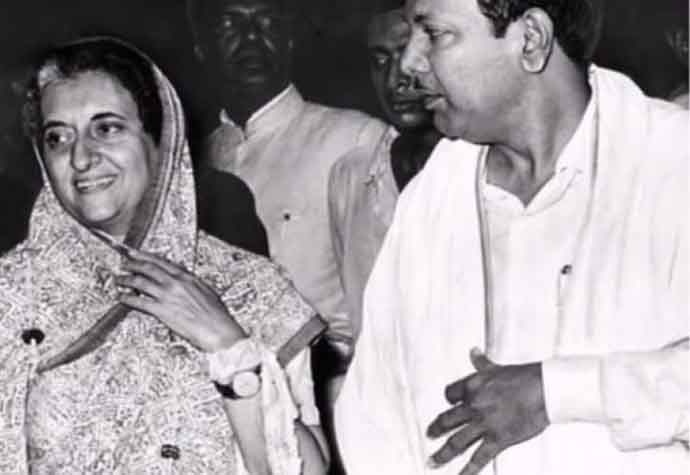 Karunanidhi with Indira Gandhi. (Credit: Screengrab/YouTube)
The DMK, under Karunanidhi, reaffirmed its status as a champion of the downtrodden and Tamil nationalism that appealed to an emerging Tamil intelligentsia — something that promised greater social equity. Another upside of the Dravian nationalism was the fact that there was little place for religion in Tamil politics. Sectarian politics was kept at arm's length by both Jayalalithaa and Karunanidhi.
With the death of Karunanidhi, the last trace of Dravidian politics too seems to have disappeared, unless a Kamal Haasan or a Rajinikanth or, the DMK patriarch's son, M Stalin continues the legacy.
One can't help but recall what Karunanidhi once said how his followers would continue to carry on the struggle against imposition of Hindi.
"If one Karunanidhi goes, more Karunanidhis will emerge."
Also read: What DMK patriarch M Karunanidhi means for Tamil Nadu's politics
The views and opinions expressed in this article are those of the authors and do not necessarily reflect the official policy or position of DailyO.in or the India Today Group. The writers are solely responsible for any claims arising out of the contents of this article.