Daily Recco, April 8: Milind Soman bares it all in Made in India
The memoir delves into Soman's life capturing his journey from a swimmer, to a model, to Ankita Konwar's husband and everything in between.
Captain Vyom it seemed could save the world from all threats facing the planet as he fought evil forces with a cocktail of physics, astrology and philosophy by his side. But Captain Vyom's heart was not into the TV series. Director Ketan Mehta wanted Captain Vyom (1998) to be a Sunday-morning entertainment for children. Captain Vyom wanted the programme to be a series for adults, quite like Star Trek. That Captain Vyom came to be liked and loved by both kids and adults going on to enjoy a cult following is another matter.
The success notwithstanding, 55-year-old Milind Soman believes if he had a chance at it, he would have done it differently. In his memoir, Made in India, written along with Roopa Pai, Soman gets candid and bares it all (pun intended).
Made in India, Milind Soman with Roora Pai, Penguin, pages 229
The journey begins from a London kindergarten with Soman's first girlfriend, Anne. Five-year-old Anne dumps five-year-old Soman because a girl in the class convinces her that if the two were to have children they would be 'mottled black and white'.
Soman contends he always found himself to be a misfit. Women across age groups, however, found him to the perfect fit. His fan following broke gender barriers. A documentary called Milind Soman Made Me Gay is up and running on YouTube. While Soman's presence in the documentary is limited to the title, the title itself was born out of the fondness men had expressed for him.The memoir delves into the many controversies that came Milind Soman's way through his modelling career. The biggest of them being the ad shoot with then girlfriend Madhu Sapre for Tuff shoes. The memoir delves into how Sapre had to take the bigger share of the backlash, with her passport confiscated and demonstrations happening right outside her house, because she was a woman. There is also a sneak peek into how they met, came close and bonded till they drew apart. But the two continue to be friends still.
Many of the details may already be in public domain but Made in India offers a journey to how Soman felt through it all and dealt with it all. He makes it sound like it was all a gentle breeze.The athlete in him came to his rescue on occasions. While sporting activities teach you discipline, they also channelise your energies. But what is that sportspersons do after a rigorous sports session? Take a bath. That is where for some the ewwww factor may come in. Soman doesn't use soap.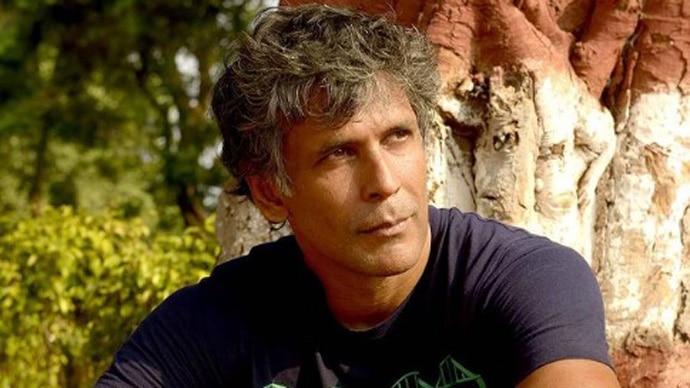 Milind Soman once smoked 30 cigarettes a day. (Photo: Instagram/milindrunning)
He is also against the use of any additional fragrance like perfumes because 'each body has a natural smell'. The memoir offers some useful tips on how to ensure the unique smell doesn't turn into stink. Soman, who once could finish 30 cigarettes in a day, has some handy advice for those wanting to quit too. Soman calls smoking the stupidest thing he ever did. The reader may not agree with that assessment upon reading about why he quit Jo Jeeta Wohi Sikandar (1992). The crew, Soman says, did not feed him enough. His enough, however, was a hell lot.
The memoir offers an interesting account of projects Milind Soman took up and those he left, projects he thought were a dud, but went on to become superhits. Alisha Chinai's Made in India album and song were part of projects Soman didn't think would work. He makes no bones about accepting it. In fact, even retrospectively, he goes on to describe the absurdities and stupidities of those projects. Part of lack of Soman's understanding of what would work may have stemmed from spending his early years in London and then being part of a modelling circle where Bollywood was laughed at.
The book also offers a glimpse of the romance that drew controversies Soman's way for marrying a 'child'. Soman talks about how he met Ankita Konwar and went about wooing her, and eventually marrying her.
From food, to health, to heart Made in India is a one-stop guide to how to live a happy and healthy life through the good times and bad.
Read the book. It has something for everyone.
Also read: The story of Instamatic
The views and opinions expressed in this article are those of the authors and do not necessarily reflect the official policy or position of DailyO.in or the India Today Group. The writers are solely responsible for any claims arising out of the contents of this article.