The next step to doorstep treatment is treatment wherever we step. Mumbai's Dreams Mall came as close to fulfilling that dream as close can get - a hospital in a mall. This was no ordinary hospital but a coronavirus hospital. If the virus can spread in malls, let coronavirus hospitals spread to the malls. Idhar disease, udhar treatment. What came in the way was fire. The first floor of the mall caught fire on the intervening night of Thursday and Friday and the smoke reached the hospital, leading to the death of 10 people.
Fire tenders at the Dreams Mall in Mumbai. (Photo: Twitter)
You ain't the only one to have never heard of a hospital in a mall. "I've seen a hospital in a mall for the first time," said Mumbai mayor Kishori Pednekar.
What has caused PM Narendra Modi to reach Bangladesh will be dealt with later because we first want to deal with what helped Modi reach Bangladesh - a brand-new Grand Air India One. The B777 aircraft, which has its own missile defence system, was ready since October 2020 to take off but coronavirus kept it grounded. If you are on this aircraft, you get to have audio and video communication midair without the risk of being hacked. However, you don't get to be on this aircraft because the aircraft is only for the PM, President and Vice-President.
The Grand Air India One has a missile defence system of its own. (Photo: Poulomi Saha/India Today)
Now to the question of why PM Modi is in Bangladesh. Today happens to be Bangladesh's Independence Day. Bangladesh won its independence after fighting the Bangladesh Liberation War on December 16, 1971, but it was on March 26 that Sheikh Mujibur Rahman, Bangladesh's Father of the Nation, declared the country an independent nation. A war started and, you know, Bangladesh got mukti with the Indian armed forces joining forces with the Mukti Bahini. The war was won after over 90,000 Pakistani soldiers surrendered before the Indian Army. India had entered the war in December.
This was a time when millions of Bangladeshi refugees were already in India. On top of that we had 90,000 additional people to take care of. No regional conflict is purely regional. Countries from other regions come to find a reason to poke their noses too. In this case, the US extended its nose from over 13,576.02 km away to India. The US dispatched its aircraft carrier USS Enterprise to the Bay of Bengal to try and intimidate the Indian government. The Indira Gandhi government did not tell the US to take its nose away but did not care about the nose either. But Indira was concerned about the 90,000 Prisoners of War. Your prisoner is someone's soldier and Geneva Conventions say treat all soldiers well – if you capture them in a war. If you kill them during the war, well, it is war.
These 90,000-plus men had, however, surrendered after the Pakistan Army signed the Instrument of Surrender. India dealt with these Pakistani Army men respectfully and moved them from one part of the country to another in planes because how we treat people is not about them but about us. Also, they might take a lesson or two in good treatment.
Pakistani soldiers surrender in Bangladesh in 1971 before the Indian Army. (Photo: bdnews24.com)
The military commanders of Eastern Command of Pakistani military were held in Fort William in Calcutta. Later, the commanders were held in Jabalpur Cantonment. India and Pakistan signed the Simla Agreement in 1972, which said the men would be released. In 1973, majority of the war prisoners were shifted to Red Fort and Gwalior Fort in New Delhi and Madhya Pradesh, respectively. By 1974, all of them were sent back to Pakistan.
Bangladesh Prime Minister Sheikh Hasina greets her Indian counter Narendra Modi in Dhaka. (Photo: Twitter/@narendramodi)
PM Modi was, meanwhile, welcomed in Bangladesh by his counterpart Sheikh Hasina.
Most things in Bharat are moving, even though there is an apparent Bharat Bandh across the nation. The Bandh, however, hit parts of Haryana and Punjab. The only other place it had an impact on was Twitter, where #BharatBandh trended.
From a Bharat Bandh that has no impact to a crime that claimed three lives. Panipat Police have arrested a man for cheating three women and marrying them. The man, Ahsan Saifi, stands accused of killing three people – his second wife, his son and his relative.
Three marriages multiplied into countless lies and to cover each lie, Saifi had to speak more lies. Caught by his second wife for having a first wife, Saifi killed her and two others. He went on to marry a third woman till the skeletons tumbled out. So, Saifi hid the skeletons in the house he owned by digging the floor. He then sold the house to a man, who sold it to another woman. This woman wanted to renovate the house so she got the floor dug up and found the skeletons. There is no such thing as a perfect crime.
Drishyam 2 (2021) will tell you that even Drishyam (2013) wasn't a perfect crime. Do watch the movie later. For now, let's get back to the skeleton.
Skeleton, the Word Of The Day, comes from Greek word skeletons, which means 'dried up'. When we dry up, we become our skeletons. Ask skinny people how many times they have been referred to as skeletons. Also, ask them how many times they have wanted to turn the person referring to them as skeleton into skeletons. The Oxford dictionary tells us about the importance of the skeleton. It says skeleton is 'the structure of bones that supports the body of a person or an animal; or a model of this structure'.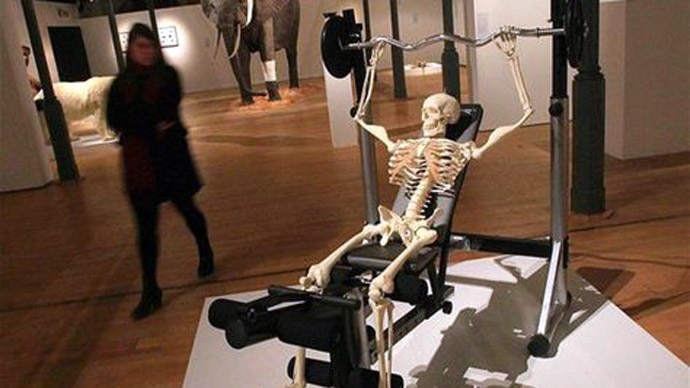 When we dry up, we become our skeletons. (Photo: Reuters)
That shouldn't make the skeleton too proud because every part of the body is important. When the skeleton is found, you know, the body has been lost.
You can find your full dose of entertainment over the extended weekend, which will extend to Holi on Monday, by watching Star Trek. You may want to start today because today happens to be the birth anniversary of Star Trek star Leonard Nimoy. So for today, watch Star Trek: The Motion Picture, the first of 'em all.
You stay fine by playing a safe Holi (or not, if you're the no-Holi kind).
We will see you on Tuesday.
Now get the all-new DailyOh in your mailbox. Click here to subscribe.