One song that gave me immense joy, when I was nine years old, was the title song of Love in Tokyo (1966). The song was a feel-good, bubbly, and energetic song but the icing on the cake was Mohammad Rafi belting out "Jaaapaaaan, Love In Tokyo". The accent was Indian, Japan pronounced as it is in Hindi, but it didn't matter.
English words in a Hindi song? That made the song a cut above the rest; cool, groovy, exotic. This was an attempt at westernisation and reflected the gradual transformation of spoken Hindi. That year, another Rafi song, the ebullient "Suno Suno Miss Chatterji, Mere Dil Ka Matter Ji" (Baharen Phir Bhi Aayengi) also made waves.  
A year later, in 1967, came An Evening in Paris with its title song "Dekho, Dekho, Dekho, Dekho, Dekho, An Evening In Paris", Night in London with "O My Love, Nazar Na Lag Jaye", and Farz with "Happy Birthday to You".  These songs were great fun, never mind Rafi's Punjabi diction when singing in English.
Earlier, Rafi had done something similar with "April Fool Banaya" (April Fool, 1964) with Saira Banu screaming "Yuuuuu……." and Rafi responding with "Very Good".  Then there was "Baar Baar Dekho" (Chinatown, 1962) with the punchline "Tally Ho" but sung as "Talli Ho" and written as such in the song lyrics.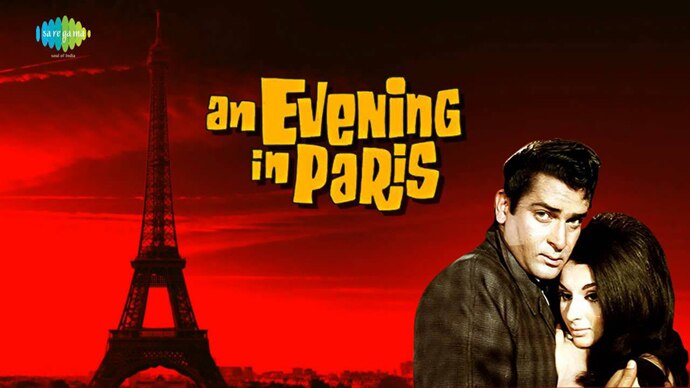 Poster of An Evening in Paris. (Photo: Screengrab/Youtube)
Why an English huntsman's cry to the hounds on sighting a fox came to be incorporated into the song by Majrooh Sultanpuri is something I didn't understand then, and don't till date. But Majrooh had also written "C.A.T. Cat Mane Billi" in Dilli Ka Thug (1958) – sung by Kishore Kumar and Asha Bhosle. Maybe it was just a random phrase put in as a refrain. But no one complained, and the song became very popular, hinged largely on the imaginative insertion of "Tally Ho".
There was Rafi's "Pyar Ho To Kehdo Yes, Pyar Nahin To Kehdo No" (again by Majrooh) from Dil Deke Dekho (1959). What a peppy, effervescent song it was with such an imaginative English – laced ultimatum! And "All Line Clear" by Rafi / Johnny Walker in Chori Chori (1956) – "clear" pronounced as 'kil-year'. The bagpipes were added for authenticity.
And even though Kaagaz Ke Phool had serious, philosophical, somber songs, it had Rafi doing playback for Johnny Walker in – "Hum Tum Jise Kehta Hai Shaadi, You Know Hai Poora Barbaadi, Jo Tum Lalchaoge Piche Pachtaoge, Mind You Jayegi Azaadi". 
Rafi wasn't the only singer doing the Hinglish songs. There were others too. But he seemed to have a predominant share.
It was natural for Rafi to progress to full-fledged English songs, even though he was not fluent in English. It is believed that he cut an entire album in English though only two songs survive and are known. Not a bad feat for a singer who struggled with English. The music was given by Shankar Jaikishen and lyrics by Harindranath Chattopadhyaya; they had approached Rafi with the prospect of doing the English album.
The two songs are "Although We Hail from Different Lands" based on the tune of "Baharon Phool Barsao" (Suraj, 1966), and "The She I Love" based on the tune of "Hum Kale Hain To Kya Hua" (Gumnaam, 1965). Harindranath coached Rafi with the English lyrics. Rafi was very happy with the outcome and presented Harindranath with all his albums. However, Harindranath did not accept the gift and asked Rafi that he sing "Chahunga Main Tujhe Saanhj Savere" (Dosti, 1964) for him. Rafi took his harmonium to Harindranath's house and did the needful.
The refrain of "Although We Hail From Different Lands" is the Lennon-esque – "Although We Hail From Different Lands, We Share One Earth And Sky And Sun, Remember Friends, The World Is One". "The She I Love" begins with – "The She I Love Is A Beautiful, Beautiful Dream Come True, I Love Her, Love Her, Love Her, Love Her, So Will You".
Though these English songs pale in comparison to the absolute supremacy he exercised over Hindi songs, Rafi never backed down and made a valiant effort to overcome his fears and come out of his comfort zone. In the biography Mohammed Rafi: Golden Voice of the Silver Screen, Sujata Dev writes about how the unlettered singer would politely turn down requests for autographs.
As his fame grew, "he began practicing his signature diligently and when Ammi (mother) enquired why he was wasting reams of paper, he told her that he did not want to deprive his fans and so was learning to sign his name in English," Rafi's son, Shahid, told Dev. "Soon he began signing autographs in English and enjoyed doing so. It came as a great compliment for all his efforts when a journalist mentioned that he had the best signature in the industry."
Singing in English gave Rafi the courage to sing in other foreign languages during his tours abroad.
In India, he had already sung 'Rasa Sayang Re' from the movie Singapore (1960). The words and tune of the opening line is adapted from a popular folk tune of Malaysia/Indonesia. During his tour to Mauritius , he sang in Creole – Mo Le Coeur Toujours Soif Zot L'amour Camarade (My heart will always be thirsty for your love, my friends), based on the tune of Ehsaan Mere Dil Pe Tumhara Hai Doston (Gaban, 1966).
He sang in Dutch - Ik Zal Jou Nooit Vergeten Al Zal Ik In India Zijn (I will never forget you, although I will be in India) based on "Baharon Phool Barsao". In Surinam, he sang in the local language – Aai Aai Ya, Milobi Sararang Sukoo Sukoo, based on "Aai Aai Ya Sukoo Sukoo" (Junglee, 1961). In Sri Lanka, he sang a song in Sinhalese based on "Ramaiya Vastavaiya" (Shree 420, 1955). He sang in Persian - "Aye Taaza Gul" (O fresh flower), with Afghani singer Zheela.
He has also sang in Arabic – "Haeeyuli Sultaan Qaboos Hibaadal Maimunhun". In fact, Rafi had the unique distinction of giving the azaan at the Kaaba in Mecca in the early 70s. Masood Rana, the well-known Pakistani playback singer was with Rafi and recorded the azaan. Rana declared that this was the greatest treasure of his life.
Today, on July 31, 2018, on Rafi's 38th death anniversary, we salute this outstanding singer and a good human being, who was always experimenting, pushing boundaries, exploring new frontiers. He wasn't afraid of failure and had faith and confidence in his own abilities and hard-work. He never left his listeners down. Going back to Rafi's poser from Dil Deke Dekho – 'Pyar Ho to Kehdo Yes', the reply can only be a resounding 'yes.'