Much before 1853, when the first railway line was being laid between what was then Bori Bunder and Tanna (today, Mumbai CSMTM and Thana, respectively), the then railway contractor encountered several problems while laying down the tracks. One of the consistent problems would be at Sion.
"He would lay down the track and in few days, it would cave in. It was because the area is a low-lying area," railway historian SN Sharma wrote in his tome The History of Great Indian Peninsular Railways.
More than 150 years later, things have hardly changed. Mumbai, after all, is a city built by reclaimed sea and filling creeks to join the original seven islands. On Tuesday, August 29, 2017, this was reiterated yet again, as the financial capital weathered extremely heavy downpour.
It rained 315.8mm in 12 hours from 8.30am, as per records at Santa Cruz observatory. This was, as per Met data, about a third of what it received on that fateful day in July 2005.  
It was not as if there were no warnings. But the efforts by civic agencies spectacularly fell short. If one checks the areas that suffered the most, it is clear these are necessarily low-lying areas: Mumbai Central, Lower Parel, Dadar, Sion (yes, the same mentioned above), Andheri, Saki Naka, Kurla, Mulund to name a few.
Even if we give a benefit of "extremely heavy rains" to the civic agencies, these areas witness heavy water-logging in even 35-40mm rains on other days. What explains that?
Drainage systems inadequate
Flooding in urban areas, especially in a megalopolis such as Mumbai, is a result of prolonged rainfall that simply overwhelms the drainage system. Cities such as Mumbai that are densely populated are vulnerable to floods and other disasters. Apart from the loss of lives, there is extensive damage to urban infrastructure and, of course, a break in city's lifelines – the local trains and BEST buses. Ensuing economic losses and disease burden are the obvious fallout.
But simple measures and regular maintenance of these drainage systems, using pumping facilities to drain off excess water and such procedures are almost always evoked so late, the damage is already done.
There was a lot of hue and cry after the disastrous July 26, 2005, cloudburst induced floods in Mumbai and suburban areas. Prior to that, India's flood management was restricted mostly to rural areas. But then July 2005 did wake up national level authorities too.
But despite the fact many things were said, very little was implemented. Result: similar apathy was experienced at cities across India –Surat in 2006, Kolkata 2007, Jamshedpur 2008, Delhi in 2009 and 2010 (also, Guwahati in 2010). The story continued unabated with 2014 Kashmir floods, 2015 Chennai floods and 2016 was Gurugram and then recent Bengaluru floods.
Urban apathy, urban flooding
Among the human factors that cause floods, experts pointed out land use changes (in cities such as Mumbai and Delhi, it happens both legally and illegally), increasing concretisation (in Delhi, colony parks are turned into parking lots) and, last but not the least, building roads or other heavy infrastructure that cross the natural water channels (how many of you are aware that there are rivers flowing below the runways at Mumbai and Chennai airports?).
In cities such as Surat, the majority of the times, flooding is caused due to the release of excess water from an upstream dam on Tapi river. For other riverine cities, including the Yamuna, backflow of water into smaller tributaries during floods, too is a reason.
But the most important reason, applicable to almost all cities, is the indiscriminate waste disposal, especially the plastic/polyethylene bags that choke gutters and storm water drains leading to water logging in urban areas.
Climate change is only going to make things worse. The Assessment Report 5 (AR5) of the Intergovernmental Panel on Climate Change (IPCC) has already predicted an increase in high-intensity rainfall days for India and the South Asian subcontinent even when the overall rainfall remains the same.
It simply means, the rainfall that we received spread over monsoon months would now be restricted to few days far in between but the quantum received on that day would be more. Naturally, flood and water logging will increase.
But then, it is not just Mumbai that is facing the recurring problem of urban flooding. Every year, the list of cities witnessing floods and waterlogging is increasing.
In 2017 alone, in last two months, major cities across India have seen heavy to very heavy rainfall (more than 100 mm in almost less than 24 hours). Earlier last week in August was Chandigarh; prior to that was Bengaluru and then there were scores of tier two cities, including those in the heart of desert in Rajasthan, Saurashtra, and Ahmedabad too.
According to data studied/released by the Centre for Science and Environment (CSE)'s Down to Earth: "This year, up to mid-August, India had 16 extremely heavy rain events, defined as rainfall over 244 mm in a day, and 100 heavy rain events, defined as rainfall between 124 to 244 mm in a day."
Now that indeed is a lot of rainfall. Even if all drainage systems in all cities are 100 per cent functional (which they are never), this kind of rainfall is just too much for it to handle. The discharge will take time and in case of coastal cities such as Mumbai, the regular high tides will make the matters worse.
Increased disaster management needed
In 2010, the National Disaster Management Authority (NDMA) released guidelines for Management of Urban Flooding.
"These guidelines will give a boost to the efforts for urban flood disaster management and strengthen the national vision of moving towards a more proactive pre-disaster preparedness and mitigation-centric approach," it said.
Exactly the thing that seems to be missing, Mumbai's floods on Tuesday being the latest example.
The guidelines, an in-depth piece of work, espoused all the right things and came up with suggestions and actionable inputs to prevent floods/mitigate damage. But a quick glance even at the "Key Action Points" (see box) is enough to say it talked about the almost utopian situation. Of course, many cities have done some things.
But obviously, important ones are being neglected. At their own peril. For instance, the suggestion that "IMD will establish a Local Network Cell" has been worked for cities such as Mumbai and Delhi, but not for many others.
Another suggestion of "pre-monsoon de-silting of drains will be completed before March 31 every year" evokes a sad sigh. Forget March 31, the municipal authorities have year after year neglected to meet deadlines for desilting of drains and the quality of the work leaves much to be desired.
Had the suggestion "every building shall have rainwater harvesting as an integral component of the building utility" been implemented seriously, Indian cities would have become flood resilient since long. But the fact on the ground is otherwise.
Need green areas, wetlands in the city
All cities have master plans, so do Mumbai and Delhi. But it is common knowledge that the cities have hardly developed keeping in tune with the master plan. With profit motive, maximising land returns being the priority, any and every piece of land became sweet real estate. Found on paper only, the water bodies, the natural drainage of that city have been neglected by the authorities, year after year.
Naya Raipur was planned and built only after 2000 when the state of Chhattisgarh was formed. It could easily have learnt from past mistakes of other cities. But no. More than two dozen ponds and lakes were sacrificed to build the new capital.
Adopting watershed approach could be the solution. It will help in rainwater harvesting, aquifer recharge and thus help in storm water drainage management. Increasing the green cover and reducing concretisation are two actions easier said than done. In the garb of "need of infrastructure", hundreds and thousands of trees are cut brutally across metros.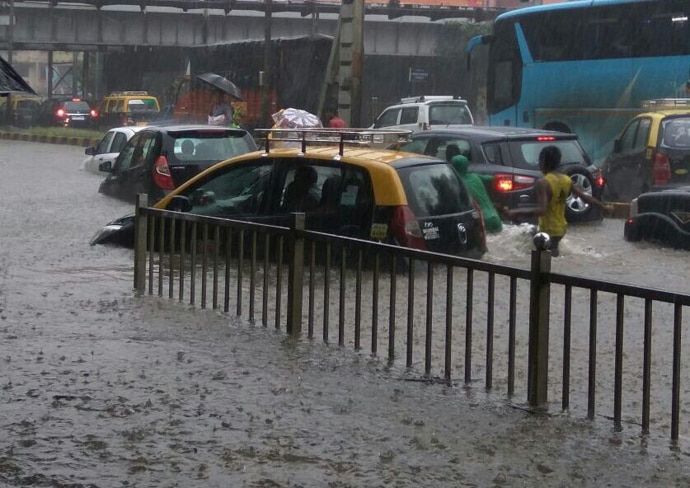 Urban floods are going to be a constant phenomenon if we do not mend our ways. Apart from improving disaster management and green areas in the city, there are certain decisive steps that the policy makers will have to take.
First and foremost, is to decongest the megalopolis. That will lessen the burden on urban infrastructure, that will lessen the number of slum people being rendered homeless and that will lessen the economic losses too. Mitigation will prove more effective in the long run.
For the authorities, it is imperative that they follow and implement the building by-laws in letter and spirit. Civic bodies have been notorious is either legally giving permission to infrastructure – such as metro station on Yamuna floodplains – or legalising colonies – such as that in Srinagar.
Civic authorities, disaster management authorities should always have the flood risk map of the respective city ready and spread ample awareness about it using mass media amongst citizens, especially the most vulnerable.
And last but never the least. Whether it rains just 15mm in a whole day or 300mm in three hours is not in our hands. But, whether to build our home – plush colonies as seen in Srinagar to shanties on the Yamuna bank – in the river floodplain or not is in our hands.
Whether to encroach the neighbourhood pond for our greed or not is to be decided by citizens. Not everything can be left to the government.
As late Anupam Mishra, noted environmentalist and author of iconic book Aaj Bhi Khare Hai Talab, used to say, "These ponds, lakes, and johars are like sponges. If the falling rain does not have its designated space, it is going to inundate other areas."
Question is: When are we going to learn from past examples?
Some of the key action points:
1.) Ministry of Urban Development will be the nodal ministry for urban flooding.
2.) Establishment of the urban flooding cell in ministry of urban development (MoUD), state nodal departments and ULBs.
3.) Establishing a technical umbrella for urban flood forecasting and warning, both at the national level and state/UT levels.
4.) IMD will establish a "local network cell".
5.) Establishment of local network of automatic rainfall gauges (ARGs) for real-time monitoring with a density of 1 in every 4sqkm in all 2325 Class I, II and III cities and towns.
6.) Strategic expansion of Doppler Weather Radar Network in the country to cover all urban areas for enhanced local-scale forecasting capabilities with maximum possible lead-time.
7.) India Meteorological Department (IMD) will develop a protocol for sub-division of urban areas on the basis of watershed and issue rainfall forecast on the watershed-basis
8.) Establishing urban flood early warning system.
9.) Catchment will be the basis for design of stormwater drainage system.
10.) Watershed will be the basis for all urban flooding disaster management actions.
11.) All 2325 Class I, II and III cities and towns will be mapped on the GIS platform
12.) Contour mapping will be prepared at 0.2m - 0.5m contour interval.
13.) Inventory of the existing stormwater drainage system will be prepared on a GIS platform.
14.) Future stormwater drainage systems will be designed with a runoff coefficient of up to 0.95m in using rational method taking into account the approved land-use pattern.
15.) Pre-monsoon de-silting of drains will be completed before March 31 every year.
16.) Involve the residents' welfare associations (RWAs) and community based organisations (CBOs) in monitoring this and in all urban flood disaster management (UFDM) actions.
17.) Every building shall have rainwater harvesting as an integral component of the building utility.
18.) Encroachments on drains and in floodplains will be removed by providing alternative accommodation to the poor people.
19.) Better compliance of the techno-legal regime will be ensured.
20.) Establish the incident response system for coordinated response actions.
21.) Capacity development at the community and institutional level to enhance UFDM capabilities.
22.) Massive public awareness programmes covering solid waste disposal, problems of encroachments, relevance of techno-legal regime besides all other important aspects.
23.) Involve elected public representatives in awareness generation.
(Source: NDMA Guidelines for Management of Urban Floods)