People mocked 'spirit of Mumbai' but it came through this rains
Sometimes, the cynical blinkers we wear need to be taken off and kept aside.

DailyBite
Author and journalist Manu Joseph uses the words "most meaningless and imbecilic expression" when he describes the phenomenon called "the spirit of Mumbai". And perhaps he is right. After all, what is it, but a mere metaphorical warm blanket we like to envelope ourselves in in the face of a deluge of government apathy?
The spirit of Mumbai is, at best, how people make themselves believe that there is still hope, even as systemic negligence and nature's fury cause destruction to property and lives.
Call it whatever you may the spirit of Mumbai is real.
Mumbai, from the outside looks apathetic. It is a city that hardly ever sleeps, and never stops to catch a breath. It is a city where everyone exists solely to succeed and move forward. It is a city where people understand survival, and where they do struggle to survive, in the rat-infested narrow lanes that wear the permanent stench of Bombay duck, in cramped apartments with sky-high rent and in the overcrowded Virar-fast that barely lets you breathe and almost tries to throw you out.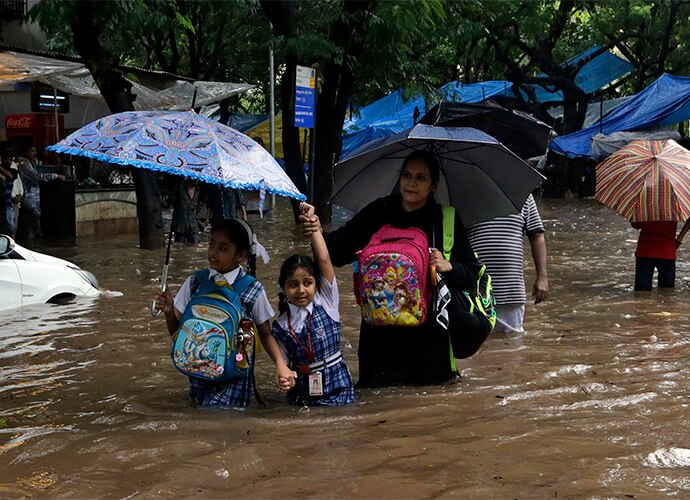 Photo: Associated Press
But the spirit of Mumbai exists despite the rotting infrastructure and the terrible traffic. The spirit of Mumbai is the people who live in it. It is the migrants and the residents and the dabbawaalahs and the rickshaw drivers and the cops and the partygoers and everyone else.
And it is the people, who at all desperate times exhibit this "spirit" that makes people unrepentantly shout and tweet this cliché.
On August 29, Mumbai witnessed torrential rain and flooding that almost brought back memories of the July 26, 2005 downpour that paralysed the Maximum City – though the 2017 spell was nowhere near as bad. According to an Indian Express report, the Santacruz observatory recorded 315.8mm of rainfall between 8:30am and 8:30pm on August 29.
Water-logging from the incessant rain resulted in power cuts, brought traffic to a standstill, and flooded roads and people's homes.
Municipal bodies, politicians and generally anyone who can be blamed will make excuses. And going by the trend, these excuses may as well include pinning the blame on everyone from JNU to Nehru to the Mughals, but the blame games can and did wait.
The disgruntled folks of Mumbai, who are at this point probably used to this yearly tradition of their city getting flooded, chose to stop blaming and start helping.
Through social media, they tried to help stranded people. They invited the unlucky ones stranded in the rain to their homes, for shelter, food, warmth and chai. They gave each other lifts. They saved people from waterlogged stations. They distributed food and water on the streets for those stuck there.
They helped folks trapped in stranded vehicles on water-logged streets. They did all that is expected of humans during a time when empathy and compassion are most important.
#MumbaiSpirit.. Distribution of water and biscuits for people stuck on Western Express Highway @MumbaiPolice pic.twitter.com/bos2jpg50T

— Hajra Bi (@sayyedhajra) August 29, 2017
Spirit of Mumbai never ceases to amaze me !!#MumbaiRains #MumbaiSpirit pic.twitter.com/dagUNCWYeg

— Varun Gampa (@IamGVarun) August 29, 2017
Received on whatsapp !!! For people strabded near dadar, matunga, sion. #mumbairains #mumbaiweather #mumbailocal #mumbaispirit pic.twitter.com/W6nLLeUVyZ

— Neel soni (@sonineelK) August 29, 2017
And here in Mumbai,a friend stuck in a car to the airport for 5 hrs told me that slumdwellers came out to serve stranded people tea&biscuits https://t.co/tzhGobH28Q

— anand mahindra (@anandmahindra) August 30, 2017
Sure, the spirit of Mumbai may just be the side-effect of institutional failure and colossal political incompetence.
And anyone from a place of power and authority using the phrase is resorting to a grotesque display of cloaked apathy.
But to call this spirit meaningless is to call empathy and compassion meaningless.
Sometimes, the cynical blinkers we wear need to be taken off and kept aside.
Also read - Why it's wrong to compare Mumbai rains getting more coverage with Bihar and Assam floods