DailyOh! PM Modi gets Covid jab, to the politics over Shova Majumdar's swollen face
PM Narendra Modi has been inoculated with his first dose of Covaxin.
Taking the Covid vaccine is not just safe, but also easy-peasy. "Laga bhi diya… pata bhi nahi chala," Prime Minister Narendra Modi asked and told sister P Niveda in the same breath. Who is sister P Niveda? A nurse from Puducherry. The other nurse present during the PM's vaccination was from Kerala. Modi's gamosa that he wore for the vaccination was from Assam.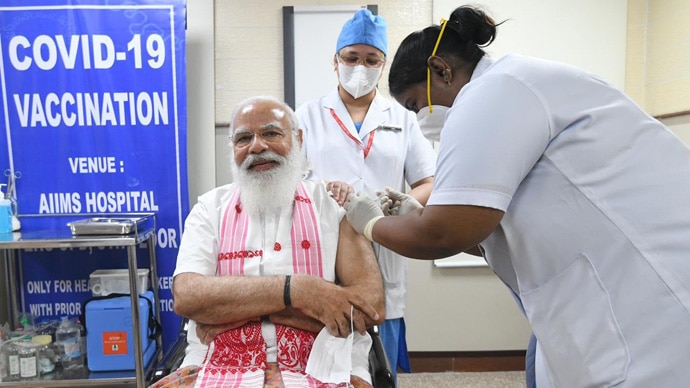 Prime Minister Narendra Modi being given the Covid vaccine jab. (Photo: Twitter/@narendramodi)
In election season, everything looks election-related or maybe in election season, everything is indeed election-related. BJP was quick to project the development as that related to rules of the queue. The queue rule says one must not jump the queue. Modi is 70. The round of vaccination that shot off today is covering those above 60 and those above 45 with comorbidities. The opposition had been asking Modi to take the vaccine to instill confidence in people about the vaccine. When Modi took the vaccine, the opposition wanted more confidence so it asked which vaccine jab did the PM take – Oxford's Covishield or Bharat Biotech's Covaxin? It then turned out Modi took a jab of Bharat's vaccine Covaxin, whose safety many had questioned.
The safety question answered, let's move to the next question: what is a jab? Jab, the Word Of The Day, means to poke roughly or quickly, especially with something sharp or pointed. Jab is a Scottish variant of the word job, which means 'to strike, pierce, thrust'. The word was first used in 1825 to mean 'to thrust with a point'. Oxford dictionary defines jab as 'to push a pointed object into somebody/something, or in the direction of somebody/something, with a sudden strong movement'. Injections are often called a shot or jab and when talking of jab as an injection, the piercing should be smooth and not rough. So smooth that lag bhi jaaye aur pata bhi na chale.
From politics over and around the vaccine, let's move to electoral politics. The BJP has shared a list of 60 seats where it wants to field candidates in Tamil Nadu elections with AIADMK. It is being said the BJP may not get more than 21. What does the BJP really want? Anything over 23. That is because NDA partner in Tamil Nadu, Pattali Makkal Katchi (PMK), has got 23. Since the BJP can't be the largest party in the alliance, it wants to be the second-largest. The AIADMK wants to keep something between 170-180 seats for itself so that it can form a government on its own. How many seats are there in Tamil Nadu? 234. All 38 districts of Tamil Nadu will vote on April 6. All votes will be counted on May 2.
The mother of all battles, however, is happening in West Bengal. Shova Majumdar, the mother of a BJP worker, meanwhile, alleged that TMC workers beat up her son and her because of the son's affiliation with the BJP. The BJP has put up posters asking if this mother is not the daughter of Bengal.
Posters of Shova Majumdar put up in Bengal. (Photo: Twitter)
#WATCH They hit me on my head and neck and punched me. They hit me on my face too. I'm scared, they asked me not to tell anyone about it. My whole body is in pain: BJP worker Gopal Majumdar's mother who was allegedly attacked by TMC workers yesterday #WestBengal pic.twitter.com/Xu23R2azan

— ANI (@ANI) February 28, 2021
The TMC, on its side, has said the beating was part of some family feud and that the party has nothing to do with it. The TMC is also saying that the swelling on Shova Majumdar's face is due to a pre-existing ailment. Why is the TMC giving two versions? Perhaps, so that you can pick the one you like.
The rivalry between TMC and BJP may end only after elections. But the rivalry between India and Pakistan is seeing the ice melt, one slab at a time. India and Pakistan could soon restore their respective high commissioners after the ceasefire they announced.
The Golden Globe winners were announced on Sunday in the US, which meant early Monday morning here for us. Chloé Zhao became the second woman to win the Best Director award for her film Nomadland (2020) after Barbra Streisand won it in 1984 for her 1983 film Yentl. If you have watched Nomadland, you know why it won. If you haven't then you must because how else would you know why it won. And how else would you have an opinion on whether it should or should not have won.
Rosamund Pike, who was once rejected by all acting schools, won the Best Actress award for I Care A Lot (2020). The winners received the awards virtually, but Chadwick Boseman got his award posthumously since he died on August 28, 2020, of colon cancer. Chadwick was declared Best Actor for his performance in Ma Rainey's Black Bottom (2020).
The movie that Chadwick won for was produced by Denzel Washington. The two you know went back a long way even though, we know, Chadwick didn't have a long way with life. Chadwick had enrolled for a summer drama programme at Oxford University. Denzel not just paid the tuition fee for Chadwick but for all his peers. Chadwick got to know about it only after he completed the course and got a beneficiary letter saying, "Denzel Washington paid for you." Chadwick let out the secret in an interview in 2018.
In the 2021 Goldern Globes award ceremony, some got the awards and some gave themselves the consolation - participation matters more than winning. What has Amarinder Singh given himself? The Punjab Chief Minister has given himself an advisor - Prashant Kishor. In Bengal, he is advising Mamata Banerjee and Mamata's bhaipo Abhishek Banerjee. Kishor had also once been an advisor-of-sorts for PM Narendra Modi.
So Amarinder got Prashant but who has the Aam Aadmi Party got? Miss India 2019. Mansi Sehgal joined the AAP in the presence of the party's Rajinder Nagar MLA Raghav Chadha today.
Mansi Sehgal with Raghav Chadha after joining the Aam Aadmi Party. (Photo: India Today)
In Congress, 23 dissenters are indirectly advising the party leadership that the election campaign in Assam, Bengal, Kerala, Tamil Nadu and Puducherry should be led by Ghulam Nabi Azad, who has said he is proud of Modi because Modi doesn't hide his true self. What do you call this level of disarray? Hint: The answer has eight alphabets.
Yes, you call it the Congress.
We would call it a day for today.
See you tomorrow.
Stay safe and if eligible, get vaccinated for Covid.
Now get the all-new DailyOh in your mailbox. Click here to subscribe.
The views and opinions expressed in this article are those of the authors and do not necessarily reflect the official policy or position of DailyO.in or the India Today Group. The writers are solely responsible for any claims arising out of the contents of this article.