Love is in the air – the love coronavirus has for us. You may call 'its' love fatal, or toxic, and 'it' an obsessive lover, but you can't deny 'it' is in the air. Half of the air samples that were taken from many hospital hallways, ICUs and a fifth from bathrooms were found to have high levels of coronavirus. ICU samples were found to be more contaminated than non-ICUs.
ICU samples were found to be more contaminated than non-ICUs. (Photo: Reuters)
It isn't just the Chinese virus which has reached far and wide, its spies too, are spreading. Afghanistan has busted a 10-member Chinese module operating a terror cell in Kabul for the first time ever. All 10 are linked to China's spy agency, Ministry of State Security. You got to give it to China to give the most unsuspecting name to a spy agency.
The spies were reportedly in contact with the Haqqani Network, the terrorist group that doubles as the sword arm of the Taliban.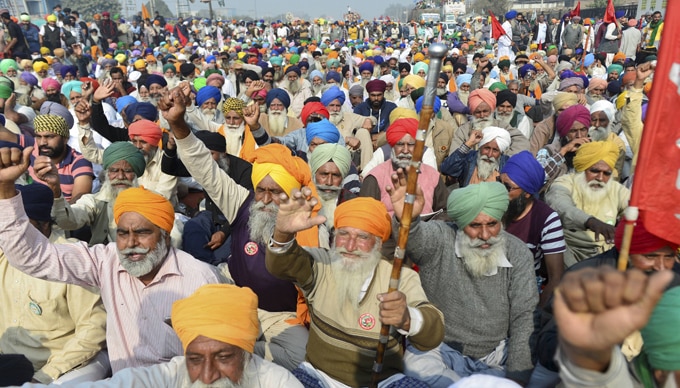 Farmer at Delhi's borders may not have heard PM Narendra Modi's speech. (Photo: PTI)
Without withdrawing the farm laws, Modi addressed the farmers via videoconferencing saying, "Those who were in power for so long left farmers to their fend for themselves. Farmers kept getting poorer... We started working with a new approach."
Farmer at Delhi's borders may not have heard Modi's speech because what they want to hear hasn't been said, and the laws stand where they stood. So the protests continued on December 25 after starting on November 26.
The farmers have so far braved the batons and water cannons, apart from the winter chill, to keep the pressure on the government. This reminds us of a farmers' protest thousands of kilometres away from India, in Belgium. The year was 2012. Food prices in Europe had fallen drastically. That may be good news for household budget but not farmers. And in the longer run, bad news for the economy.
So, the food prices had plummeted and farmers wanted the European Union to act on it. About 2,000 dairy farmers from across Europe reached the European Parliament building in Brussels. They blocked traffic to Brussels' busiest streets. The protest was called 1,000 Tractors to Brussels.
The protests were into their second day and going on peacefully with farmers showering the EP doors with milk cannons. It wasn't just liquid, but also powdered milk. But when some farmers tried to enter the EP building they were stopped by police. The farmers then decided to switch the aim of the milk cannons. Instead of EP building, they began showering the police personnel with milk. In India, it may be considered a tribute. In Brussels, it wasn't. It was just spilling of milk that the farmer could not profit from.
Protests in Belgium by dairy farmers. (Photo: Reuters)
Talking of milk, let's talk about the Milky Way. A study has found that the Milky Way may have aliens – but most of them are dead. How? By their own technology. Researchers say aliens emerged billions of years ago and that the progress of science and technology inevitably resulted in the destruction of civilisations.
Why are we talking destruction of civilisations on a day for celebrations? JLT.
Coming to the celebrations, merry Christmas. You know how coronavirus stole Christmas, but if you want to know how Grinch did it, watch How the Grinch Stole Christmas. The movie is on Netflix and you have the weekend on you. So make the most of it. You can also add Coolie No. 1 to your weekend watch list. While we recommend Grinch, we would say watch Coolie No. 1 at your own risk, lest you blame us for spoiling Christmas for you.
Talking of Christmas, ever wondered what Christmas means. Our Word Of The Day, Christmas, is a shortened form of 'Christ's mass'. Mass, you know, means church service. So, Christmas is the day when you say church service for Christ. Christ wasn't alone to have been accorded the honour. Every saint had their own saint's day on which a mass or communion service was said in their memory.
Christmas is the day when you say church service for Christ. (Photo: Reuters)
Some people also call Christmas as Xmas because X is an abbreviation of the Greek name of Christ, Χριστός (Christos).
Whether the development will impact Rajinikanth's 'party plans' for December 31 is not clear, but guess who spoilt the party for Nitish Kumar in Arunachal Pradesh? His own ally, BJP. Six legislators of Kumar's Janata Dal (United) in Arunachal Pradesh have switched over to the BJP. What does that leave JD (U) with? One MLA in the 60-member assembly.
JD (U) and BJP are partners, not friends and sometimes partners can think of their gains before their partners. That is the same relationship fish shares with octopuses. The octopus can at times punch the fish for no reason. Does the fish then turn the other cheek to the octopus? Our guess is it runs away.
The two team up to find food, but some of these collaborations don't work out.
We will leave you thinking over this relationship.
See you Monday. Have a good weekend.
Now get the all-new DailyOh in your mailbox. Click here to subscribe.