Once upon a time on Diwali: How I discovered Mumbai and myself
A Punjabi family from Mumbai made the city feel like home for me. With all the warmth of Deepawali.
I remember being very homesick during my first Durga Puja in Mumbai, 20 years ago after I had just moved from Kolkata. What was the centre of my life during my wonder years in Kolkata seemed like just an afterthought in my new home.
Kolkata enjoys the many colours of festivities with great vigour. (Credit: Reuters photo)
Even the 'most wonderful time of the year', Christmas, which was so big in what was once considered to be the second city of the British empire, seemed rather elusive in Mumbai, until I was pointed to Hill Road in Bandra, where I came across a concentrated burst of the yuletide spirit.
Yuletide where you also find the warm spirit of India. (Credit: Reuters photo)
My first Diwali in Mumbai was rather different though.
Unlike in Kolkata, where one got just a day off from work for Kali Puja, the Diwali break in Mumbai was rather long. Some of my colleagues who were from Chennai even flew back home to celebrate it with their folks. This was in the late 1990s and before the domestic airline boom, when not even our bosses flew on personal trips! That's when I learnt that Diwali is really big in south India.
Diwali: Let there be light. (Photo Reuters)
I also learnt that Gujaratis celebrate their new year during this period and the Gujaratis at work brought us kaju katlis for the occasion. Then the Maharashtrians took out their boxes of Diwali faral, a mix of sweet and savoury snacks.
It is in Mumbai that I first began to experience the deliciousness of an India outside of my own.
I stayed back in Mumbai that year while most of my new friends at work went out of town taking advantage of the long break. I was at a loose end on Diwali. I decided to do the Bengali thing and spend it with a book in my PG digs. My roommate, a newly married Andhraite from Hyderabad, had gone home to spend Diwali with his wife and I had the room to myself.
A rare pleasure.
I had settled in with Salman Rushdie's The Moor's Last Sigh, which was based in Mumbai, when my landlady knocked at the door and walked in.
"Dheeraj wants to go to the terrace and light firecrackers," she said. "Can you please go with him and supervise him while he does so?"
Dheeraj was the 10-year-old son of our landlady. I closed my book with a sigh and went up with him. I saw that the terrace was full of young kids from the colony, lighting crackers. Dheeraj joined in and I kept an eye on him, hoping that he would finish quickly and I could go down and join Rushdie while he took us across the badlands of Mumbai Central.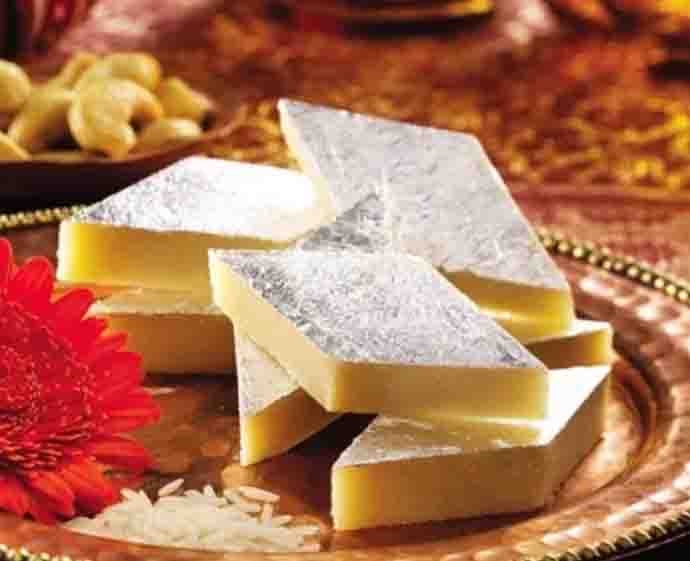 What's Diwali without kaju katlis?! (Credit: YouTube)
"Uncle, please light these," said Dheeraj as he offered me a few fuljhadis. It had been years since I had lit firecrackers during Diwali, to be honest. We thought we were too cool and grown-up for all that when we were in college after all.
But lighting crackers along with my ward for the evening brought back a rush of memories.
Memories of my childhood days in Kolkata. Of times when my mother would request the elder kids in our apartment complex to keep an eye on me while we went up to the terrace of our apartment to light crackers during Kali Puja. It seemed as if the same story was being replayed in Mumbai.
It is just that I had been given a different role to play.
There is always room for chhole bhatoore. (Credit: Twitter)
Crackers done and dusted, Dheeraj and I went down to the apartment. My landlady had kept a special treat ready for us. My favourites of chhole and bhatoore. The bhatoore were freshly fried. And there were freshly fried samosas too, with the thick and crunchy crust that I just loved. There was a pulao to go with it and paneer makhni and kheer. Plus gulab jamuns.
All made at home. Rather different from the mangsho bhaat (mutton curry and rice) meals that we had in Kolkata during Kali Puja - this was quite an unexpected treat.
Once dinner was done, I excused myself and went down for a walk. I came back a little later with a big slab of ice cream. Special occasions in our PG always meant ice creams.
Home is where the joy of togetherness is. Because home is also who you're with. (Credit: Reuters)
And that is the story of how a Punjabi family from Mumbai made the city feel like home for me for the first time since I had moved in.
Here is wishing you a very happy Diwali.
From Mumbai.
Also read: How a cow saved our Diwali
The views and opinions expressed in this article are those of the authors and do not necessarily reflect the official policy or position of DailyO.in or the India Today Group. The writers are solely responsible for any claims arising out of the contents of this article.