5 Padma awardees who won our heart
This year's Padma awards were exceptional to say the least. Called the People's Padma, the awards were special recognition for those at the grassroots level. Here are five awardees who have all our heart.
This year's Padma awards were exceptional to say the least. They were called the People's Padma for a reason: the awards sought to recognise people whose life, and work, have been at the grassroots level. Here are five awardees who have all our heart.
MANJAMMA JOGATI
According to traditions, a good wish from a transperson can bring good luck and keep the evil eye away. In less than 60 seconds, President Kovind received both in a surprise greeting from Manjamma when she received the Padma award this week. Being the first transwoman President of the Karnataka Janapada Academy in 2019, Manjamma was a shining example of inclusivity.
WATCH | Matha B. Manjamma Jogati, a transgender Folk Dancer received Padma Shri yesterday at the ceremony. Watch her unique gesture while receiving Padma Shri from the President. @rashtrapatibhvn#PeoplesPadma pic.twitter.com/9UYq6nDJao

— DD India (@DDIndialive) November 10, 2021
Born as Manjunatha Shetty in Ballari, Manjamma studied till Class 10. She was 15 when she started identifying as a girl. After going through a temple ritual of getting married to a deity, Manjunatha became Manjamma Jogati. As her family could not accept the truth, she stole some sarees and ran away from her home. She learnt folk art, sold idlis in the morning, and took tuitions in the evening for schoolgoing children to sustain herself.
Luckily, life introduced her to Kalavva Jogati, a Jogati Nritya performer. Soon, she performed across the state and took over the dance troupe.
Manjamma Jogati spoke to India Today about her life, and her experience at the Padma awards.
DR SINDHUTAI SAPKAL
Sindhutai, born in a small village in Maharashtra, went to school till the 4th grade on the pretext of cattle grazing. At 12, she got married and by 20, she had 3 sons. A local fight turned her village against her, and her husband kicked her out when she was pregnant with her fourth child. Abandoned and alone with a baby, she once made bhakri out of the flour left by a family in a crematorium by heating it on the fire of a dying man. While she sang songs and begged herself, she treated others like her children and it earned her the title 'Aai' - mother.
Aai Sindhutai Sapkal. Photo: Twitter
Smt #SindhuTaiSapkal was conferred the prestigious #PadmaShri Award at the hands of the President, Shri #RamNathKovind today.Popularly known as'The Mother of Orphans, She is an Indian social worker and social activist known for her work for raising orphan children pic.twitter.com/Pr3RiRvFJv

— MAHA INFO CENTRE (@micnewdelhi) November 9, 2021
She has nurtured over 1,050 orphaned children with the help of donations and other contributions by people from all walks of life. A Marathi biopic by her name premiered at the 54th London Film Festival in 2010. You might also remember Sindhutai from this Kaun Banega Crorepati episode.
View this post on Instagram

A post shared by Sony Entertainment Television (@sonytvofficial)
HAREKALA HAJABBA
It all started when fruitseller Harekala couldn't answer a simple question a foreigner asked him. He had 2-4 oranges in his hand. A foreigner asked him their cost. Since he did not know English and was unable to communicate this basic detail, he was embarrassed. This embarrassment sparked in him the fire to create a school so that other kids in his village would not have to face this embarrassment. He used all his savings, bought a plot of 1-acre land to gift the children an opportunity to learn. When the school began in 2000, 300 children joined in. In 2013, he was awarded the Rajyotsava award by the Karnataka government.
The orange seller turned educator. Photo: Twitter.
Hajabba now wants to build a PU College (11-12) in his village.
Harekala Hajabba, a 68-year-old fruit seller from Mangalore, sold oranges for years to build a primary school in his village.Today he received India's fourth-highest civilian award, the Padma Shri, from President Ram Nath Kovind for his efforts. ??pic.twitter.com/oml5MYISF0

— Mangalore City (@MangaloreCity) November 8, 2021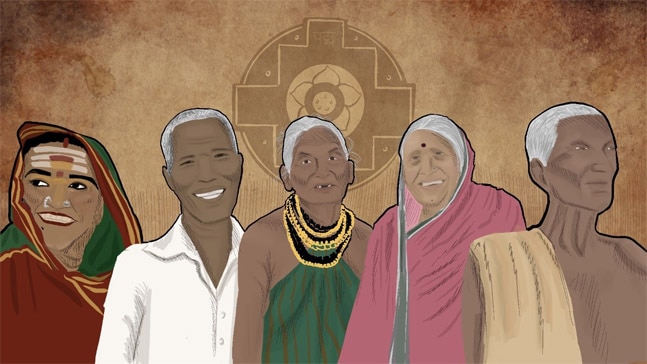 People's Padma: Manjamma Jogati, Harekala Hajabba, Tulasi Gowda, Sindhutai Sapkal, Nanda Prusty. Illustration: DailyO
TULASI GOWDA
72-year-old Tulasi walked to the stage casually, dressed in a traditional Halakki attire with black beads and corals around her neck, when her Padma award was announced. Gowda has planted more than 30,000 saplings in over 6 decades. Gowda hails from Uttara Kannada district, and had no formal education. She joined the forest department as a volunteer and her job was subsequently regularised. Her love for plants and vast knowledge of plants gives her the ability to identify over 300 species of trees and plants, and the title of 'The Encyclopedia of Forests'.­
President Ram Nath Kovind confers the Padma Shri on the social worker Tulsi Gowda, who is famous as the Encyclopedia of Forest due to her vast knowledge of diverse species of plants & herbs#PadmaAwards2020 #PeoplesPadma pic.twitter.com/Bvu8KFbNMY

— PIB India (@PIB_India) November 8, 2021
NANDA PRUSTY
Centenarian Nanda Prusty has been teaching children and senior citizens for the last 7 decades, for free. Prusty himself is educated up to Class 7. His informal school functions out of a makeshift hut near his house. Children attend class from the break of dawn to 9 pm, even on Sundays, while seniors do the same from 6 pm to 9 pm.
President of India Shri Ram Nath Kovind conferred #PadmaShri on Nanda Prusty from #Odisha in Literature & Education category.The 98-yr-old village school teacher from Jajpur popular as #NandaSir provides free education to children since independence.@dpradhanbjp @CMO_Odisha pic.twitter.com/T5CoQolNA7

— PIB in Odisha (@PIBBhubaneswar) November 9, 2021