Daily Recco, March 18: Piña colada sans the alcohol, the perfect refresher
Next time you're having a spring party, try our virgin piña colada. It is so refreshing that you won't miss the alcohol.
When we say piña colada, the first thing that comes to mind is a warm beach, a hammock and the gentle warmth of the rum with chilled tropical goodness. We don't blame you if that puts you in the holiday mood. Made with white rum, coconut cream and pineapple, this Puerto Rican cocktail transports you straight to the Caribbean heavens with the sour pineapples as the mild headiness gradually kicks in with the sweetness of rum and coconut.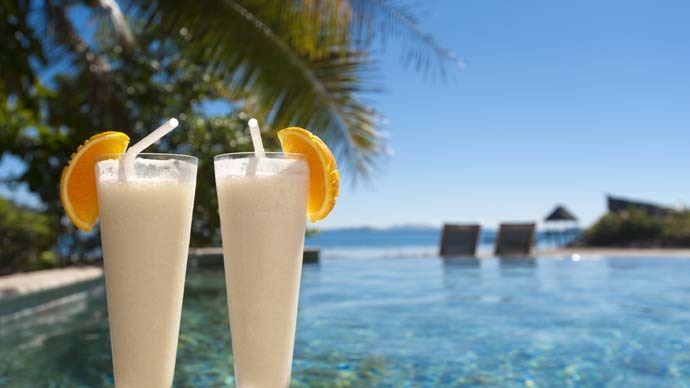 Photo: Getty Images
But why should only alcohol and adults have all the fun? We have the answer for the underage and teetotallers with this perfect recipe of virgin piña colada. Even if you are a rum-buff, do try this out. Believe us you, it is so refreshing that you will not even think about the alcohol.
What you'll need:
One and a half cups of frozen pineapple chunks (In case it is not available in the store, simply cut a fresh pineapple in chunks and pop it in the freezer overnight)
A quarter cup of ice
Three-fourths cup of unsweetened pineapple juice (fresher the better)
Three-fourths cup of unsweetened coconut milk
Two tablespoons of brown sugar (optional for those with the extra-sweet tooth)
Fresh pineapple wedges, lime wedges and/or maraschino cherries (preserved, sweetened cherry available in supermarkets) for garnishing
Photo: Getty Images
How to:
Chill the cocktail glasses by filling them with crushed ice as you begin preparing.
In a blender, first add the pineapple chunks, then the ice, and then pour the pineapple juice and coconut milk on top.
Blend it to a smooth puree consistency. Check for sweetness. If the pineapples are too sour, add the sugar and blend again. You can substitute brown sugar with healthier options like palm sugar, coconut sugar or honey.
Empty the cocktail glasses of the crushed ice and pour in the piña coladas. Garnish with pineapple wedges, lime wedges and cherry.
Serve immediately.
Also read: Make the most of the seasonal fruit with Strawberry Yoghurt