If the makers of Quantico track the Indian viewership of their political thriller, they must be astounded by the astronomical leap of the numbers recently. For, knowingly or unknowingly, they have managed to enrage the "right" group of people.
The worst nightmare of the "Hindutva" brigade has come true.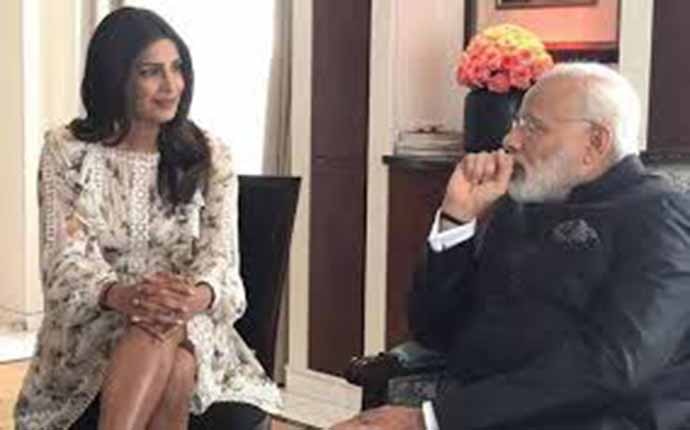 A repeat offender? Priyanka had hurt Indian sentiments before by exposing her legs in front of PM Modi
Priyanka Chopra, who once dared to expose her legs in front of Prime Minister Narendra Modi, and also once draped a tricolour as a dupatta, is shown unraveling the terror plot BY an Indian, a Hindu. That too, via her keen eyes which did not miss the rudraksh chain on the neck of one of the suspected terrorists.
So, in the episode titled The Blood of Romeo, Priyanka Chopra's character, Alex Parrish concludes that the attack was being planned by Hindu nationalists to frame Pakistan. 
But even as Twitter took a few minutes to erupt and slam Priyanka Chopra, here are a few questions:
Why do you care? Only because it's Priyanka Chopra? Or, the rudraksh?
Had it not been Priyanka Chopra doing an Alex Parrish, would you have even cared? 
Parrish was also suspected of terrorism in the first season. So, now it's all about the rudraksh?
What about Homeland (2014), an American television drama, which has portrayed Pakistan in a negative light? Is it ok as long as an American television series isn't toying with the idea of a "Hindu terrorist"? 
Long ago, our homegrown SRK-starrer Main Hoon Na had an Indian terrorist character, essayed by Suniel Shetty 
Were we not patriotic enough to take offence then?
Desi terrorist: Major Raghavan in Main Hoon Na was a terrorist.
On another note, American television has a tried-and-tested formula which works on recycling racism. Even Barack Obama, ex-President of the United States, once said, "Our TV shows should have Muslim characters that are unrelated to national security." So, is Quantico trying at reversing Islamophobia in the US and also doing something out-of-the-box, at the fag end of the series, even while its overall viewership is dwindling?
Whatever is it, Priyanka Chopra should not even be '"blamed", as right-wingers are doing, for discovering the rudraksh! Remember, Quantico has always been about Priyanka Chopra, not just because she became the first South Asian woman to lead an American television series. The character was etched out for a South Asian — and yes, probably a Hindu — as Alex was born to Michael and Sita. In the series, Sita's family resides in Mumbai.
But these nuances seem lost on an Indian audience which can talk with such ease about chopping off the nose of a real woman in an attempt to protect a supposedly fictional woman, as happened during Padmaavat. 
Fiction over real: Deepika Padukone was threatened for essaying the character of Rani Padmini in Padmaavat.
It is no surprise really that such an audience is now capable of indulging even in this inconsequential exercise of slamming Priyanka Chopra for "belittling" the rudraksha and the religion. Do you really think she owns the idea?
The line between fact and fiction gets blurred easily and social media users, including prominent personalities, are childish enough to believe that this single episode is capable of showing India — a Hindu India, mind you, in this view — as a "terrorist country" in front of an international audience. Why not Pakistan, comes their enraged cry, why us?
But while the audiences of India and Pakistan are thus entangled in the fight to decide who should be the "bad guy" before the international media, the issue which remains overlooked is how American television series continue stereotyping Asians. A rudraksh must be used by a Hindu, Muslim neighbours must be hatching some terror plans (as shown in Roseanne), an Indian FBI agent must have to bitch about Pakistan (in Quantico) — American television series are full of these oversimplified images of India and Pakistan and their people.
Homeland: Stereotyping Asian countries and their people.
The entire episode throws up a lot of lost causes. Quantico is anyway embracing a premature end, this being its last season with fewer episodes than its previous seasons. Perhaps writer Adam Armus, who wrote this episode, wanted a bit of last-minute frenzy as nobody will remember anything much about Quantico anyway. 
The desi girl is back on track after Quantico. 
On the other hand, Priyanka Chopra is no "anti-national". 
She has already started shooting for the Salman Khan-starrer Bharat, a film reportedly based on Partition and freedom.