Fabulous! Priyanka Chopra got trolled for meeting Modi in a dress
Social media mansplains how a good Indian woman should dress in front of elders.
Every day, we are given more and more reasons to facepalm. Some days, it is politicians with WTF moments like "boys will be boys" for rape cases, on others, it is people getting their knickers in a bunch over something an internationally famous and accomplished woman from India — no less than Priyanka Chopra — wears.
We Indians are very proud of our culture. But we don't really know what that means. We are proud of it all the same. And anything that goes against our culture should be ridiculed. That too proudly. Now that we have this rule sorted, let us shame unsanskari swimsuit-wielder-cum-Quantico-star Priyanka Chopra.
The 34-year-old Indian actress who shot to international fame met Prime Minister Narendra Modi in Berlin, where she was promoting her film Baywatch — and the PM gallivanting (No... on a state visit). Meeting Mr Modi was a pretty big deal to her (no, really) and getting to meet the PM in flesh rather unexpectedly led to her to sharing a photo on the social media.
Don't we all do that?
"Thank you for taking the time to meet me this morning Narendra Modi Sir. Such a lovely coincidence to be in Berlin at the same time," wrote Chopra.
But where she massively messed up, and she should be punished for it, is the fact that she, a self-made accomplished and educated woman who has gained fame and recognition globally, forgot that Indians are goddamned anal about their cultural sensibilities.
She wore, in front of our prime minister — a man who is as old as her late father — a dress. That revealed her legs. FOR SHAME
Thankfully, a lot of people descended upon her comments feed like vultures, to remind her of the fact that good Indian women should not dress like that in front of Modiji, and that she should feel ashamed of her posture, dress and gender! Good Samaritans, everywhere.
Photo: Screengrab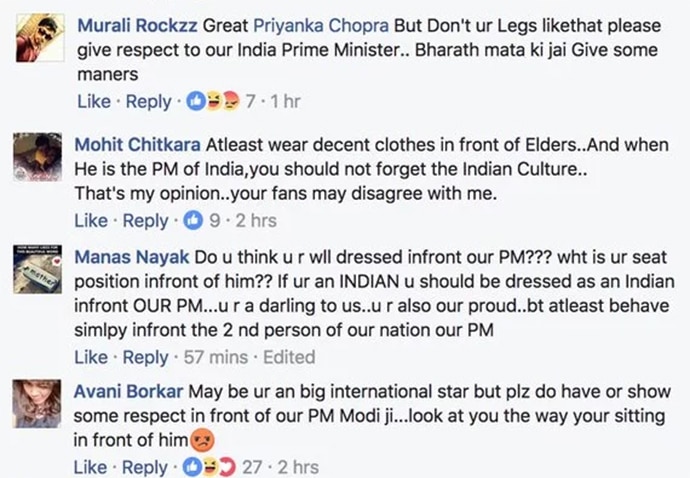 Photo: Screengrab
Photo: Screengrab
For some (possibly) anti-national reason however, Indians on Twitter were furious and unbelievably offended by these helpful suggestions.
Look at them spew their venom:
Priyanka chopra wears a skirtHOW CAN U WEAR IN FRONT OF PM NO RESPEXT?PM wears suit with name printed on itLET HIM WEAR WHAT HE WANT

— Tanmay Bhat (@thetanmay) May 30, 2017
May 30, 2017
"dis is not european suit dis is short kurta with a pocket square invented by aryabhatta in 27BC ancient india" pic.twitter.com/YoO6xsw82D

— cheshire cat (@onekgjhaat) May 30, 2017
Do they have a doubt about their PM's character? 🤔 pic.twitter.com/KzR585dsJV

— Artist Rofl Gandhi (@RoflGandhi_) May 30, 2017
How can Modiji wear short clothes does he not respect Modiji? pic.twitter.com/lDiL582Bbz

— Tanmay Bhat (@thetanmay) May 30, 2017
Will this topic become a TV debate? We'll know soon, I suppose. pic.twitter.com/W5YNSM9CAO

— Karthik (@beastoftraal) May 30, 2017
Remember the good old days when you had to say something against BJP or Modi or Hindutva to face the wrath of the brainwashed masses (who are really proud warriors of the Indian culture)?
Now all you have to do is sit in front of Modiji, cross-legged, in a dress that really compliments your perfectly toned, fit legs.
Also read - It's dumb that people think SRK is Priyanka Chopra's ex because they have similar jackets
The views and opinions expressed in this article are those of the authors and do not necessarily reflect the official policy or position of DailyO.in or the India Today Group. The writers are solely responsible for any claims arising out of the contents of this article.