"Ellorum Congressikku vote podungal (All of you vote for the Congress)."
That was the only sentence Priyanka Gandhi uttered, but it seemed to drive the crowd wild.
Sriperumbudur was supposed to mark Sonia Gandhi's political debut. But on January 11, 1998, Priyanka completely overshadowed her.
Priyanka's red and orange sari was brighter than Sonia's green and maroon — and so was her smile. In sharp contrast to a nervous and hesitant Sonia, Priyanka was confident, effusive and comfortable with the crowd. Congress workers across the country were elated.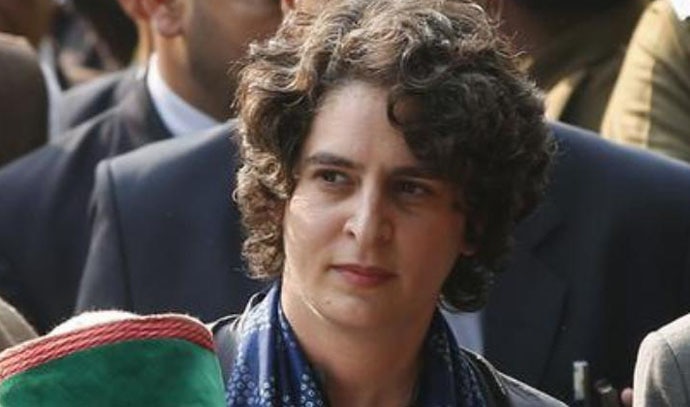 Congress workers have always rooted for Priyanka Gandhi's entry into politics. (Source: Reuters)
They had two crowd pullers instead of one. While Priyanka's appeal appeared wider, Congressmen were careful not to play up this point. The wiser among them were quick to declare: "Congress will not have leadership problems for the next 50 years. Sonia will lead the party for at least 20 years and then we will have Priyanka."
Twenty years later, these words proved somewhat prophetic.
Sonia got the Congress two back-to-back victories in 2004 and 2009 — and now, it is over to Priyanka and Rahul to usher in the 'good old days'.
After Indira Gandhi's assassination in October 1984, both Priyanka and Rahul stopped going to school due to security considerations. Rahul was studying at Delhi's prestigious St Columba's School and Priyanka was in the adjoining Convent of Jesus and Mary. But security considerations following the increase in militancy in Punjab and the assassination of Indira forced them to leave school. Thus, the last day Rahul and Priyanka attended school was October 31, 1984.
During Rajiv Gandhi's prime ministership, the children were virtually under house arrest, though private tutors used to visit them regularly. Private tuition, no matter how good, was a poor substitute for school. Priyanka scored better and got into Jesus and Mary College on merit, but Rahul had to go through the sports quota in St Stephen's College.
Few free days: Priyanka and Rahul Gandhi stopped going to school after Indira Gandhi's assassination. (Source: PTI)
As a teenager, Priyanka apparently encountered many rich and famous suitors. However, reportedly she doubted their sincerity as most of them were either in awe of her or sought to brag about their friendship. Priyanka was apparently most upset, in fact, with the son of a Union minister who later joined the BJP. What was a simple friendship was projected as a matrimonial alliance till Priyanka snapped all ties with him.
The acrimony severed family ties going back three generations. On the day of Priyanka's wedding with Robert Vadra, two bridegrooms arrived at 10, Janpath, claiming that she was married to them!
One was Ram Krishna Gowd, who even petitioned a court to restrain Priyanka from marrying Vadra. Surprisingly, the court did not reject Gowd's petition outright, although he had earlier made a similar claim about film actresses Sridevi and Jaya Prada.
Gowd was later found to be mentally unstable. There was also a lecturer in Jawaharlal Nehru University (JNU) who used to write love letters to Priyanka. During the Narasimha Rao government, he was reportedly called to a police station one day and roughed up by the Delhi Police. The 'treatment' evoked condemnation from the JNU community.
Many were surprised by Priyanka's choice. Robert Vadra, son of a brassware magnate from Moradabad, 150 km northeast of Delhi, had kept a low profile till the world came to know about the marriage on February 18, 1997.
Priyanka's wedding was a grand event. The civil marriage took place at 10, Janpath. Only close family members of the Gandhis and the Vadras were invited. In the evening, a baraat, consisting of 20 cars, reached the venue from the Vadras' New Friends Colony residence.
When the bride stole the show: Priyanka Gandhi's wedding to Robert Vadra was a highly personal affair. (Source: India Today)
Sonia, Rahul, Gautam Kaul, Vincent George and Naresh Katju received the guests at the gate amid the melodious notes of the shehnai. Rahul performed the kanyadan while the family priest, Iqbal Kishan Reu, performed the rites. Priyanka looked beautiful in Indira's favourite silk temple saree with a pink and red border supplemented by floral and gold jewellery and an almost transparent veil. She wore little make-up. A beaming Sonia wore a burgundy and gold Paithani silk saree, and Rahul sported a pink turban and black Nehru jacket.
The guest list became a subject for discussion in society circles.
Because it was an extremely restricted list, receiving an invitation to the marriage carried a great deal of prestige. Many Congress stalwarts were not invited. Prominent among those present at the wedding were Sitaram Kesri, BK Nehru, Mohammad Yunus, Captain Satish Sharma, Feroze Varun Gandhi, Amitabh Bachchan, Sonia's sisters and mother, the President and the Prime Minister.
Rahul Gandhi reportedly performed Priyanka's kanyadaan. (Source: India Today)
An assortment of Kashmiri, Mughlai and Continental food prepared by the Hilton (later renamed the Intercontinental) chefs was served. The Vadras gave a reception at the Oberoi the following day. Once again, bride Priyanka stole the limelight with her seedha pallu purple and pink sari. The groom wore an Ashish Soni-designed black classic suit. The guests were served wedding cake during high tea.
Other than politics, Priyanka Gandhi Vadra has played the roles of photographer, wildlife enthusiast, caring mother and a writer (often all rolled into one) to bring all joys of the world. Her coffee table book Ranthambore: The Tiger's Realm co-authored with friends Anjali Singh and Jaisal Singh, gives a rare insight into her love for wildlife, deep social and emotional bonding with her growing-up children and the satisfaction of playing the meaningful role of a mother.
Ranthambore: The Tiger's Realm: Anjali and Jaisal Singh and Priyanka Gandhi Vadra, Sujan Art Pvt Ltd (2011). 
It is also clear from her memoir that she inherited a love for tigers from her father Rajiv Gandhi and her late grandmother Indira Gandhi who was the first to launch Project Tiger to safeguard the tiger population in the country.
Writing about the Ranthambore National Park in her essay titled, My Family and Other Animals, Priyanka wrote, "I first came here as a 13-year-old. Driving around the jungle with my parents in much the same way my children do with me, I was enchanted by it. I think it was my father's love for nature that spirited itself into my being."
She, however, stopped by writing about how Rajiv was unfairly criticised by the then-Opposition for going for New Year holidays with family and friends, including megastar Amitabh Bachchan. It was perhaps reasonable that someone like Rajiv, who worked as hard as 18 hours a day, deserved a break.
Author Priyanka's excitement, delight and the fact that she is a devout mother comes to the fore when she writes, "I can't say I enjoy anything more than being confined to a jeep with them (Reihan and Miraya) in the park. We're surrounded by the wilderness I love and there's absolutely no possibility of them escaping their mother's mad affections. Besides, they look at me with unusual awe when the tiger is around. It's almost as if they think I'd fight it off for them – well, most of the time. Now and then they have decidedly dubious expressions on their little faces, as if their mother was the least trustworthy, most foolhardy woman in the world and they'd really much rather sit in someone else's jeep."
Priyanka Gandhi has written about how much she enjoyed safaris with her children. (Source: India Today)
Bringing in co-author Jaisal — nephew of renowned tiger conservationist Valmik Thapar — Priyanka builds up the atmosphere, "Jaisal has informed us all that we are about to witness one of the rarest tiger moments ever. Anjali has been shifting elbows adjusting her camera patiently even though its body must be fire hot by now. I am looking forward to this moment, however, undignified and voyeuristic it may be of me. Fornicating tigers might be of no interest to the rest of the world, but to a mother of two pre-teens it's a gift from God himself. What better way to skirt questions about the mysterious mechanics of reproduction than National Geographic Live."
She adds, "Anyhow, here we are, parked along the dirt road facing a depression into which two tigers have just sauntered. We've watched intently all morning. They've sniffed one another, cuddled, circled each other, sat many feet apart pretending disinterest and now look as if they might just decide to mate. My daughter has already asked me half-a-dozen times under her breath, 'Have they mated, mama?' and my son has decided he has a stomach ache. 'Why do we have to see them mating?' he's muttered, following the question up with a pained expression on his face."
Priyanka Gandhi wrote about wildlife with great love; she wanted people to preserve India's natural heritage. (Source: Twitter)
The engaging writing continues, "The tigress that has been lingering under a tree for a while approaches her mate. Just then a forest guard on an inordinately loud motorcycle rolls past oblivious to the scene unfolding below him. T-25 (our man the tiger) cocks his head up and looks straight at us. He crouches slightly, then with the swiftness of an arrow cutting the wind he turns his back to us and bolts. Within seconds, he has vanished. He has bounded up the depression we have been staring at wide-eyed for the last four hours, leapt across the dirt road above it and disappeared into the hill. No wonder his other name is Zalim! T-17, (our lady, also known as Split) looks about as perplexed as we do or perhaps even more. She nods almost humanly into the vacant forest and walks away in the opposite direction. Just in case anyone imagined that getting the pictures in this book was a lark, it took us eight hours of waiting, spread across two days, just for those two!"
Priyanka says the purpose of writing the book was to inspire people to appreciate, respect and preserve India's diverse natural heritage. She said it was Anjali's idea, quite casually aired on a jungle drive.
"While we stuffed our faces with aloo masala chips. We'll do it for us," she said in her typically impish, matter-of-fact tone. "So we did, and it's been great fun in the making," Priyanka said, adding that she used her camera as her diary of ever-changing images.