DailyOh! Raj Kundra in police custody till July 23, 67% Indians have Covid antibodies
Raj Kundra was produced in court today and has been remanded to police custody till July 23, for allegedly making and publishing pornographic films.
Businessman Raj Kundra is in trouble with the law. The Crime Branch of the Mumbai Police took Kundra — actress Shilpa Shetty's husband — in custody last night. He was produced in court today and has been remanded to police custody till July 23.
Raj Kundra, businessman and husband of actress Shilpa Shetty has been remanded to police custody. (Photo: India Today)
This comes after a case was registered against him on February 4 this year for making and publishing pornographic films.
Some explosive WhatsApp chats have surfaced between Kundra and his alleged partners. Further to the arrest, Twitterati dug out some of his old tweets on 'porn stars becoming actors' and about 'Porn Vs Prostitution'.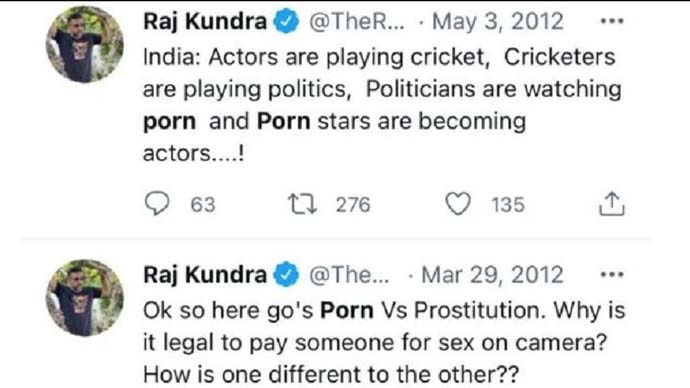 It is not just the Mumbai Police who have had a busy day. The West Bengal Police has filed a case against BJP MLA Suvendu Adhikari over his remarks aimed at Amarnath K — Superintendent of Police, East Midnapore. Adhikari had claimed to BJP workers that he had the "call records" of the SP and warned Amarnath against indulging in acts that may lead to him being "posted in Anantnag or Baramulla in Kashmir".
Suvendu Adhikari has been booked by the police after he claimed to have 'call records' of East Midnapore SP, Amarnath K. (File photo: PTI)
While that was breaking news today, the persistent newsmaker has gone nowhere. The Coronavirus is very much here with its many variants, including the dominant one.
Infecting the country and now the world, the B.1.617.2 variant of SARS-CoV-2, more commonly known as the Delta variant, is soon to become the most dominant strain across the globe, says WHO.
Delta variant is soon to become the most dominant strain across the globe, says WHO.
With so many cases being reported every day, the Delta variant, first detected in India, is on a rampage. This variant is known to spread most rapidly among all the variants of concern and has now touched more than a hundred countries across the globe.
Our Word Of The Day today is dominant. The word is defined by the dictionary as 'having power and influence over others'. However, genetically speaking (as in our present context), a gene is considered to be dominant if it suppresses the expression of its alternate forms. The word comes from the Latin word dominari that translates to "ruling" or "governing".
Vaccines, however, seem to be preventing most virulent manifestations arising from the Delta variant. However, being vaccinated does not make you Delta-proof. Your safety lies in keeping it at bay.
Safety is in getting jabbed. (Photo: Reuters)
Coming to vaccines, Covaxin is one of the most expensive vaccines in the country today, at Rs 1,410 per dose in private hospitals. However, what is the cost of developing it? No idea? You're not alone. The Indian Council of Medical Research (ICMR) is clueless as well. As revealed by an RTI, ICMR had contributed Rs 35 crore to develop the vaccine and it would get five per cent of the royalties when the profits start coming in.
ICMR has no clue about the total development cost of Covaxin, India's indigenous Covid-19 vaccine. (Photo: ANI)
However, ICMR — the apex body in India for the formulation, coordination and promotion of biomedical research — has no idea how much it takes to develop India's indigenous Covid-19 vaccine, made by Bharat Biotech.
However, ICMR is up to date on the Indian populace's vulnerability towards Covid-19. The fourth National Serosurvey says two-third of the Indian population, including children, have developed antibodies against Covid-19.
Two-thirds of the Indian population, including children, have developed antibodies against Covid-19. (Photo: Reuters)
From India, now let's go to West Texas in the US, where former Amazon Chief Jeff Bezos is all set to soar towards the stars. In his 10-minute-long journey into space, Bezos is aiming for an altitude of roughly 66 miles (106 kilometres), which is more than 10 miles (16 kilometres) higher than fellow-billionaire Richard Branson's ride on July 11.
Is Bezos nervous though? He answered the question on CBS This Morning, "People keep asking if I'm nervous. I'm not really nervous, I'm excited. I'm curious. I want to know what we're going to learn." With that positive attitude, he is sure to fly higher than most.
Jeff Bezos (centre) with the crew of maiden Blue Origin Human spaceflight. (Photo: Blue Origin)
It is a big day for Bezos and the entire Blue Origin team. But it is not just them who are celebrating. Naseeruddin Shah is too; his 71st birthday. One of the most versatile and renowned actors of Hindi cinema, Shah is known for a plethora of roles — from comedy to non-commercial cinema, delivering blockbusters to playing villains. In his career spanning over five decades in the industry, he has inspired generations of actors.
View this post on Instagram
However, did you know what his first film was? Or how much he got paid for that role? We'll tell you.
Shah was first seen (fleetingly, albeit) in the film Aman (1967) that starred Rajendra Kumar and Saira Banu in lead roles. Shah was an extra in the film and was barely 16 at that point. In his own words from an interview, it "was the last scene where Rajendra Kumar is being taken for his funeral. I am standing just behind him, looking very earnest." How much was he paid for the role? Rs 7.50. That money got him through two weeks, apparently.
Happy birthday, Naseeruddin Shah!
Here's a favourite song from Tridev. You can also watch one of his more recent movies, Waiting. Few can essay the role of Prof Shiv — the husband in a hospital's waiting room counselling a younger woman over her loss — with the gravitas as Naseeruddin Shah does in this movie.
See you tomorrow!
Now get the all-new DailyOh in your mailbox. Click here to subscribe.
Also Read: Hit By The Gravity and societal discrimination against the trans community
The views and opinions expressed in this article are those of the authors and do not necessarily reflect the official policy or position of DailyO.in or the India Today Group. The writers are solely responsible for any claims arising out of the contents of this article.