A 15-year-old rape case finally seeing justice set off a chain of events that has gripped Punjab and Haryana and several other places in north India. Dera Sacha Sauda chief Gurmeet Ram Rahim Singh being convicted of rape by a CBI court in Haryana ticked off hordes of his followers, who have since taken to rioting, vandalism and taking lives of innocents in the process.
Reports (at the time of writing of this piece) suggest that at least 28 people have been killed and more than 250 injured in the violence that followed. Curfew has been imposed in several parts of Punjab and Haryana, while neighbouring states too have been on high alert, thanks to sporadic incidents of violence and arson.
On the one hand, while Prime Minister Narendra Modi has tweeted that the law and order situation is being monitored, he hasn't commented on the verdict.
BJP MPs like Sakshi Maharaj who openly practise hate speech have blatantly called this verdict a conspiracy to malign Indian culture. As the police and authorities try to underplay damage to both life and property, let us take a look at what the blind followers of an insidious and influential cult have done to India — a democracy.
A security personnel reacts during violence in Panchkula, the seat of Haryana administration. Photo: Reuters
People react during violence in Panchkula. Photo: Reuters
A security personnel walks towards burning vehicles during violence in Panchkula. Photo: Reuters
Rioters smash television trucks in Panchkula. Photo: Reuters
A security personnel reacts during violence in Panchkula. Photo: Reuters
Rioters destroying press vehicles. Photo: Associated Press
Protestors react during violence in Panchkula. Photo: Reuters
A member of the security forces reacts during violence in Panchkula. Photo: Reuters
Smoke rises from vehicles set on fire by Dera Sacha Sauda members burn in the streets of in Panchkula. Photo: Associated Press
Black smoke rises in the background as Indian security officers take shelter on the roof of a government building after Dera Sacha Sauda members went on a rampage in Panchkula. Photo: Associated Press
Indian policemen retreat after being attacked by Dera Sacha Sauda members in Panchkula. Photo: Associated Press
A Dera Sacha Sauda supporter lifts a rock to vandalise a car in Panchkula. Photo: Associated Press
Smoke rises from vehicles set on fire by Dera Sacha Sauda followers near a court in Panchkula. Photo: Associated Press
A man lies on a road in a pool of blood after Dera Sacha Sauda went on a rampage near a court in Panchkula. Photo: Associated Press
Security officers carry the limp body of a man after Dera Sacha Sauda sect members went on a rampage near a court in Panchkula. Photo: Associated Press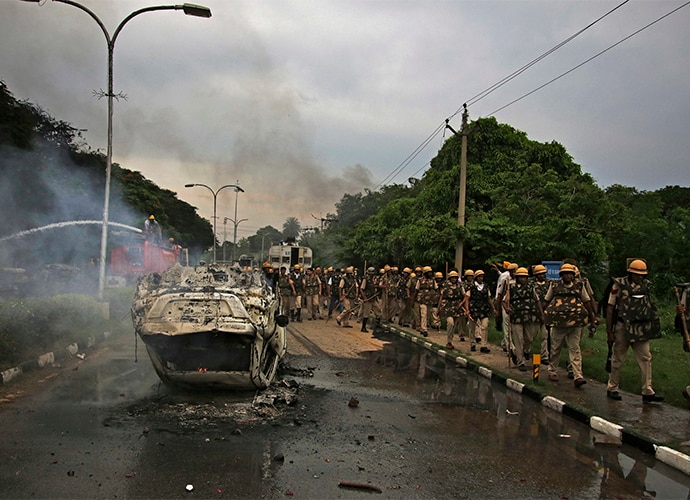 Policemen patrol past a vehicle vandalised by Dera Sacha Sauda followers near in Panchkula. Photo: Associated Press