Nobody is saying summer is here because everyone is busy tracking corona and its spread. Remember until last year there would be so many posts and tweets on the arrival of summer? Whether someone says it or not, cribs about it, or makes their peace with it, summer has arrived. It's well past mid-April, after all. In their heart of hearts, some are even welcoming summer because there were some studies suggesting the onset of summer would stop, or at least, slow down the spread of the virus. Now, all studies about the virus are only in the realm of speculation.
All studies about the virus are only in the realm of speculation. (Photo: Reuters)
What scientists do is test samples in artificially created conditions in laboratories to give out their hypothesis. A hypothesis is just that – a hypothesis. It is actually the starting point of investigation. So, as of now, everything about this new coronavirus is being investigated. Even its source.
You may say the source is known – the Wuhan wet market. We say that too. But some say it could have actually come from a Chinese laboratory. The US is exploring the possibility.
The other possibility that is being explored is whether a BCG vaccine can provide immunity against coronavirus. BCG is short for Bacillus Calmette Guerin (we will tell you why that name in a while). The World Health Organisation (WHO) says there is no evidence to prove that it can. You can read the details of what WHO said here.
Different groups of researchers compared incidences of Covid-19 in countries that have BCG vaccine with countries that don't have it. They came to the 'hypothesis' that the spread of coronavirus in countries where BCG vaccination has been given to people is lesser.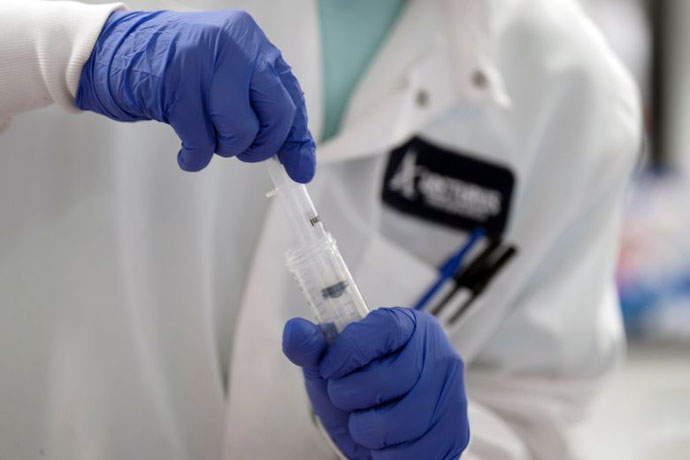 The race to find a vaccine for Covid-19 is on across the globe. (Photo: Reuters)
We leave that to the researchers to explore and tell us. Like we really have an option there! The United Nations, meanwhile, said that only a vaccine against the coronavirus can bring things back on track. And going by the time vaccines take to be developed, the track could be a long way away. Did you know it took 13 long years for the BCG vaccine to be prepared?
The vaccine was developed from 1908 to 1921 by French bacteriologists Albert Calmette and Camille Guérin, who named the product Bacillus Calmette-Guérin, after their surnames; and bacillus is the bacterium. BCG is primarily used against tuberculosis. One dose of the vaccine in healthy babies, as close to the time of birth as possible, is recommended in countries where tuberculosis or leprosy is common. Now, do not despair. The coronavirus vaccine is not going to take that long. It may be about a year though. Okay, one year is also long given how big the problem is, but if vaccines were so quick to make, why would we be really be put under lockdown. It takes time. The good news we gave you on March 24 was that this could be mankind's fastest vaccine ever to be developed. Missed it? Worry not, read here.
But do not underestimate the virus. This wild virus spreads like wildfire. It has infected half the population of an island after the first case was reported about a month ago. The island, off the coast of the north European country Estonia, has been named 'Corona Island' by its residents. 
We can't confirm if the naming has happened out of spite for the virus or just to placate it enough to leave the area. What we can confirm is that neither works in controlling the virus. What works, apart from the vaccine when it is found, is social distancing. Under the current plan, the distancing has been enforced and ensured by the lockdown. So, do not violate lockdown guidelines. Remember, PM Narendra Modi said any violation of the order would be dealt with strictly?
But what exactly is violation and where does the word come from? Why do we say women who have been raped have been 'violated'?
We will answer these questions, because violation is our Word Of The Day.
The word finds its origin in Old French 'violacion' and in Latin 'violationem', which mean an injury, irreverence, profanation. 'Violationem' is the past particile of 'violare'. Violare means "to treat with violence, outrage, dishonour." That is why when someone is raped, it is said they have been 'violated'. You may have noticed that only women are said to have been violated after rape, men are just raped. That is because of the associated concept of 'profanation' with the word 'violationem', which attaches honour to a sexual assault.
But when you show irreverence for a law or order, you are violating the law and order. Like if you walk out of your house without a mask on these days, you are violating lockdown guidelines. Do not violate guidelines to make sure that we can all come out of this crisis – and our houses - quickly.
Those who do not listen are Covidiots. Like a person from Siwan in Bihar. His idiocy has infected 23 people so far. Twenty-one of these were from his own family. Your challenge for the day is to read this without getting angry. The man from Siwan is our Covidiot Of The Day.
So the man returned from Kuwait on March 21. The authorities put a seal on his hand. You must be aware that the seal is put on people's hands to identify those the government has asked to be in quarantine. But our man from Siwan thought he was corona-resistant. He told his family that the seal on his hand meant he was 'okay'. If only they could put seals on the faces of Covidiots! For now, there is no such policy. We are calling the man from Siwan the man from Siwan because government guidleines say the names of Covid-19 patients should not be declared. No such bar has been put on exposing their stupidity, though.
So, this man from Siwan kept roaming around his house and also other houses in his village because he had returned after long and had to socialise. So, in the times of social distancing, our man from Siwan went about socialising. He even went around playing cricket. Then he developed symptoms and got himself tested. You may think, after developing symptoms, he was finally staying in. No, the man was playing cricket the day his reports came. After he was tested positive, his family was tested positive, two of his neighbours were tested positive and one boy with whom he played cricket tested positive. The village has been sealed. Everyone in the village is suffering now because one person wanted to prove his potential for idiocy. Slow claps for that.
Slow claps also for Rangoli Chandel, who is on a spread hate mission, if you cannot spread corona. Full marks to Twitter for blocking her account. When we say her account, we are not really sure whose account it is. The suspended account holder describes herself as the 'manager and spokesperson to actor, filmmaker #KanganaRanaut'. She is better-known to the country and her Twitter fam as Kangana Ranaut's sister.
It was often difficult to make out from the tweets if the spokesperson was tweeting on behalf of the 'actor, filmmaker' or the 'actor, filmmaker' herself took charge of the account at times. Whatever it was, for now, good riddance from the hate the account spewed. But that's just one in the thousands of other accounts doing much the same.
Some Bollywood celebrities are, however, using the platform well. Bigg Boss 13 may have come to an end but host Salman Khan is not out of his Bigg Boss house-monitor act. For once, we say, good.
Khan posted a video message on social media talking tough with people who are violating lockdown orders and attacking healthcare workers in their areas. We guess, Khan was prompted by the incident in Uttar Pradesh's Moradabad.
First take a look at what happened in Moradabad.
Now, listen to what Bhai had to say.
View this post on Instagram
That was Salman Khan warning people against ulanghan (violation) of orders. But do you know why Aamir Khan once accused Salman of ulanghan of basic decency? We will tell you that.
So Aamir says Andaz Apna Apna (1994) was a bad experience for him because Salman Khan back then behaved rudely. The two Khans were also not on talking terms when the film was being shot. "He was rudely behaved, young and brash, quite obnoxious and unprofessional," Aamir said. Later, however, both became friends because, according to Aamir, Salman improved.
The Aamir-Salman Khan friendship has had its share of highs and lows.
Now, that's the lesson there. Even if you have made mistakes, there is scope for you to improve. If you want to read about what other things Aamir said about Salman, read this.
Since we are talking about Bollywood, let us tell you about another story from Bollywood. Actor Ranjit Chowdhry died in the US on Wednesday. You would remember the actor best for his performances in Hrishikesh Mukherjee's Khubsoorat (1980) and Mira Nair's Mississippi Masala (1991).
But do you remember Ranjit's mother Pearl Padamsee? Her love affair with Alyque Padamsee has enough meat for a movie – even if you have no meat on your table during these lockdown days.
Alyque and Pearl met in college in 1950. Alyque fell in love with her, but she moved to Australia for studies. Alyque kept writing letters to her – almost one a day. Then Alyque moved to London for studies. Meanwhile, Pearl came back and fled her house (meaning turned against her family) to marry another man.
When Alyque returned from London, Pearl had a daughter. But the two fell in love again. Maybe, they were never out of love. Who knows. Soon, she divorced her husband and married Alyque.
Later, even Alyque and Pearl separated. The thing about love is it happens once, and then it happens again. Actually, it keeps happening. Do not believe those who tell you, "Hum ek baar jeete hai, ek baar marte hai, shaadi bhi ek baar hoti hai ... aur pyar ek baar hi hota hai."
Also, do not believe WhatsApp rumours. Now, you may not know if a WhatsApp message is a fact or rumour. The trick is double-check everything – if you care. If you don't, don't care to forward the message.
That will be all for today.
We leave you with this scene from Baton Baton Mein (1979) which has both Ranjit and Pearl, wishing Ranjit Chowdhry rests in peace.
We will be back tomorrow.