NCP president Sharad Pawar maybe trying to protect Anil Deshmukh and it seems BJP leader Devendra Fadnavis is trying to protect Pawar because, according to him, Pawar was misled into believing that Deshmukh was in quarantine from February 5-15. Mukesh Ambani, outside whose house gelatin sticks were placed in a car, seems to be well-protected from extortionists now that the veil from the extortion racket in Maharashtra has been lifted, exposing several side rackets. The side rackets include money for transfers and money for postings.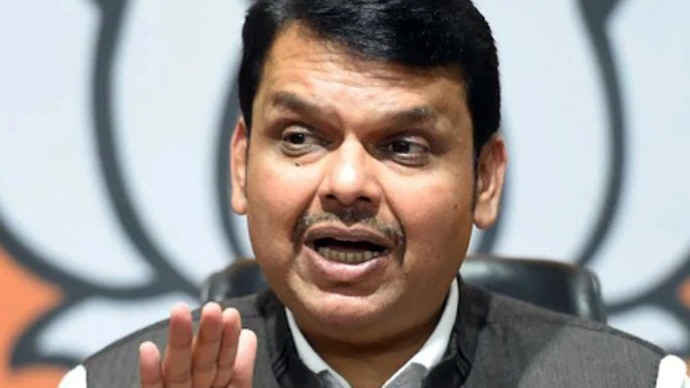 Devendra Fadnavis has said Maharashtra government ran many rackets. (Photo: PTI)
Param Bir Singh's letter says Chief Minister Uddhav Thackeray knew about the extortion racket and Fadnavis today said Thackeray also knew about the police transfer racket but chose to do nothing about it because he thought his government in Maharashtra should be protected. You may also consider here that Uddhav, at son Aaditya Thackeray's behest, tried to protect Aarey forest too; so maybe he has a protective nature, which has allegedly failed to protect honest Maharashtra Police officers.
If Fadnavis was charging at NCP and Shiv Sena in Maharashtra for Rs 1,00,00,00,000 hafta vasooli, Union Home Minister Amit Shah charged at Mamata Banerjee's Bhaipo in West Bengal for siphoning off Rs 1,00,00,00,00,000 sent by PM Narendra Modi for Amphan relief. A lot gets blown and washed away in cyclones, including cyclone relief. Speaking at a rally in Bengal's Gosaba, Shah said, "Modiji had sent Rs 10,000 crore for Amphan relief. Did you see any of it? 'Bhatija' (Mamata's nephew Abhishek Banerjee) and his associates siphoned off the funds without any of it coming to you."
That is a big charge to make because small charges may not stick. Charges must stick for elections to be won. Politics and elections remind us that Thalaivi, based on the life and rise of J Jayalalithaa, would release on April 23 simultaneously in Hindi, Tamil and Telugu. Come April 1, and India will start vaccinating all those above 45 years of age. No, you do not need a comorbidity certificate for the vaccine. We wouldn't have digressed from Thalaivi if the vaccine wasn't important.
What released today was the trailer of Thalaivi because today happens to be the birthday of the movie lead actor Kangana Ranaut, who received her birthday gift a day in advance in the form a National Film Award for two movies - Manikarnika: The Queen of Jhansi (2019) and Panga (2020).
Kangana Ranaut in a still from the trailer of Thalaivi.
Today also happens to be the birthday of BJP leader Smriti Irani who is the Union Minister for Textiles and Women and Child Development. Irani was one of the finalists of the Miss India beauty pageant in 1998 but much before that, she was a helper at McDonalds in Mumbai's Bandra reportedly clearing tables and cleaning floors. When Smriti Irani worked at McDonalds as a helper, she did not really think about the beauty pageant, forget being the leader who would dethrone a Gandhi from the Gandhi family bastion of Amethi.
Smriti Irani (centre) from her modelling days. (Photo: Agencies)
Some rise, some soar, and some reach the skies. Elon Musk, who wants to take people so high that they reach Mars, has found some evidence against aliens. Normal people find evidence in what the camera captures; Musk's evidence lies in what the camera hasn't captured. On his Twitter account Musk shared two graphs, one showing how camera resolution has gotten better over time and the other showing how footage of UFO sightings has always continued in a linear graph, moving forward in time, never moving upward. In the past, Elon Musk has also hinted at aliens but since he hasn't met them, he continues to speculate over the existence of aliens. A TikToker's speculation over humans having lived on Mars has created quite a flutter. But we will come to that later.
The evidence against aliens shared by Elon Musk. 
For now, let's try to figure out where the word alien comes from. Alien, the Word Of The Day, comes from Latin word alienus, which means 'belonging to another'. Oxford dictionary defines alien as 'a person who is not a citizen of the country in which they live or work'. So, do aliens exist? Yes, they do. But do Aliens exist? We do not know.
Did humans live on Mars? Again, we do not know. But a TikTok user's conspiracy theory has got a lot of traction because all humans, including the alien ones, like a good conspiracy. As per the user's theory, Mars's signature red colour is due to a nuclear winter that was started by humans living on the planet billions of years ago. The theory says humans didn't just live on Mars, but also ended life on Mars with nuclear bombs. Is it possible?
If what is happening in Maharashtra is possible, we say anything is. But experts say the TikTok user's theory doesn't hold water, even if Mars once did, because the time scale in question is billions of years - and not the hundreds or thousands it would take for a nuclear winter to clear up.
Sachin Vaze reportedly stayed at a Mumbai hotel using a fake ID. (Photo: PTI)
The Antilia explosive case will be difficult to forget for years. One Hundred Years of Solitude, written in 1967 by Gabriel Garcia Marquez, is not just remembered but cherished to date. Haven't read it so far? Read it now.
We would leave you for the day with that.
Now get the all-new DailyOh in your mailbox. Click here to subscribe.