Fighting for civil rights in the US in the 1950s and 60s, Martin Luther King Jr. had good reasons to declare that "our lives begin to end the day we become silent about things that matter".
Little might have he anticipated that more than 50 years on, this line would be appropriate to describe the silence of the prime minister of the world's largest democracy. More so, if the silence is about a day when millions were celebrating the fact that the highest court of the largest democracy had upheld rights of the LGBT+ community.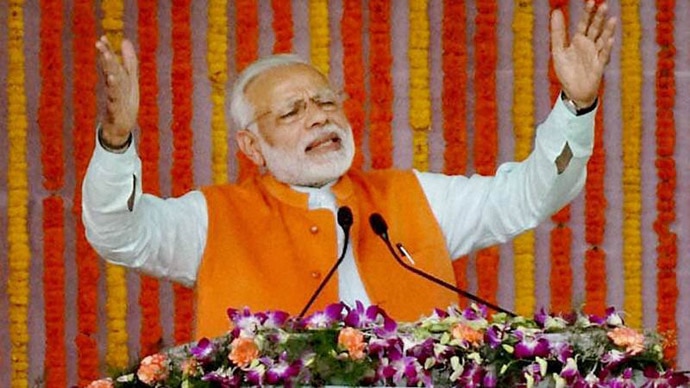 PM Modi is a master orator, a man who doesn't hold back from expressing his views.  (Photo: PTI/file) 
Now, Prime Minister Narendra Damodardas Modi is a politician known for his passionate speeches that influence (some say enchant) his audience. He has shown that he can speak for hours, can speak at high decibels, can use humour and rhetoric, can encourage his audience, and can also entertain and enthrall them. In short: He can do many things in and with his speeches.
In a diametrically opposite scenario, a week has passed by since the Supreme Court delivered its historic verdict on September 6, declaring that love cannot be imprisoned by the rusted chains of bigotry and hatred. Yet, the dear prime minister hasn't uttered a single word on it.
The United Nations, leading international human rights organisations, and millions in India and outside have hailed the verdict as landmark. But the prime minister's party, the Bharatiya Janata Party, is silent. Its spokespersons, active24X7,  seem to have taken a maun vrat (vow for silence). Of all people, even the country's law minister hasn't said anything on a historic judgment of the Supreme Court. The finance minister (himself a veteran lawyer), the home minister, and the defence minister too are mum.
Remember, this is the same prime minister, the same party, the same ministers who don't miss an opportunity to tweet about things happening world over (including birthday wishes, travel diaries and photo-ops with celebrities).
In case you are thinking that they have not been active on Twitter over the past week, you are mistaken. The PM's personal and official Twitter handles have together posted/retweeted more than 100 tweets since 12 noon on September 6 (approximately the time when the verdict was delivered).
The law minister, home minister, finance minister, defence minister, and the BJP president have also tweeted, but not one was on Section 377.
Others aside, there were hopes that Finance Minister Arun Jaitley (an eloquent orator and a senior advocate), who off late has been writing blogs on many issues, would welcome the verdict and reiterate his support for LGBT+ rights. But he too has blanketed himself in silence. In the past, he has spoken in favour of LGBT+ rights, and this makes his new-found silence more disappointing.
It is also not the case that the prime minister and his party have never reacted to Supreme Court verdicts.
The most recent example was the triple talaq judgment, after which one could find BJP leaders flooding the streets and social media with banners, hailing the verdict as historic and a triumph of human rights and women empowerment.
After another important SC verdict, on triple talaq, the BJP had hit the streets to celebrate. (Photo: PTI/file)
"Judgment of the Hon'ble Supreme Court on triple talaq is historic. It grants equality to Muslim women and is a powerful measure for women empowerment," Modi had said in a tweet.
With his silence now, is the prime minister saying that the Section 377 verdict is any less historic, and that equality for the LGBT+ community doesn't count?
As individuals, Mr Modi and others are entitled to their views on homosexuality. Whether their individual rationality and moral standards allow them to remain silent on an important issue concerning human rights of their fellow citizens, is a question they should ask themselves.
But irrespective of Mr Modi's individual commitments on supporting freedom and equality for all, the fact is, he is our prime minister. Thus, he cannot afford to wear a studied silence on issues like the Section 377. Especially at a time when his fellow citizens look to him with hopes of positivity, if not encouragement.
This in no way means that the LGBT+ community seeks validation from him or his party.
The ability to keep aside one's personal views while holding an important public office is what distinguishes a popular politician from a great statesman. That is what makes leaders ahead of their time.
Sadly, Mr Modi's conspicuous silence disheartens us as citizens and robs us of the opportunity to call him a statesman (even sans the adjective 'great'). In other words, at best, he is a politician who is good at winning elections, but not at taking stands that he ought to have taken by the virtue of being the prime minister.
His silence on an important human rights issue screams that far from being ahead of his time, he is rather chained in an era gone by—an era that needs to be buried deep inside the dusty pages of history.
But differences aside, since Mr Modi is our prime minister, he must rise above the mundane and let every Indian's head be held high. Let every mind be nourished in free air that is perfumed with liberty, freedom and equality. Let all Indians live this dream.
Won't you, dear prime minister?