Aage Se Right
Shah Rukh Khan: As he celebrates his birthday, Bollywood's 'Baazigar' should rock the box office too
There is a place in his fans' hearts that only Shah Rukh Khan can occupy.
Imagine the day of a Rajinikanth film release in Chennai.
Fans queue up for a ticket from the previous night itself. When the box office opens, within seconds, all the tickets for the day are booked. It takes a few hours for the entire month's tickets to fly away from the counter. News agencies regularly release pictures and videos of fans washing film posters and giant cut-outs of Rajini with milk and sandalwood powder.
Rajinikanth's cut-outs routinely get a 'ksheera abhisheka' (milk bath) from fans. (Photo: India Today/file)
Superstar Rajini's pull might have weakened over the years, but the above ritual has turned into a habit for many of his fans. You might also argue that some films of Rajinikanth have flopped in recent years. I would say that they flopped not because he has lost his fan base, but because the expectations (read actual monetary returns to recover costs) were set at very high levels, because the selling price of those films was high.
Not only Rajinikanth, some other film stars down south also enjoy that kind of unquestioning loyalty from fans.
In Bollywood, Salman 'Eid' Khan enjoys that kind of a fan base in some parts of the country, including Mumbai, Delhi and Kolkata.
These fans come from the underdeveloped areas of Mumbai and usually flock to the single-screen theatres where Salman's films are playing. A section of these fans will also mass-buy multiplex tickets, because, as they say in Mumbaia dialect, 'Bhai ka phadu film lagela hai' (Bhai's great film has released). This loyal fan base will watch any film for weeks, even if the content is truly bad.
The biggest example of the above is Race 3.
Though the film was universally panned — and even the film's director, Remo Fernandez, admitted its flaws — the film went on to become a Rs 100 crore+ super hit at the Indian box office.
Even the director of Race 3 admitted it was a bad movie. That did not stop Bhai's fans from racing to cinema halls. (Photo: YouTube screengrab)
These fans are not virtual warriors or keyboard enthusiasts — they are as real as Salman Khan's unreal films.
These fans have their feet on the ground. They are not on Twitter or Facebook, liking and commenting on your pictures, because they might not have very great language skills. But make no mistake, these are the fans that go and actually buy the tickets of the films when they release.
They are the people who ensure that films open to a full house — and the house stays that way for the entire first week.
What happens when you have superstars like that in the industry?
You spawn an entire ecosystem. You have producer-directors who will line up to work only with you. You have distributors waiting to distribute your films exclusively. You have artistes willing to give an arm or a leg to work with you, and you will have some of them in your own coterie.
The biggest stars world over have the same ecosystem that nurtures them, thrives around them, feeds off them.
Shah Rukh Khan, touted as one of the biggest superstars of India, cannot be classified as a star who owns such an ecosystem.
Most of his fans are virtual, following him on social media and engaging with him there. That makes Shah Rukh Khan one of the biggest social media stars from India, but certainly not the biggest movie star in Bollywood.
Let's look at his performance in the last few years.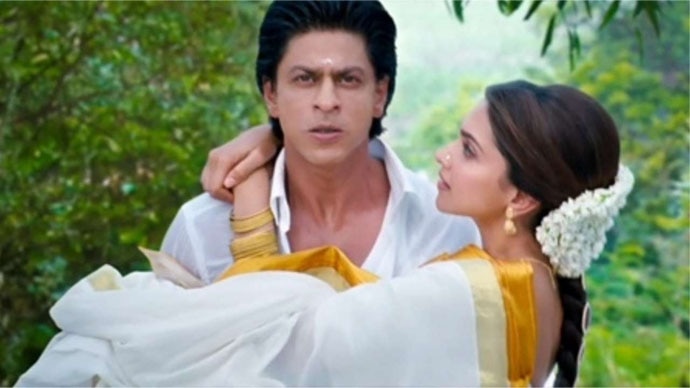 For Shah Rukh Khan, things have slowed down from Chennai Express. (Photo: YouTube screengrab)
"He is the only star who hasn't given a Rs 300-crore hit — the other two Khans have. His last blockbuster came five years ago in the form of Chennai Express, which made more than Rs 200 crore at the box office. Post that, Shah Rukh has never delivered a blockbuster. Happy New Year was a hit, but from Fan (2016) onwards, Shah Rukh Khan hasn't delivered any hit at the box office. For an industry which solely thrives on box office numbers, that's a telling story," says box-office analyst Taran Adarsh in a chat with me.
What Taran is saying is absolutely true. Fan onwards, Shah Rukh Khan has delivered flops. We all know that Shah Rukh Khan has worked with different people in the period, and worked around different release dates. Fan was a flop, Dilwale was average (some argue it was a flop), Raees was above average and Jab Harry Met Sejal was a disaster.
It's been three years on the trot that Shah Rukh Khan hasn't delivered a hit.
On the contrary, look at Salman Khan, who has delivered consistent super-hits since 2009 (yes, for a decade or 10 years!), and has breached the Rs 300-crore mark more than once. Similarly, Aamir Khan's record is an enviable one, as he has smashed box office records, even though his releases were fewer in number.
Jab Harry Met Sejal was little short of a disaster. (Photo: YouTube screengrab)
Shah Rukh Khan has no such box office record to boast of. In fact, his box office record pales in front of even an Akshay Kumar, who never claims to be on the same pedestal as SRK.
However, here's the interesting part — SRK knows how to make money.
The Badshah has invested his money so cleverly that he has doubled his income solely by dint of his shrewd investments.
He has actually grown his money in leaps and bounds in the last decade, and there are very few people who have invested with such accurate calculations. Forbes actually counted him as the richest Bollywood star last year.
But make no mistake, his investments and earnings have no bearing over his box office pull in Bollywood. When you falter at the box office, it has a domino effect on everything related to you — even your stardom. We see a direct impact of his box office failures in this year's Forbes list, which he was dropped from.
That is why this year and his latest film, Zero, is so crucial for him.
Will Zero be SRK's shot at retaining his superstardom? (Photo: Twitter)
As he celebrates his birthday, there might be a niggling worry in his mind that this might prove to be his last lap of superstardom.
If he doesn't score this time at the box office, then he could lose the 'box office Badshah' status.
If Zero flops, then Shah Rukh Khan's future will be what he had predicted as the future of humans on his Ted Talk on May 12 last year. He said: "The future "you" has to be like an ageing movie star who has been made to believe that there is a possibility of a world which is completely, wholly, self-obsessively in love with itself..."
SRK will bounce back. He is the original Baazigar, after all. (Photo: YouTube screengrab)
As I passed by his bungalow Mannat a few days ago, I could see it getting decorated beautifully — lights, every corner being cleaned, repairs being done by workers working feverishly to a deadline.
I am told they are all done today.
But their boss isn't.
I just hope and pray on his birthday that SRK bounces back like a Baazigar, because 'Haar ke jeetne walon ko hi baazigar kehten hain.'
'Kya kehte hain?'
Also read: #ZeroPoster: What CGI got wrong in Zero, starring Shah Rukh Khan, Katrina Kaif and Anushka Sharma
The views and opinions expressed in this article are those of the authors and do not necessarily reflect the official policy or position of DailyO.in or the India Today Group. The writers are solely responsible for any claims arising out of the contents of this article.