It's been nearly four months since a commission report about the identity of what India Today termed as "India's most famous unknown man" has been with the Yogi Adityanath government. As per the Commission of the Inquiry Act, such reports are usually made public within six months of their submission. So what is it that one should look forward to in this report?
Gumnami Baba is a fairly known entity in the year 2018. Willy-nilly, his tale has become one of the three most well-known postulations about what really happened to Subhas Chandra Bose. The first two hold that he was killed in a plane crash in Taiwan, and that he was done to death (God forbid!) in Soviet Russia. But as long as he lived, only a handful got wind of Gumnami Baba's existence. From the mid-1950s to 1985, he lived in various parts of UP in great secrecy, hidden behind a curtain most of the time.
It was only after this unseen holy man died that he began making news. Media named him "Gumnami Baba", a term never used by his followers, who called him by the honorific "Bhagwanji" (the reverend one). Post death, his room was found to contain hundreds of objects, most important of which were his correspondence and notes. There was much connected with Subhas Chandra Bose and those who were known to Bose in pre-Independence period. It was at that time that many of Bhagwanji's followers were confronted by local media. They gave out that he was Subhas Bose to their belief and knowledge. They had kept their mouths sealed in deference to his order that it be done in "national interest".
Matters turned volatile when a niece of Subhas, Lalita Bose, arrived in Faizabad, where the holy man had last lived. She conducted a personal inquiry and was convinced that he was her uncle. Lalita tried to persuade the then chief minister of the state, Vir Bahadur Singh, to order a proper inquiry, but he is said to have told her that the matter was beyond him. Lalita and two citizens then filed a suit in the Allahabad High Court, using the services of eminent lawyer Robin Mitra. In response, the state government just clammed up and filed a counter-affidavit only after 13 years. It was only in 2013 the order for an inquiry could be delivered. Three year later, following some lobbying with chief minister Akhilesh Yadav an inquiry commission was set up. It came to be headed by justice Vishnu Sahai, who had by this time been making news for his inquiry into the Muzaffarnagar riots.
The writers were involved in the lobbying efforts to have this inquiry constituted. We also appeared before the commission as witnesses. As such, we followed its proceedings closely and have therefore come to hold a certain opinion. And now that Sahai's report could be made public any day, where do we stand, where does this case stand?
Unfortunately, it's a classic case of back to square one. From all we know, the commission has made no convincing headway in answering the question put to it: Who really was Gumnami Baba?
Of course more than one theory has been floated since 1985 about the real identity of baba. They range from the allegation that he was a CIA agent (what would a CIA agent do sitting in remote parts of UP?) to a fugitive from law. More prominently, certain members of Subhas Bose's family (in private talks) and BJP leader Subramanian Swamy (publicly) have claimed Gumnami Baba was an impostor planted by the Intelligence Bureau with a view to mislead the people of India, taking them away from the real "truth" about his fate - that he was bumped off in Soviet Russia with Jawaharlal Nehru's connivance.
Those looking for elaboration and insights into these aspects in the commission's forthcoming report would be sorely disappointed. From what we gather, the commission's report is nothing more than a mere compilation (selective) of what various witnesses stated before it on the basis of questions put to them. The judge has surely failed to figure out who the man really was, Netaji or whoever. And because his inquiry never had the depth, whatever arguments he has to offer for his conclusions will not please anyone - those who support the view that the holy man was Netaji and those who do not.
Why this has happened and what can be done now? Well, this scenario has prompted few of those interested in settling the matter to write to Adityanath Yogi. This group includes, apart from the writers, some members of the Bose family as well. Our letter, for which we haven't as yet received any response from the UP government, outlines the history of the Gumnami Baba matter in the context of the larger issue of the disappearance of Subhas Chandra Bose. "For political reasons, the establishment has thus far refrained from taking a proactive approach on the matter (about Netaji's fate)," we have stated.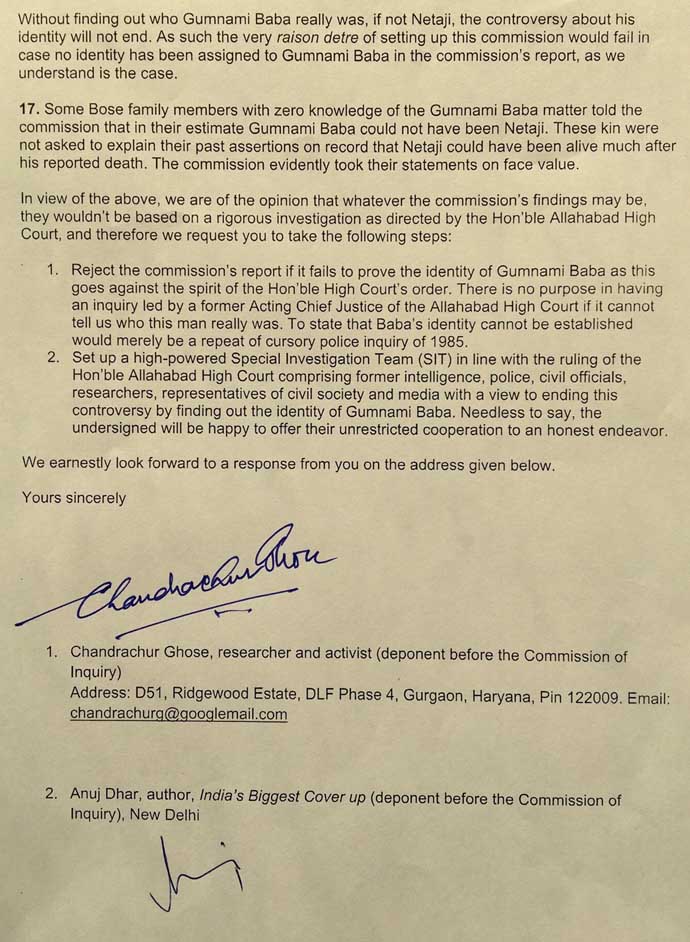 "There is no purpose in having an inquiry led by a former Acting Chief Justice of the Allahabad High Court if it cannot tell us who this man really was," the letter reads, adding, "against the spirit of the Hon'ble High Court's order".
We have asked the chief minister to reject the Vishnu Sahai Commission's report if it has failed to prove the identity of Gumnami Baba. We would like them to set up an SIT comprising former intelligence, police, civil officials, researchers, representatives of civil society and media with a view to ending this controversy.
The letter narrates that the report of Mukherjee Commission of inquiry about Netaji's fate, set up following a court order, was rejected by then Congress-led Central Government in 2006 "without assigning any reasons in the Action Taken Report tabled in Parliament". Later, then home minister Shivraj Patil suggested that one reason the report was rejected was that it was "inconclusive"- having failed to find out when and where Netaji had really died.
In other words, what is sauce for the goose must be sauce for the gander.
Concerning, Justice Vishnu Sahai's "non-inquiry", we have made several points: Justice Sahai, for a start, did not seek evidence from justice MK Mukherjee to explain why he had stated in 2010 that Gumnami Baba was Netaji. It defies logic why justice Sahai did not approach justice Mukherjee, who was his senior at both the Allahabad and Bombay High Courts. "That the Sahai Commission did not examine justice Mukherjee on record would be regarded as a great lapse by researchers and general people alike," we write.
And why Mukherjee, a former Supreme Court judge, would link Baba to Netaji when he was told by DNA experts that there was no match between his and Bose family samples? Because there are reasons to believe that forensic tests concerning Gumnami Baba, handwriting as well as DNA, were fudged by sarkari experts.
Justice Sahai, otherwise an affable and courteous man, seemed to have a dodgy attitude towards the inquiry assigned to him. At the very outset of his inquiry, he said in the course of private talks that it was "about Gumnami Baba and not Netaji". This was like a bolt from the blue for us. So, in our written submission to him we wrote that "divested of the claims that he was Netaji, the quest for the identity of Bhagwanji (Gumnami Baba) never warranted the investment of so much time, resources and money - from media to local administration; from state government to Hon'ble Allahabad High Court - and much less requires an inquiry by a former acting chief justice of the same court".
The judge further said he would produce a legally tenable report, his personal impressions notwithstanding. The inquiry, we humbly submit, was to find out about the identity of Gumnami Baba, not to produce a legally tenable report. The public is not going to be pleased with such pedantically legalistic approach towards such a volatile matter where the general perception is that the authorities are engaged in cover-up for political reasons. In fact, as cited in our letter, RSS chief Mohan Bhagwat recently said that "during the Emergency, police had the right to shoot anyone and one could not ask a question. Legally, the police were right but morally?" To this, we add: "Pakistan government continues to reject Indian dossiers on terrorism on legalistic grounds."
Furthermore, justice Sahai did nothing to verify the claim that Gumnami Baba was a plant by the Intelligence Bureau even though we duly brought this to his notice. Citing public statements of BJP leader Subramanian Swamy, the writers averred before the commission that it could only be confirmed by the agency. In vain we requested him to seek a response from the director, Intelligence Bureau.
Yogi's attention has also been drawn to correspondence between Gumnami Baba and MS Golwalkar, the second Sarsanghchalak of Rashtriya Swayamsevak Sangh (RSS). It is evident that Golwalkar held Gumnami Baba in highest esteem and was carrying out his commands. So who was he? Late KS Sudarshan, the fifth Sarsanghachalak, made public statements that Gumnami Baba was Netaji.
Today, a worldwide audience is keen to know the answer to the question about who really was Gumnami Baba in view of the clashing claims that he was Netaji and that he was an impostor impersonating Netaji. Justice
Sahai seemed to have sidestepped the issue, but we have different expectations from Yogi.