DailyOh! India remembers Sushant Singh Rajput, Israel says bye to Netanyahu
As India remembered Bollywood star Sushant Singh Rajput on his first death anniversary, Israel said goodbye to Prime Minister Benjamin Netanyahu after a 12-year reign.

DailyBite
It has been a year to the biggest story Bollywood witnessed last year. It has been a year the film industry lost Sushant Singh Rajput, and his fans, their idol. The case went through twists and turns that can put any thriller to shame. Three Central Agencies were roped in to pass a verdict on the Sushant Singh Rajput death case, but one year on, there's no closure.
June 14, 2021 marks one year of the death of Sushant Singh Rajput
On Sushant's first death anniversary, Rhea Chakraborty had an emotional note to share for her 'guardian angel'. Millions of fans of the star, meanwhile, still await justice on social media and out on the streets from Patna to Mumbai. But justice, as we have seen multiple times, is often delayed if not denied.
From Mumbai, we move to Delhi where restrictions have been lifted as Covid cases decrease. Under the new guidelines, restaurants are allowed to function with 50 per cent seating capacity. Malls, markets, market complexes are allowed to be open from 10 am to 8 pm. However, all the relaxed restrictions come with a caveat: if Covid cases are seen increasing, Delhi will be locked again. You can read more on what's allowed and what's not here.
Delhi re-opened today. Photo: PTI
All talk of lockdown and business brings us to the biggest news from the world of business: what happened to the Adani group's stocks on the share market. So, a leading daily published a news report saying the National Securities Depository Limited (NSDL) had taken action against three foreign funds that are among the top stakeholders in three Adani group firms. As a result, shares of all six listed Adani group companies plunged on stock exchanges to hit lower circuits. The Adani group rejected the report, calling it "blatantly erroneous".
But what does the work stock mean?
Our Word Of The Day stock has many meanings but for sake of brevity, we will concentrate on the one we're talking about. The word stock in finance. So a stock or stocks are shares in the ownership of a company, or investments on which a fixed amount of interest will be paid, says Collins Dictionary.
The Adani group's stocks fell sharply today. In pic: Gautam Adani. Photo: Getty Images
If you own stocks in the Adani group, for example, today is not a good day.
It's also not a good day for Benjamin Netanyahu, who was ousted from the position of the Prime Minister of Israel, ending his 12-year rule. The new Prime Minister of Israel is Naftali Bennett. Now Netanyahu and Bennett differ on Palestine, the issue that has seen countries world over either siding with Israel or against it. For now, we will go back to Benjamin Netanyahu for a bit.
Netanyahu was the longest serving Prime Minister in the history of Israel. Now while that might be common knowledge, what is not is Netanyahu suffering a bullet injury during a plane hijack. Let us tell you what happened on May 8, 1972, on board the Sabena Flight 571.
The Boeing 707 had taken off from Brussels in Belgium and was supposed to go to Vienna in Austria. British pilot Reginald Levy was in-charge of the cockpit. Four members of the Black September Organization, a Palestinian terrorist group, hijacked the plane and forced the pilot to land it at Lod airport near Tel Aviv in Israel. Their demands were nothing that we haven't seen in hijackings: they demanded release of Palestinian prisoners in return for the lives of the hostages.
The Sabena Flight 571 at Lod airport on May 9, 1972.
Israel was not the one to cave so easily. So while they negotiated the demands with the four terrorists on board, the country was planning to rescue the hostages. This plan was code-named Operation Isotope. That's hardly the most interesting bit of this story. It is this: Two people among the rescue team later went on to become Israel's Prime Ministers. Benjamin Netanyahu was one of them; and Ehud Barak was the other. Netanyahu, one of the four Black September terrorists later said, suffered a bullet injury in the exchange of bullets between the terrorists and Israeli forces. The bullet from one of the soldiers' guns apparently first struck Theresa Halsa, went through her, and lodged itself in Netanyahu's biceps.
Operation Isotope resulted in two of the male terrorists killed and the two women terrorists captured.
Quite the story, you'd agree.
Coming back from Israel to India, Sushant Singh Rajput's fans are remembering him with Twitter posts and memories. You can also join the tributes by watching Dil Bechara, Rajput's last film. Dil Bechara was released a month after Sushant's death last year. The film is currently streaming on Disney+Hotstar.
If you'd want a good meal to go with the movie, take our Aamras recipe and thrown in some pooris with it.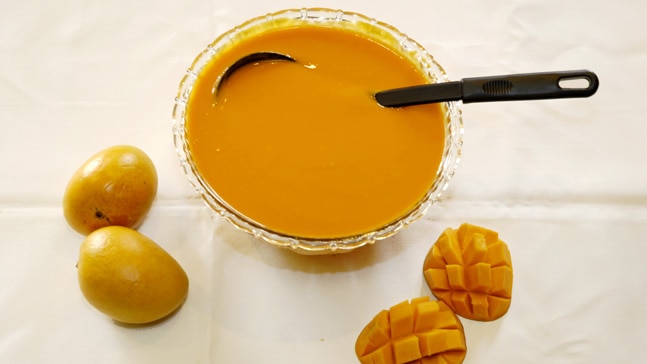 Aamras. Photo: India Today
See you tomorrow. Keep the mask on.
Now get the all-new DailyOh in your mailbox. Click here to subscribe.
Also Read: Can India inoculate its 900 million adults by December 31?