Public shaming is no way to go about Swachh Bharat
At least 10 people in Ranchi, caught defecating in the open, were made to hand over their lungis to Ranchi Municipal Corporation enforcement teams.

DailyBite
What happens when the government spends all its money building toilets and precious little on educating ordinary citizens about the importance of using public utilities, and not defecating in the open? On September 24, at least 10 people in Ranchi, who were caught defecating in the open, were made to hand over their lungis to Ranchi Municipal Corporation (RMC) enforcement teams.
Their lungis, of course, were returned, but only after they had pledged that they would not defecate in the open again, and paid a fine of Rs 100 each. Additionally, some were made to walk back home after taking the oath.
Why are municipal bodies shaming citizens?
According to The Indian Express, RMC's campaign slogan to check open defecation is "Halla bol, khule mein shauch karne waale ko door le jaa ke chhod (those who defecate in the open should be taken and dropped far away)", perhaps because they barely have a week left to meet the October 2 open-defecation free (ODF) deadline set for urban areas. But is naming and shaming the right way to go about this goal?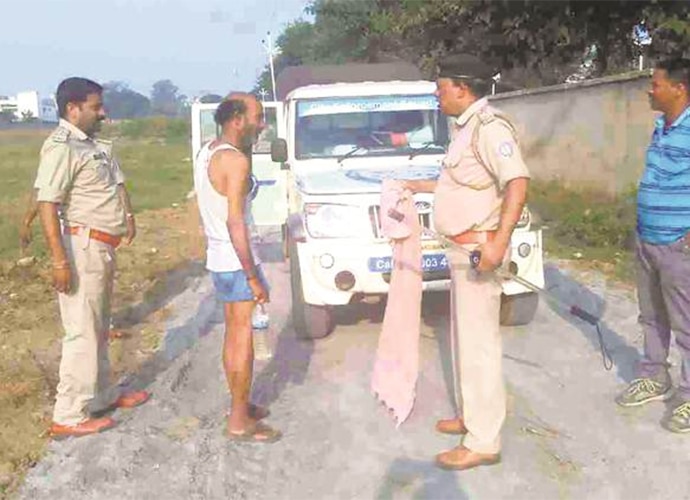 Photo: Indian Express
Sadly, this is not the first time lack of awareness about open defecation is being treated with humiliation instead of education, which is absurd given the practice continues not just because of the absence of toilets, but also because of the acute lack of information, education and communication.
The Economist reported in August that in Maharashtra's Sangola town, people defecating in the open found their photographs flashed on digital displays. A few others were escorted home in demeaning, public processions. Some states have made it compulsory for ordinary citizens to have a toilet in their homes to be eligible to contest elections.
The report further adds that, in Madhya Pradesh, an old man with an upset stomach was forced to clean up after himself with his clothes, while in Chhattisgarh, a village head denied government benefits to those without toilets.
Making Bharat swachh
There are at least 18 enforcement teams at present that are tasked with using "different ways to make sure people got the message".
According to RMC officials, the idea is to make people understand that defecating in the open could cause them embarrassment. CP Singh, the Jharkhand urban development minister, who is also the Ranchi MLA, told The Indian Express:
"It is just a part of the entire exercise. We have constructed toilets. Water supply is being provided wherever required. There may be shortcomings here and there. On the other hand, we have to raise awareness. For this, we have run concerted drives telling people why they should not defecate in the open. Like a drive by the traffic police to wear helmets, we first raised awareness, then imposed fine, and are now trying some of these methods. This is not aimed at harassing people. The idea is to create some sort of deterrence."
Ranchi mayor Asha Lakra, however, is not in favour of such initiatives. "I don't think it is good. We never passed a formal order. Creating awareness is one thing. I have talked to officials, I am sure this will not recur. It may have happened at one or two places," she said.
Lakra is right. Awareness must be created instead of taking up extreme measures.
According to an IndiaSpend report, Swachh Bharat Abhiyan finds that despite a construction spree — between May 1 and May 21, 2017, 4,89,710 individual household latrines were constructed across India — 51.6 per cent households across the country did not use an improved sanitation facility. The most probable reason is that many ordinary citizens simply do not know how to use the toilet.
The guidelines of Swachh Bharat Abhiyan require that 8 per cent of the allocated funds be used for information, education and communication (IEC) activities. However, from 2016 to 2017, only one per cent of the total expenditure had been made towards IEC. In contrast, 98 per cent of the funds had been spent on the construction of toilets in individual households.
A 2014 survey by the Research Institute for Compassionate Economics found that among the two-fifths of households with a working latrine, at least one family member preferred to defecate outside. Toilets, often the only concrete structure in the house, are sometimes used to store firewood, grass, chickens, cow-dung cakes and foodgrain.
In an interview with The Caravan magazine, researchers Diane Coffey and Dean Spears – the authors of Where India Goes: Abandoned Toilets, Stunted Development and the Costs of Caste – revealed similar findings. They too said there "is not lot of attention to this issue in terms of information, education and communication".
According to them, caste has a big role to play, apart from the abject lack of information. According to Coffey, indoor latrines are not accepted by people in the villages "because the pits of those latrines have to be emptied by hand. People link that to manual scavenging, which is associated with Dalit labour and with the social exclusion it comes with, and the caste system, and untouchability."
Lack of infrastructure?
According to officials at RMC, 31,559 toilets were constructed as part of the Open Defecation Free (ODF) campaign. But are they enough?
"We don't have a toilet. We had applied for one, but it was rejected," said Naina Kumari, a local.
There is a public urinal nearby, but as Kumari pointed out there is no toilet at the utility for men. "There is a toilet in the ladies' section, which was installed three-four months ago," she said, adding that men sometimes use this facility.
"In fact, my father too was stopped from using the ladies' toilet. So he went outside, but was caught," Kumari explained.
Humiliation, instead of education and infrastructure, seems to be the driving force behind the prime minister's celebrated campaign for cleanliness that is targeting a deadline, rather than a meaningful solution to open defecation.
Also read: The dark side of Durga Puja Bengalis don't like to talk about