This article on Taimur Ali Khan will most definitely blow your mind
Life gave the baby lemons, Indian media gave Saif Ali Khan and Kareena Kapoor's child limelight.
When I was studying journalism, it was something I was immensely proud of.
I would tell people about it, mention it while introducing myself, and strive to explain the relevance of journalism in the age of the internet and Snapchat. I would talk about how the medium might change, but journalistic ethics remain constant. That the media was instrumental in shaping the course of the nation — from wars to the Emergency.
In the last few years however, I have been rather ashamed of talking about being a journalist. I had predicted an age when journalistic ethics wouldn't be compromised. Instead, we live in a country that is obsessed with Bollywood stars. Barring a few exceptions, most media organisations in the country sell their souls out for cheap clicks and views. Everybody wants a slice of the Taimur pie.
Taimur Ali Khan's birth was followed across the media, and it was hardly a surprise. Kareena Kapoor has been the target of gossip and slander for more than a decade now. Saif Ali Khan, whose career witnessed a second innings that his father Mansoor Ali Khan Pataudi would have been proud of, wasn't spared the media onslaught either.
'Some day he'll think me rather silly, but now he loves me willy-nilly'
Be it was their relationships coming to an end, their courting, or the hilarious "Love Jihad" accusations that were hurled at the couple, it is sad that we have reached this stage. And when it was reported that Kareena Kapoor was pregnant, the media went about distributing virtual sweets to everybody in the country.
Amidst speculations and rumours, Taimur Ali Khan Pataudi was born on December 20, 2016. Since then, he has served as easy news feed for millions of Indians. Which is why I find it laughable when media houses complain about falling journalistic standards in the country. The excuse of "Jo dikhta hai, woh bikhta hai" is a hollow one. Yes, we are a nation obsessed with films and film stars, but that doesn't mean you invade someone's personal space to fill your depraved bellies.
And this is just one part of the problem. Once the star-kids turn into teenagers, their every step, every costume, every appearance is analysed, criticised and left open for public consumption. I get into a foul mood when I'm told what to eat and wear. I can only imagine what these kids must be going through when for no fault of theirs, their every step is scrutinised by jobless guys on social media.
But I digress.
We are on the topic of Taimur Ali Khan Pataudi. If the Love Jihad controversy made you pinch yourself, the reaction to his naming was deeply depressing. Yes, Taimur was the name of a Mongol conqueror. But there's more to a name than a person with the name. And just for context, the prime accused in the brutal Nirbhaya gangrape was named "Ram".
When life gave Taimur lemons, Indian media gave him limelight. As a nation, we have been fed news of Taimur for more than a year now — Taimur's day out, Taimur with his momma, Taimur at an airport, Taimur taking a dump — and I can't think of any other obsession in the last 20 years similar to the frenzy Taimur is facing.
Maybe it is a sign of the times we live in. Maybe we live in the age of Taimur. May be we are stuck with news of Taimur all our lives. Maybe this is how our newspapers will look in the years to come!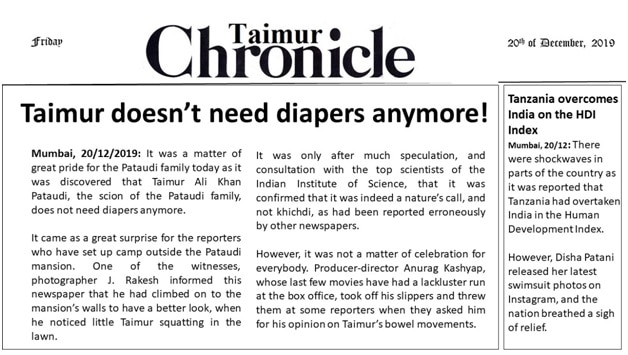 Also read: We found the worst article on Saif Ali Khan-Kareena Kapoor's child Taimur, but there are more
The views and opinions expressed in this article are those of the authors and do not necessarily reflect the official policy or position of DailyO.in or the India Today Group. The writers are solely responsible for any claims arising out of the contents of this article.