DailyOh! Twitter loses legal protection, Ronaldo causes Coca-Cola to lose billions
Coca-Cola company suffered a USD 4 billion drop in market value after Cristiano Ronaldo removed Coke bottles in front of him during a press conference.
Twitter failed to comply with intermediary guidelines despite being given multiple opportunities. This is what Union Minister Ravi Shankar Prasad had to say today after the microblogging platform lost its legal indemnity in India.
There are numerous queries arising as to whether Twitter is entitled to safe harbour provision. However, the simple fact of the matter is that Twitter has failed to comply with the Intermediary Guidelines that came into effect from the 26th of May.

— Ravi Shankar Prasad (@rsprasad) June 16, 2021
The tussle between Twitter and the government has been going on for a while now. Twitter even went to post job openings on LinkedIn for the position of chief compliance officer, nodal officer and grievance officer in India. The latest buzz is that an interim Chief Compliance Officer has been appointed and Twitter has promised to share more details on it shortly.
Union Minister Ravi Shankar Prasad has said that Twitter has failed to comply with intermediary guidelines despite being given multiple opportunities.
With all the failure to comply, non-compliance and compliance officer, the Word Of The Day is a pretty straightforward guess. Comply, the verb, comes from the noun 'compliance'. It means "adhering to a rule, such as a policy, standard, specification, or law." It comes from the Latin root compleō that translates "to finish", "to complete" or "to fulfil".
The micro-blogging platform has said that it continues to make every effort to comply with the new guidelines set by the government.
Losing legal protection in India comes with its own share of troubles. Being liable for legal action like any other publisher under Indian laws, Twitter has now lost the robust shield that allowed it to deflect any legal action.
And legal trouble came hot on Twitter's heels. Uttar Pradesh government registered an FIR against the microblogging site. This comes after a video of a group of six people thrashing an elderly Muslim man surfaced online from Loni in Uttar Pradesh's Ghaziabad. Twitter failed to flag the viral video as "manipulated media".
After a video of a Muslim man being beaten in Loni surfaced online, the cops are probing the role of social media in "inciting religious sentiments". (Photo: India Today)
The FIR filed last night alleges that the tweets by the accused had been broadcast on a large scale and the statements made through social media by the accused tries to create communal animosity between Hindus and Muslims.
It is not just Twitter and political leaders who have been accused of inciting violence.
In Bengal, veteran actor and BJP leader Mithun Chakraborty is also in similar trouble. He was questioned today for half an hour by Kolkata Police based on an FIR filed against him. The complaint alleges that Mithun da had used film dialogues like "marbo ekhane, lash porbe shoshane (I will hit you here and the body will fall in the crematorium)" and "ek chobole chhobi" (just one snakebite and you will become a photograph) during a campaign rally ahead of the Bengal Assembly elections.
Mithun da has been accused of inciting violence with his film dialogues. (File photo: PTI)
Allegations and counter-allegations extend beyond the realm of social media and Tollywood dialogues. The latest is the Covid vaccines.
Congress's Gaurav Pandhi has claimed that an RTI response suggests that serum from newborn calf was used by Bharat Biotech to make the Covid-19 vaccine Covaxin.
In an RTI response, the Modi Govt has admitted that COVAXIN consists Newborn Calf Serum .....which is a portion of clotted blood obtained from less than 20 days young cow-calves, after slaughtering them. THIS IS HEINOUS! This information should have been made public before. pic.twitter.com/sngVr0cE29

— Gaurav Pandhi (@GauravPandhi) June 15, 2021
After the tweet went viral, the government dismissed the allegations and said that facts have been twisted and misrepresented in Pandhi's posts.
Those who keep talking about need for scientific temperament&research are now tweeting their disgust basis some RTI on Covaxin, adding to vaccine hesitancy by bringing religion based choices to it. Please resist sliding down this slippery slope against vaccines.

— Priyanka Chaturvedi?? (@priyankac19) June 16, 2021
Whatever might be your reasons, we urge you to not hesitate and get the jab to protect yourself against the virus.
From the virus to football. Cristiano Ronaldo has now become the all-time top goal-scorer in the history of the European Championships. In the Euro 2020 match against Hungary last night, the football legend has moved past France's Michel Platini's record of nine goals in the European Championships. Ronaldo now stands at 11 goals.
⏰ RESULT ⏰ ? Cristiano Ronaldo becomes all-time EURO top scorer?? Ronaldo nets twice in Portugal win; Guerreiro also on target Who did it best? ?#EURO2020

— UEFA EURO 2020 (@EURO2020) June 15, 2021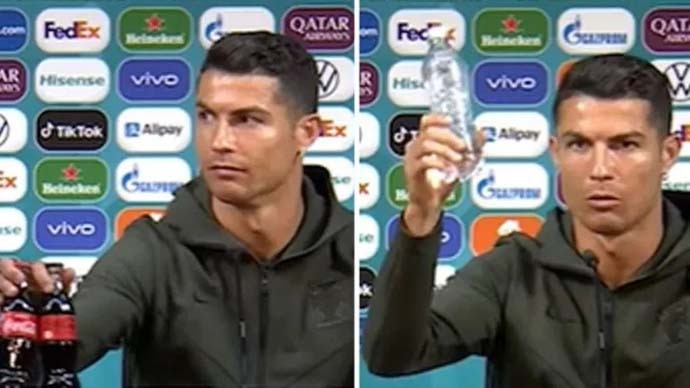 At the press conference, Ronaldo replaced Coke with water bottles. Hours later, Coca-Cola's market value dipped by a whopping USD 4 billion! (Courtesy: Twitter)
It should not come as a surprise if we tell you a thing or two about Ronaldo and his skills. For starters, did you know that Ronaldo can jump seven centimetres higher than an average NBA (National Basketball Association) player? In fact, when Ronaldo jumps, he generates 5G of G-force on takeoff — five times the power of a cheetah in full flight! And this allows him to reach heights of 44cm in the air from a standing start and 78cm with a run-up. The average jumping height of a basketball player with a run-up is 70 cms.
As one of the greatest footballers of all times, it is no surprise that Ronaldo is also among the highest-paid. In fact, in 2007, Ronaldo signed a five-year, £31 million contract to play for Manchester United. He scored 42 goals in that season and helped steer Manchester United to three premier league titles.
But Coca-Cola is not very happy with Ronaldo. The footballer removed bottles of Coca-Cola from in front of him at a press conference and showed off a water bottle instead. Hours later, Coca-Cola, which is one of the official sponsors of Euro 2020, saw its market value dip by a whopping USD 4 billion!
Cristiano Ronaldo was angry because they put Coca Cola in front of him at the Portugal press conference, instead of water! ?He moved them and said "Drink water" ?pic.twitter.com/U1aJg9PcXq

— FutbolBible (@FutbolBible) June 14, 2021
A small gesture by the legend and giant (backward) leap for Coca Cola.
But what lies behind the face we have grown to adore on the football field? To know that you have to watch Ronaldo. We mean the documentary on the Portuguese football legend.
We leave you with Ronaldo for today. See you tomorrow!
Now get the all-new DailyOh in your mailbox. Click here to subscribe.
Also Read: Can India inoculate its 900 million adults by December 31?
The views and opinions expressed in this article are those of the authors and do not necessarily reflect the official policy or position of DailyO.in or the India Today Group. The writers are solely responsible for any claims arising out of the contents of this article.