The US has successfuly eliminated ISIS Chief Al-Quraishi, also known as Haji Abdullah in Syria. In 2011, US President Barack Obama led the operations that eliminated Osama Bin Laden in Abbotabad, Pakistan; Donald Trump led the operation which killed ISIS leader Abu Bakr Al Baghdadi in 2019; and now, Joe Biden will be credited for eliminating ISIS Chief Abu Ibrahim Al Hashimi al-Quraishi in 2022.
An operation which took place in the North-West Syrian town of Atmeh was in the works for months, and was finally given a nod by US President Joe Biden on Tuesday (February 1).
The building where US military officials carried out the raid. Photo: Associated Press
In the mission that led to around 13 civilian casualties, ISIS Chief al-Quraishi is said to have blown himself up along with his family members. Pentagon officials said the US military evacuated 10 civilians from the building. US officials opted for a ground raid like they did on May 2, 2011 against Osama Bin Laden in Abbottabad, Pakistan. No US officer was killed in the raids.
Who exactly was Al-Quraishi, what did he do and how did the American forces get into the building?
Abu Ibrahim Al Hashimi al-Quraishi, 45, was an Islamic State (IS) leader who was given the charge of the group after its leader Abu Bakr Al Baghdadi was killed in a US-led military operation in October 2019. Al-Quraishi's real name was Amir Muhammad sa'id Addel Rehman al-Mawla. He was born in Mosul, Iraq, in 1976.
Quraishi, known as "Destroyer", went by the nom de guerre Haji Abdullah. The US government had put a bounty of $10 million on his head.
THE RAID IN THE 3-STOREY BUILDING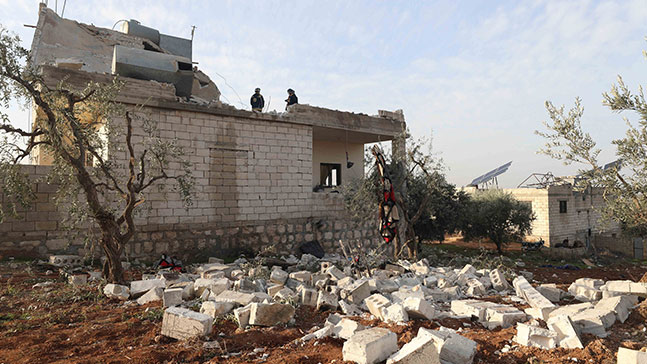 The building where US military officials carried out the raid. Photo: Associated Press
The American officials had zeroed in on a three-storey cinder block building in the northwestern Syrian town of Atmeh, which also shares a border with Turkey. Two senior officials privy to the raid said that Al-Quraishi lived on the third floor of the building while the first floor was occupied by a civilian family.
On the second floor lived Quraishi's lieutenant colonel, who was with his wife and four children. Quraishi kept a low profile in the area and would send information to ISIS through his lieutenant, who had his own network of couriers in Iraq and Syria. Quraishi never used electronic devices for communication lest they be intercepted by American authorities.
When the American military officers started the raid on a moonless light (best suited for night operations), the families were caught off-guard. The civilian family on the first floor, which also had four children, was asked to evacuate immediately and they left. But according to US officials, Quraishi had come to know of his impending capture or death, and thus, he detonated his own explosive device which the US said was bigger than any suicide vest.
Next came the lieutenant's family that lived on the second floor. According to Pentagon officials, the family barricaded itself on the second floor and both husband and the wife engaged in a gunfight with the forces. Both were killed in the gunfire, which also left one child dead.
WHY AMERICA CONDUCTED A RAID AND NOT AN AIR STRIKE?
The three-storey building where US military officials carried out the raid. Photo: Associated Press
American officials said that the raid instead of an air strike on the three storey building was done to prevent civilian casualties. The raid, carried out by two dozen military officers of Delta Force Commandos, was conducted at midnight on Wednesday (February 2).
According to officials, plans for the raid had been in place for several months and rehearsals were done for it. Engineers were studying the three-storey building on the possibilities of civilian harm if the US went for an air strike.
But the number of civilian casualty is also disputed at present. Rescue workers have said that 13 people have been killed including the family of Al-Quraishi, New York Times reported. But Pentagon officials have said that 10 civilians have died including eight children.
White Helmets Rescue Service, which is also known as Syrian Civil Defense, said it found the body of six children and four women at the house. John Kirby, Pentagon Press Secretary said that US doesn't have knowledge of every single person killed. "At present we don't know the exact number of civilian casualty in the raid," he said.
The raid also quashes the apprehensions of an ISIS rise in Afghanistan after America withdrew from the country. When America pulled out of Afghanistan on August 31, 2021 ending a 20-year tumultuous war, it was said that that the ISIS might expand its wings in Afghanistan with US gone. 
The operation also comes as a face-saver for Biden, who was widely criticised for hasty pullout of American troops from Afghanistan in August last year.
Biden, along with US Vice-President Kamala Harris, General Mark A Milley, Chairman of Joint Chief Staff monitored the operation late Wednesday.