Trump has finally 'built' the wall on US border and is making children wail and pay the price
No one's sure if these children would be reunited with their parents, or they have been torn apart from their families forever.

Sanghamitra Baruah
"If Nancy Hanks came back as a ghost,
Seeking news of what she loved most,
She'd ask first
"Where's my son?
What's happened to Abe?
What's he done?
These lines are from a poem that imagines Abraham Lincoln's mother wondering about her little son Abe — since she died when he was only nine. Little Abe went on to become the 16th President of America. More than 153 years after Lincoln was assassinated, Nancy Hanks's haunting questions have come back to stir America's collective conscience with thousands of immigrant mothers, still alive, seeking news of what they love most.
Pictures of children — children wailing, children ripped from their mothers' arms, mothers, fathers, uncles, aunts taken into custody, the children "caged" — have exposed the horror of the Trump administration's zero-tolerance policy towards un-documented immigrants, even if they are seeking asylum.
If Abe was nine when his mother died, some of these immigrant children are not even out of their diapers yet. Not too difficult to fathom how deep the abyss is that these separated children find themselves in, at the moment.
The heartbreaking scenes playing out on the southern US border have made many across the world cry, condemn and gnash their teeth with sadness and rage. We all — well, almost all — know what they are going through.
"Poor little Abe, left all alone...
I remember still how hard he cried."
Scraping along in a little shack,
With hardly a shirt to cover his back.
And a prairie wind to blow him down, or pinching times if he went to town.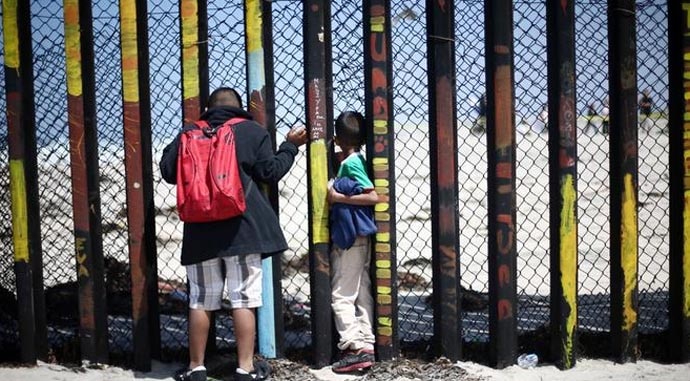 Insurmountable: Mexican children play at a newly built section of the US-Mexico border wall. [Credit: Reuters photo]
The Trump administration has been charging every adult caught crossing the border illegally with federal crimes. Unlike previous administrations, those with children are not referred to immigration courts. Children are separated from them "without a clear procedure for reunification apart from hotlines the parents can call to try to track their children down".
This zero-tolerance policy has sent shivers down the spines of immigrants across nations seeking asylum, migrants feeling violence, war crimes, mortar shelling, migrants jumping into ships setting sail for unknown shores. Americans are asking, how could "America the great" sleep at night when families are being torn apart? Many have come out strongly against the Trump administration, calling it 'evil' and 'criminal', something that reminds many of Nazi Europe's days. Others have called it institutionalised child abuse.
As @realDonaldTrump representative in #Ireland I call on you @USAmbIreland to tell him we are deeply appalled and disgusted at his inhumane treatment of children https://t.co/PllOuWO2GN via @UpliftIRL

— Mark Malone (@soundmigration) June 18, 2018
These are, after all, real horror stories. A distraught man from Honduras committed suicide when his three-year-old was taken from him. There have been reports that a woman was told by a border patrol agent that she will never see her children again. "Families don't exist here. You won't have a family anymore."
"One woman said 'I want to be with my children' and the Border Patrol agent said: 'You will never see your children again. Families don't exist here. You won't have a family anymore.'" https://t.co/fA8cUKqV1x

— Human Rights First (@humanrights1st) June 11, 2018
New: ProPublica has obtained audio from inside a U.S. Customs and Border Protection facility, in which children can be heard wailing. Border Patrol agent jokes, "We have an orchestra here." https://t.co/pkmD8DKYmo

— ProPublica (@ProPublica) June 18, 2018
So far, nearly 1,800 immigrant families have been separated at the US border in four months. Numerous reports that have come out have made it clear that these are not isolated cases and are very much part of a systemic "assault", coming straight from the top.
But why?
Zero-tolerance policy: 'Separating immigrant children and parents is not part of the law.' [Credit: Reuters photo]
While Trump himself has called the separation horrible, the president blames the Opposition. "I hate the children being taken away," he said. "The Democrats have to change their law. That's their law."
So, what does the law says?
The lawmakers
According to Vox's Dara Lind, "separating immigrant children and parents is not part of the law, as the White House keeps insisting, nor does it have anything to do with the Democratic Party".
This article goes on to explain that there is no law that requires immigrant families to be separated. "The decision to charge everyone crossing the border with illegal entry — and the decision to charge asylum seekers in criminal court rather than waiting to see if they qualify for asylum — are both decisions the Trump administration has made."
But administration officials supporting Trump cite laws that give "extra protections to families, unaccompanied children and asylum seekers". The same article also tells us that "the US administration has been asking Congress to change these laws since it came into office, and has blamed them for stopping Trump from securing the border the way he'd like".
But apparently, these aren't "Democratic laws either". The law associated with "unaccompanied children" was passed in 2008 and signed by George W Bush. The restriction on detaining families is a result of federal litigation.
Lind argues that in that context, "the law isn't forcing Trump to separate families; it's keeping Trump from doing what he'd perhaps really like to do, which is simply sending families back or keeping them in detention together, and so he has had to resort to plan B".
A New York Times story too pinned the blame squarely on Trump. This report, chronicling the Trump administration's decision to implement a "zero-tolerance" policy at the border, quotes senior policy adviser Stephen Miller as saying that this was a "simple decision" for the administration to make. "No nation can have the policy that whole classes of people are immune from immigration law or enforcement," he said. "It was a simple decision by the administration to have a zero-tolerance policy for illegal entry, period. The message is that no one is exempt from immigration law."
Homeland security secretary Kirstjen Nielsen in a recent tweet said, "We do not have a policy of separating families at the border. Period."
Lind says Nielsen's tweet is true, but only in the narrowest possible way. "To be clear, there is no official Trump policy stating that every family entering the US without papers has to be separated. What there is is a policy that all adults caught crossing into the US illegally are supposed to be criminally prosecuted — and when that happens to a parent, separation is inevitable."
Of 'child actors' and 'not-so-adult advocates'
Amid the ongoing conundrum, a statement by the American conservative social and political commentator, Ann Coulter, has created another furore by calling these children "child actors". During an appearance on Fox News, Coulter said "President Trump should not fall for the child actors as he faces pressure to end his zero-tolerance policy at the border". "I would also say one other thing, these child actors weeping and crying on all the other networks 24/7 right now — do not fall for it, Mr President," she said.
In arguing that the hapless children are 'acting', she mentioned "a story in The New Yorker", claiming it had described the children as being coached. Interestingly, the writer, Indian-American Suketu Mehta, whose article Coulter cited as evidence, says she misrepresented his writing. "Either she lied or she's truly illiterate."
"I was really shocked to see she is using my New Yorker piece, which has no child actors, no liberals toting scripts to be read by child actors," Mehta told BuzzFeed News. Mehta, a New York University professor, is the author of an upcoming book about immigration. Mehta said the point of the article had been to highlight the problems inherent in a "broken asylum system [that] demands a certain kind of narrative" of people seeking asylum in the US.
The Melania surprise
In the wake of a massive public outcry over children caught in the middle of the controversial immigration policy, first lady Melania Trump made a rare and surprising statement on the immigration crisis taking place at America's borders.
Where is the country that governs with heart?
"Mrs Trump hates to see children separated from their families and hopes both sides of the aisle can finally come together to achieve successful immigration reform," Stephanie Grisham, her communications director, was quoted as saying by CNN. "She believes we need to be a country that follows all laws, but also a country that governs with heart."
Even former first lady Laura Bush has spoken out against the policy in an opinion piece in The Washington Post. Mrs Bush decried the separation of children from parents entering the United States illegally as "cruel" and "immoral".
The real tragedy of immigration
Amid all the arguments and rhetoric, what has gone unnoticed is the migrant's dilemma — the pain of leaving one's home, cutting that umbilical cord attached to your motherland, to seek shelter in another man's land. For those who have only seen "hordes of migrants marching into their land" may not have seen the pain in the eyes of those illegal immigrants and their clueless children. The other side of the border is fraught with unseen dangers. They know they are not welcome, yet they want to embrace your land, your lifestyle.
Why?
While Trump apologists continue to defend their president, it's heartening to see that a huge number of people who make "America great" have come down heavily upon this zero-tolerance. Of course, no one's sure if these children would be reunited with their parents, or have been torn apart from their families forever.
"You wouldn't know about my son?
Did he grow tall?
Did he have fun?
Did he learn to read?
Did he get to town?
Do you know his name?
Did he get on?"
Also read: Will bungalow controversy haunt Akhilesh Yadav in 2019 general elections?
The views and opinions expressed in this article are those of the authors and do not necessarily reflect the official policy or position of DailyO.in or the India Today Group. The writers are solely responsible for any claims arising out of the contents of this article.