It seems like a lot more working people are experiencing the horror of being fired over zoom calls, like that viral video. The Indian and global atmosphere in the startup and tech sphere is not encouraging. People all over are worried about emptying desks or getting a cold call from HR one day.
In India, news broke on Wednesday, May 18, 2022, that EdTech unicorn, Vedantu is laying off 424 of its total 5,900 employees. It's 7% of their workforce. Also to note that Vedantu had laid off 200 employees at the start of this month.
The reason? Vedantu's CEO Vamsi Krishna wrote a long LinkedIn post and blogpost about having to let go of employees. He gave reasons like:
The Ukraine-Russia war
Recession fears
Federal rate interest hikes leading to inflationary pressures
Massive correction in stocks globally and in India
Scarce capital
Schools and offline models opening up
The hyper-growth of Vedantu will be moderated
Layoffs needed for sustenance
On LinkedIn, there are some angry posts, and accusations of people not being paid by Vedantu. Then there are people extending a helping hand to the laid-off employees – telling them about openings in other EdTech unicorns.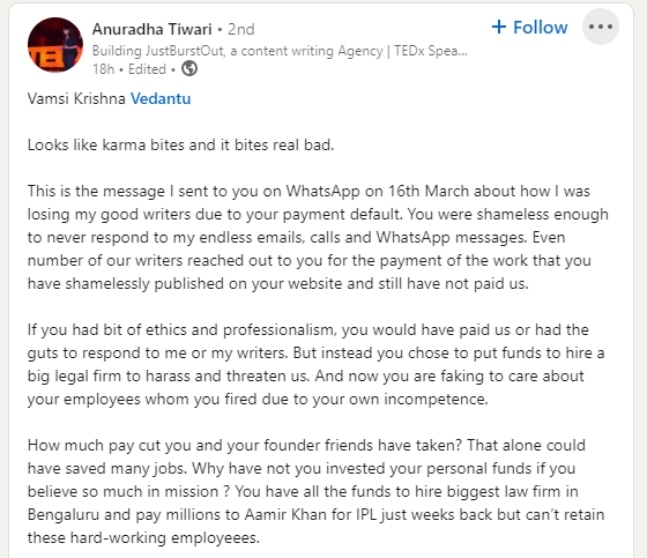 Screenshot of a complaint against Vedantu on LinkedIn.
The 624 employees being let go is essentially one entire building full of people who lost their livelihoods just 15 days apart.
However, the worst part is that it is not just 624 employees of one Indian startup, but hundreds of others.
When it comes to EdTech startups, the layoff trend started with Lido Learning. In February this year, the CEO and founder of the unicorn delivered sad news to some 1,000-2,000 employees. Lido Learning was closing down due to lack of capital.
Unacademy laid off 10% of its workforce mostly from the academic department. The reason: performance and role redundancy. The defence: Regular part of appraisal and reevaluation process.  
Remember the Better.com Indian-American CEO Vishal Garg's viral and infamous zoom call where he fired some 900 employees at once? Yes, that company also laid off some 3,000 people in the US and India in March. And now it has offered its Indian employees – a voluntary separation agreement and has reportedly accepted over 900 resignations. LinkedIn is again flooded with the stories of Better employees.
Why? Investors seem to be tightening their purse on investments given the global and Indian economic insecurity spurred by Covid and the Ukraine war, among other reasons.
When it comes to the EdTech startup, which was buoyed by the Covid-19 pandemic and school shutdown, is waking up to the reality of offline schooling. Byju's acquisition of Aakash centres shows they are spreading their wings into the offline sector, and Unacademy is close behind.
On LinkedIn, comments have been fiery, blaming flawed business models of startups.
Photo: LinkedIn
Photo: LinkedIn
LinkedIn is flooded with messages to and from the laid-off employees of Netflix. Netflix recently laid off 150 employees in the US as their stocks plummeted and subscribers shrank. Silicon Valley is not currently exuberant as it always is with hirings. Companies like Meta are going on a hiring freeze for the time being.
If you are also facing job insecurity, keeping your network active, keeping an eye for openings and checking your current company's situation may help.