Mighty Putin is fighting abdominal cancer and Parkinson's disease: What we know
Russian President Vladimir Putin is expected to go for a surgery for abdominal cancer. Putin is expected to hand over the power temporarily to ex-KGB Chief Nikolai Patrushev.
Russian President Vladimir Putin holds a black belt in Taekwondo. We have seen morphed pictures of him 'riding' a bear (fact-check: he did not; and Putin himself clarified that) and posing shirtless. All this image building of an "invincible" Putin took a hit after it was reported that he was suffering from a rare disease and needs to be operated upon.
The Kremlin leader is slated to go for a surgery later this month as he is suffering from abdominal cancer, which was diagnosed 18 months ago, British tabloid The Sun reported.
Vladimir Putin. Photo: AP
Putin is expected to hand over power temporarily to the ex-KGB Chief Nikolai Patrushev. Patrushev, 70, is a key architect of war strategy in Ukraine. He, reportedly, is the one who had convinced Putin that Kyiv is full of neo-Nazis. The incumbent Secretary of Russia's Security Council will take temporary control of Russia's war in Ukraine.
WHO IS NIKOLAI PATRUSHEV?
Nikolai Patrushev was born in June 1951, and is a trusted guy of Putin. His connections with Putin go long back. As per the Russian constitution, Russian Prime Minister was to be handed power by Putin, but instead, Patrsuhev was chosen.
A KGB counterintelligence offer, Patrushev is a key player in the Russian invasion of Ukraine. It was reported that it only took a two-hour discussion with Putin for Patrushev to get the job.
Patrushev also has a very strong military background.
WHAT IS ABDOMINAL CANCER?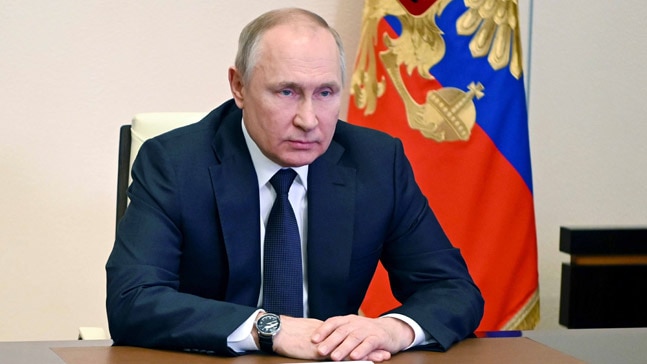 Vladimir Putin. Photo: AP
Abdominal cancer is a type of cancer that occurs when there is an uncontrolled growth of abnormal cells anywhere in the abdomen.
Normally, cells in the abdomen that are old or damaged stop dividing and eventually die. These cells are replaced by the healthy young cells. Abdominal cancer occurs when the old or the damaged cells divide and multiply uncontrollably.
This cancer can be fatal if left untreated. The prognosis or progression of diseases depends upon the advancement stage of the cancer and other factors like age, medical history, coexisting conditions and other factors.
PUTIN AND PARKINSON'S
Besides abdominal cancer, it is being reported that Vladimir Putin is also suffering from Parkinson's disease. That he suffers from Parkinson's gained momentum when a video on social media of him meeting his Defence Minister Sergei Shoigu went viral. In the video, Putin can be seen tightly gripping the table while talking to the minister. He was also sinking back into the chair.
The video was watched 2.4 billion times, with many asking if the Russian President is suffering from Parkinson's disease.
On April 24, 2022, another video went viral where Putin was seen meeting Belarus President Alexander Lukashenko. The meeting happened in February 2022. In the video, Putin is seen constantly shaking his hands and pressing it against his chest to stop it from trembling. He is also seen walking with a stiff leg as he goes to embrace Lukashenko.
Many suspected it after his weird meeting sign Shoigu, during which he held on to the table for 13 minutes.This is probably the clearest video of something being wrong with Putin's health.Look at his leg & hand tremors!Any doctor out there willing to weigh in? Parkinson? pic.twitter.com/Vt0TpHtdrF

— Visegrád 24 (@visegrad24) April 24, 2022
WHY PARKINSON'S?
The reason why Putin's condition is being linked with Parkinson's is because in Parkinson's, which is a progressive nervous system disorder, the disease usually starts with shaking or tremors in one hand. In the initial stages, the arms of the patient might not swing when he/she talks. Speech is also slurred. The disease's symptoms worsen as the condition progresses over time.
The views and opinions expressed in this article are those of the authors and do not necessarily reflect the official policy or position of DailyO.in or the India Today Group. The writers are solely responsible for any claims arising out of the contents of this article.