DailyOh! Why Americans are flocking to Mt Rushmore, to when Kim Jong-un went missing for 40 days
More and more rushing to Mt Rushmore, here's the Rushmore story they may have missed.
Hello there,
We aren't saying "it's Monday and we are back" because lines between the weekends and weekdays have blurred and it doesn't matter what date of the month we have reached because the only date that seems to matter now is May 3. That's only for optimists though. The realists know while there may be some relaxations, a complete lifting of the lockdown is not happening any time soon because positive coronavirus cases have climbed well past 27,000 and more than 800 have lost their lives to the virus.
Positive coronavirus cases in India have crossed the 27,000. (Photo: Reuters)
Sikkim has shut its doors to tourists (actually to the virus) till October. The state has not reported any coronavirus case so far and if it can keep itself isolated from the rest of the country for some more time, it could totally emerge a winner. But those bitten by the travel bug do not care much for the virus. That's a bug-versus-virus match you shouldn't consider.
But many in the US are gathering to protest against the lockdown. Some, who do not care enough to protest, are rushing to Mount Rushmore to escape the lockdown. Maybe they have misinterpreted Rushmore as a clarion call to rush to the mountain for fresh air. Fresh air may not be our usual PM2.5 and PM10 but it sure can have the virus. Mount Rushmore is considered to be the Mecca of tourism in South Dakota, but then, even Mecca is closed these days. The bug-bitten may still not understand, but for those who have got the Rushmore interpretation wrong, here's a short story on how Mouth Rushmore got its name.
Mount Rushmore has been named after New York attorney Charles E Rushmore. (Photo: Reuters)
In 1885, New York attorney Charles E Rushmore was visiting the area for business. He happened to see the granite peak and asked his guide what the peak was called. Rushmore was told, "Hell, it never had a name, but from now on, we'll call the damn thing Rushmore."
That's how easy it is to get a peak named after you? No. Rushmore later donated US$ 5,000 (Rs 3,81,000) to help get the Mount Rushmore project started. Now, if you think Rs 3.81 lakh is not much, do remember the year was 1885. That money was used to sculpt the four faces on the peak and develop the site into a tourist destination.
From US, let's head back to India because here too people are acting like people act - stupid. Some Covid-19 patients linked to the Tablighi Jamaat chased and manhandled a ward boy at Kanpur's Lala Lajpat Rai Hospital. Wondering why? Well, the men were not provided non-vegetarian food. Our Covidiots Of The Day are being provided bun and butter for breakfast and fruits, rice, dal, roti and vegetables for dinner. But who wants dal-roti when you can demand boti? Now, just because you demand you may not get the boti, what you can get is a jail term of up to seven years and fine up to Rs 5 lakh for misbehaving with health workers.
Health workers are struggling because of extended shifts and lack of personal protective equipment, what you know as PPE. We do see a lot of people with masks, gloves and goggles fully covered in those hazmat suits that force them to walk like robots, but that is not enough. A lot of PPEs are still needed because the same PPE can't be used and reused. Eating bun and butter and fruits and vegetables while you crave for meat and murga doesn't kill you. But lack of PPE can make health workers sick. Very sick.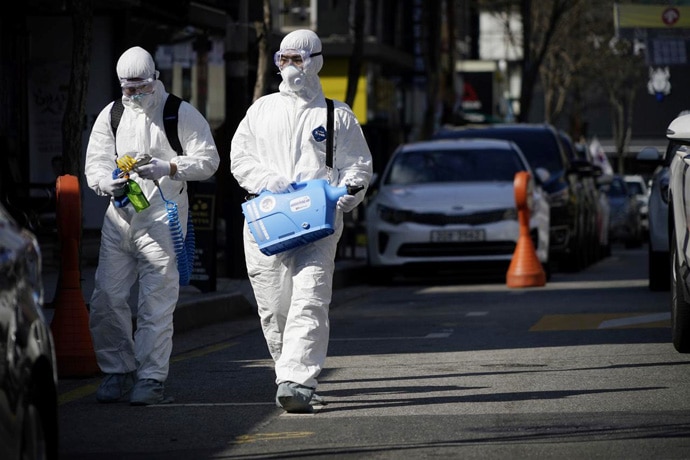 Health workers in hazmat suits disinfecting roads. (Photo: Reuters)
Has seeing a person in hazmat suit ever made you wonder what does hazmat mean? Hazmat, our Word Of The Day, is actually the short form for hazardous material. A hazmat suit, or a hazardous materials suit, offers full-body protection against hazardous materials.
The only foolproof protection against coronavirus however is a vaccine. The coronavirus may have caught us unaware but since it has spread across the world, the entire world is joining forces to take it on. The same happened with smallpox. It was the first viral disease to be eradicated with human intervention – a vaccine. Now, many viruses appear and then disappear on their own but some that choose to stay and trouble people are eventually dealt with with vaccines.
In 1975, Rahima Banu, a three-year-old girl from Bangladesh, was the last person in the world to have got variola major, the virus that caused smallpox. She was isolated at home with house guards posted 24 hours a day until she was no longer infectious.
While the world is tracking the spread of coronavirus, it is also tracking (at least trying to) the whereabouts of North Korean dictator Kim Jong-un. South Korea it seems has had some success in getting news on Kim. South Korea security advisor Moon Chung-in has confirmed not only is Kim "alive", he is also "well". Well, not kickin' yet, we guess, but well.
South Korea says Kim Jong-un is alive and well. (Photo: Reuters)
People started speculating something was wrong with Kim's health after he was missing from the April 15 celebrations for the birthday of his grandfather Kim Il-sung, the country's founder.
We guess the speculation will continue till Kim comes out and tests another missile to convince the world he is there, even though this isn't the first time Kim has done the disappearing act.
His first missing act happened in September 2014. He appeared for a concert on September 3 that year and then was nowhere to be found. He did not make a reappearance in official media until October 14, 2014. That time too, there was speculation he could be unwell because he is overweight and has heart conditions. Till date, no one knows where he was in those 40 days. All that the guy could be wanting is some time away in isolation. Imagine the whole world calling you names, making jokes on you, not taking you seriously when you are testing missile after missile and sitting on a nuclear arsenal.
It is not easy to be Kim and come out to convey all is well.
We've got a song for Kim and coincidentally it happens to be a song picturised on Vinod Khanna, who died on this date in 2017.
You stay safe. Maintain physical distance.
See you tomorrow.
Also read: DailyOh! Who bought Sachin's Ferrari, to Ramzan Mubarak or Ramadan Mubarak, what to say?
The views and opinions expressed in this article are those of the authors and do not necessarily reflect the official policy or position of DailyO.in or the India Today Group. The writers are solely responsible for any claims arising out of the contents of this article.