Elphinstone Stampede: Dying woman was molested on bridge. We are the pits
Video captured a victim being sexually violated by a bystander before her last breath.
Exactly when you thought we can't sink any lower as a nation, as a collection of spineless people watching our country rot and crumble right before our eyes, something happens to confirm we are utterly wrong. We can and have been persistently sinking lower, falling in our own self-estimates. And what happened at Elphinstone stampede, other than the needless institutional murders, the deaths by apathy – proves that's exactly the case.
As reports have been crying out loud, a woman victim of the stampede was allegedly molested by a bystander as she lay dying. Lying on top of a pile of other bodies on the foot overbridge which came crashing down, as she feebly reached out for help, she was sexually violated just before her last breath. Surrounded by death and destruction, by neglect and apathy, her last human emotion must have been complete dread fused with utter disgust at her fellow Indians.
https://t.co/uOM6PPEWm7 @maharailways @rpfcrbb @rpfwrbct @RailMinIndia @the_hindu pic.twitter.com/5klcqBUHMV

— vedika chaubey (@vedikachaubey) October 1, 2017
There were reports of loot, theft and molestation at the stampede site. The Hindu quotes Elphinstone Road resident Sandesh Bahadur saying, "The molestation video is shameful and without even watching it, one feels like punishing the coward responsible. We rushed to help. Women were crying for help. We couldn't save many of them due to the crowd on the bridge."
Another Mumbaikar, Bhandup resident Anjali Bhadauria, was quoted saying, "Many women were wearing sarees as it was Dussehra; their clothes tore while pulling them out of the pile of bodies."
This is really the pits. As women lay dying, as their festive clothes tore under the foot overbridge debris signifying Mumbai's crumbling "spirit", governmental neglect, corruption among authorities, ignoring of countless pleas and warnings on social media that the chief minister Devendra Fadnavis and others in charge of the city and the state, especially the Brihanmumbai Municipal Corporation, the richest in the country – their bodies were also sexually abused instead of being helped and shown basic human kindness, or at least dignity in death.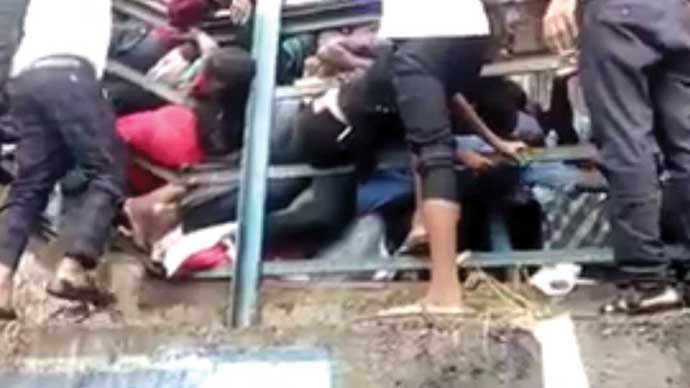 How much can you humiliate a woman on the verge of death, sacrificed at the altar of a regime's unpardonable arrogance and criminal apathy?
This is pure sickness. The two dozen people dying needlessly and casually because the government is busy looking elsewhere, perhaps extending the Centre a helping hand in propagating hype about the recently signed bullet train project connecting Mumbai and Ahmedabad, those deaths and the umpteen injuries – even those pale when compared to this horrifying and disgusting piece of news from the site of the tragedy.
Just how dispensable are the lives of Mumbaikars and how much can you humiliate a woman on the verge of death, sacrificed at the altar of a regime's unpardonable arrogance and criminal apathy?
The everyday misogyny of India just became one shade darker with the Elphinstone station tragedy. Not only are women being let down by the judiciary which has just severely diluted the idea of sexual consent, not only do they live in the permanent fear of being raped and murdered on any road in any part of the country, not only are they let down by the government which refuses to acknowledge sexual violence and rape within the institution of marriage, but now, even on the verge of death, their dying bodies must suffer sexual abuse by men who are so cowardly and disgusting that they would rather inflict abuse than extend a helping hand to the woman victims.
Have we, as a society, crossed the Rubicon of barbarism? Of disgusting misogyny and violation of hapless female bodies? Is this India 2017? We must hang our heads in shame because this indeed is it.
Also read - Elphinstone stampede: There's blood on the tracks