A few evenings ago, I met Jai at 4S Chinese and Thai bar and restaurant in Delhi's Defence Colony. I hadn't seen him for the longest. After draining a few rounds of beer and churning out the usual pleasantries, our conversation slowly veered towards what was buried deep within the pockets of our hearts and at the tip of our tongues, Arjan.
At seven in the evening, 4S was brimming with people, but Jai and I were fortunate enough to find a table for ourselves. Jim Morrison was singing about breaking on through to the other side from the speakers. We knew Bob Dylan's "Tambourine Man" was to follow (they have only four playlists, loaned to them by regulars, so you can hear anything from pop to EDM to blues to classic rock, depending on your luck, or if you have something to offer).
Mahesh, one of 4S' friendliest waiters, who always takes it upon himself to decide what I should drink, given the time of the year and the weather, was swiftly replacing empty beer bottles  on our table with fresh ones. In between, he would come and inquire how we were. "With you, I feel, I can openly talk," he said. "You are not just customers, you're like guests."
Concealed behind two large wooden doors, 4S was known by a clutch of alcoholics for its notoriously cheap booze. [Photo: Delhi Night Club]
Mahesh is from Uttarakhand, and over the years, has learnt that I too have a home in the foothills. A few years ago, when he would find me drinking alone, he would come over and gloat: "Surya ast, pahadi mast (sun down, man from the hills is merry)". Nowadays he doesn't like to talk about his village and the mountain life. He's happier instead to discuss Delhi politics, fashion and culture. He says Kumaon, in the last few years, has undergone an ugly change. People have become conniving and wily as land prices have shot up and farming and maintaining cattle is no longer yielding profits.
On the table next to us was a well-known playwright sitting with a team of creative writing students. They were talking about drinking and kids today. One of the girls was narrating an incident of how a Class eight student from a popular south Delhi school had recently thrown a birthday party and served liquor to her classmates. To this, there was great outrage at the table. One of her companions stretched her arms above her head, and said, "Guys, please, I went to a respectable school where we started drinking and smoking in Class 12. Not like kids today, Class seven." On the table behind us was a young couple. The girl was softly nudging her boyfriend to leave and drop her home. "Why do you drink so much, sweets," she purred. "You can't even get it up after this…"
Almost a year ago, Jai's older brother and my best friend died of leukaemia. Arjan and I went to school together. He was more than a brother to me and perhaps my most faithful and oldest drinking buddy. The first time he and I drank together was when we found ourselves finishing a McDowell XXX Rum quarter, ambling down a dusty lane in Ajmer towards school, unsure if we'd taken to the taste. In the boarding school that we attended, during the late 1990s at least, civilized drinking was like an oxymoron. Once, I recall, shortly after we had our "first real drink together", a few of us pooled in to buy a bottle of vodka and drank it straight from a water jug mixed with Sprite. We then drifted off to our respective houses and were out for the count for the next fourteen hours. It was the first time we went on a binge. I still cannot stomach vodka.
I have been visiting 4S for more than six years now, celebrated three birthdays here. Arjan and I would catch up here after work after we graduated from school. It was a convenient place for us to meet as he lived in a part of this burgeoning colony, whereas I lived in the boondocks, Gurgaon. Years later, when I would find myself landing at his doorstep, incomprehensibly drunk, he'd open the door for me, even though he was sick and undergoing chemotherapy, and ask me about my evening.
In the early days, 4S was an abysmal dive (it has only marginally improved since). Concealed behind two large wooden doors, it was known by a clutch of alcoholics for its notoriously cheap booze; its interiors suffocated with smoke. The small aquarium on the stairs was — and is — home to a few bloated goldfish, appearing forever frozen out of either death or boredom.
4S was never really my favourite bar, but eventually it became the place where I started to drink regularly.
I remember asking poet Jeet Thayil once what it takes to be an alcoholic. He asked me if I had ever woken up one morning in an unfamiliar room with a splitting headache, no clothes on and no recollection of how I wound up there.
Photo: Speaking Tiger Books
I belong to a family where alcohol has been cited as the death of many family members. When I was growing up, my mother would hold my hand firmly and make me promise her that I would refrain from alcohol. In a lighter mood, she would remark, "In our family, you don't need to drink, son. Water is good enough. You have enough alcohol in your bloodstream. Dilute it."
Depending on the mood of early evening conversations, a lot of stories about drinking, which I would overhear, would waver between humorous and macabre.
One such story was that of Uncle Bidhi and Uncle D. The story goes, while driving in the middle of one drunken night in search of liquor in Uttarakhand, Uncle Bidhi parked the car on the side of the mountain to take a leak. Now, no one knows how it happened, but the next thing he knew was that the car had toppled over with Uncle D in it.
"D, save the bottle, save the bottle," Uncle Bidhi hollered. A few piercing moments later, a bruised voice came hurling back from a pitch black void: "I saved it! I saved it!"
Uncle D was a jovial man, with bright ruddy cheeks. He was kind, good-natured and generous, but on most days, we would find him sozzled by morning. His face would be swollen and eyes, red and rheumy. It was disheartening to see him looking lost and unintelligible, while we would be at the table having breakfast.
Uncle Bidhi, on the other hand, got his name when he was eight years old and was caught smoking a beedi behind the bushes by his father. He was tall, fair and always full of conversation. He could talk anyone under the table from dusk till dawn with a drink in his hand, be it at the boathouse club or in a tavern with the locals. He was also notorious for being spotted walking barefoot. In one hand he'd carry his shoes, and in the other, there would be a bottle of rum.
Together, Uncle D and Uncle Bidhi were the tail of many a tale. I remember I would laugh unwittingly while listening to some of their stories. But today, both Uncle Bidhi and Uncle D are dead and, well, so are the jokes about them.
As I mentioned, alcoholism runs deep in the veins of my family.
One of my worst nightmares while growing up would be of waiting with a knot in my stomach for my father to get home after work. If he was late, it would invariably mean that he had stopped by somewhere for a drink. There was always the fear of an accident or a car crash and several times he hurt himself irreparably. He was an alcoholic and a depressive, words that were meaningless to me then.
At least, he was not violent or abusive. He had cousins, he would say, who upon drinking could very easily pull out guns from the cabinets, ready to declare war over an argument or a misunderstanding. Either way, drinking doesn't need justification. You don't have to drink every day, or excessively, to find out you're an alcoholic, it always starts with an innocent sip.
It takes that one sip to know, too, that there's no such thing as having just one drink. My grandfather would have a beautiful phrase for it: "A glass of cold beer is divine. Anything after is plain old drinking."
When Arjan left for Pune to study in 2005, I found myself terribly alone. I started working at a newspaper and all the friends I made were much older than me. Reporting on the nightlife beat for a lifestyle section of a leading national paper also opened doors for me. I could walk into any pub or bar and be offered a drink. On one assignment, in particular, I had so many drinks that I shamefully missed the toilet bowl by an inch while throwing up that night. Understandably, I was chucked out of my uncle's home the very next day. My editor, fearing that she could be questioned for sending an 18-year-old for such events, subsequently forbade me from covering the beat.
In journalism and literature, I found people — living and dead — whose tales of drinking were haunting as well as alluring. Both Arjan and I grew up reading the hallowed and depraved works of Hunter S Thompson, Jack Kerouac, F Scott Fitzgerald and Ernest Hemingway. The Victorian poet William Blake wrote "the road to excess leads to the palace of wisdom". Could I unlock my doors of perception? I wanted to find out.
Drinking, like any addiction, starts with some form of deception, a lie, and for me, it was that I wasn't my father. I could handle my drinks. But who was I fooling? As Fitzgerald put it before me, "First you take a drink, then the drink takes a drink, then the drink takes you."
My visits to the Press Club at Raisina Road were as evocative as those Thompson describes in his lost novel, The Rum Diary. You could enter and drink rum from those cheap tumblers till your legs weakened, while you pampered a source, or hobnobbed with an editor, or bickered about the trade and the pay. But the club stank like a ditch of so many who had come here and drowned. It also belonged to an older and another class of journalists, the place stuck somewhere between the 1950s and '80s, dank with melancholy, cynicism, ambition and despair.
I was looking for some place else, with life and stories that were not my own. In 4S, I found acceptance, friends and a few glimpses of love.
In the summer of 2009, I moved to Defence Colony. I had just lost my job. The city tabloid I used to work for had unceremoniously shut down due to the first ripple of global recession. I found myself toying with the self-consuming idea of writing a novel. I would spend the mornings writing in Barista and the evenings drinking in 4S. After which, I would totter home to sleep. Once, on the way back, I found a drunk lying on his belly over the stump of a tree. He was bawling, babbling and cursing in the dark. I tried to imagine what was going on in his head. There was just a thin line of sanity between us.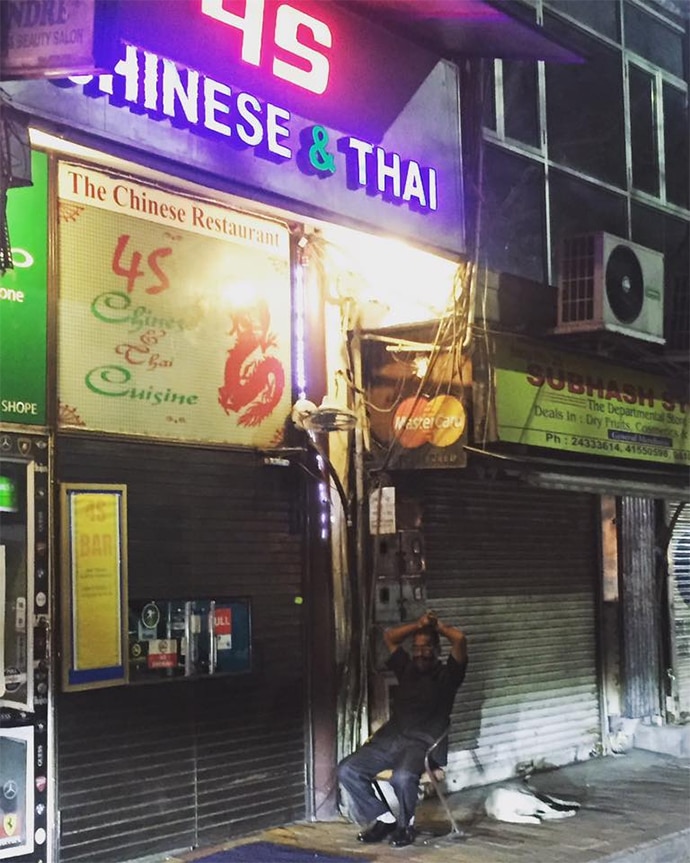 Chauhan, the guard outside with a handlebar moustache, has a revolver-shaped lighter (and is most grateful when he is tipped with a cigarette). [Photo: Jairaj Singh]
One of the few things going for 4S then was that it used to play songs from the World Space satellite radio station, never too loud to interrupt one's conversations. Girls wouldn't mind meeting you here given that the bar was magically cloaked in a respectable family marketplace. One could stop by for a drink, without making a plan, and expect to find a familiar face or two. If by chance you didn't, a casual conversation over a smoke could easily ensure an invitation to a table, a welcome opportunity to make new friends. It was also one of the first few places I saw in the city where women unescorted by men would feel quite comfortable spending an evening all by themselves. Most evenings, the six degrees of separation would end in such a way that all the tables would be conjoined. Everyone was a friend after two drinks.
A running joke in those days was that 4S was not a bar, but a club, and we were all lifetime members.
The Happy Hours (one plus one, and now 50 per cent off) and the company of intelligent women made it an attractive place to be. Around the time the original Turquoise Cottage in Adhchini shut down, the city's youth felt as though they were sinking in a void, thirsting for watering holes in the city where like-minded people could trickle in and wobble out. While some veered towards nightclubs and lounges that would play club music, others like me, desperately sought quieter places where conversations were easy and the alcohol cheap.
Over the years, there have been plenty of rumours of what 4S stands for, and who owns it. The popular theory is that 4S is an abbreviation of "Four Sardars", based on the claim that it was owned by a partnership of four Sikh men. Another theory someone floated was that the gent who runs it is an extremely wealthy fellow and lives next door to none other than Rahul Gandhi in Lutyens' Delhi. This, too, seems untrue.
Whatever it is, fact or fiction, I have never bothered to find out further. Everyone has a different theory. On its slick one-page website, we are informed that the bar and restaurant had a new owner in 2002, who renovated and renamed it after taking over two of its branches in Greater Kailash II and Saket. That's all the information I need to know.
Whenever I have spotted the owner — a bald, middle-aged man who seems to be a recluse — he has appeared drunk, uncouth and unfriendly. You know he is around when you see the staff hover around the most assertive person at the bar. If you mistakenly walk towards him, as I once did, the bartender will implore you with his eyes not to engage with him. This comes as a huge contrast, considering everyone else here is always so polite and sincere 4S boasts of a spectacular cast: PK, the Malayali manager with a goatee, is known for his sumptuous beef curry, though it's not on the menu. And, of course, no one misses out on the irony of his initials "peekay (drunk)". He is popular and I have seen him being invited for weddings of regulars, couples whose love lives blossomed in 4S. Mohan, who manages the bar, is soft-spoken and enjoys sharing quick one-liners. Every time a pretty girl walks into the bar, he will pull the leg of the waiter serving the table she is sitting on, till the man blushes and delays his orders. Chauhan, the guard outside with a handlebar moustache, has a revolver-shaped lighter (and is most grateful when he is tipped with a cigarette). And there's Mahesh, whose famous story about me is how I spent one cold drunken winter evening looking for my muffler along with him, when it was all the time wrapped around my neck.
"I don't know what it is about this place," said writer Palash Krishna Mehrotra to me on a recent visit. "Every time I drink here, we end up so late and behave so badly that they have to kick us out. But every time I return, they seem all the more happy and welcoming." When I asked him if he remembered what had happened on his previous visit, he said he didn't.
It's true: short-term memory lapses occur if you visit 4S often. Once over a conversation, a girl I met at the bar said she would really like to meet me again. The next day, when I called her, she even refused to believe that she had given me her number.
Unlike other bars in the city where fights are almost commonplace, you rarely find people breaking bottles on each other's heads here. In all my years of visiting 4S, I have never seen a fight but once. A young girl was giving a boy a hard time for making a pass at her. The boy kept insisting that he had not, and added, "Besides I couldn't have... you're chubby and black as a buffalo." At any other bar or club or in any hole in the city, this would've been provocation enough for others to invite themselves in, and for a scuffle to break loose. But the argument died with a whimper. 4S' dim environs were bright enough to reveal the bemused you-don't-belong-here expressions of its awkward patrons. The company the boy and the girl were with (some of whom we knew) were mortified; they quietly slipped out, never to return.
The crowd has traditionally comprised journalists working the night shift, publishers and writers returning from a book launch or a poetry reading, lawyers after work from the warren of offices tucked away in the residential colony, feminists and queer folk, foreigners and backpackers, stoners at work rolling joints under the table, and environment-friendly activists, self-proclaimed intellectuals and Twitter celebrities, hipsters and foreign educated-and-just returned, all vying for the narrow strip near the bar when the tables are taken.
Thanks to them, 4S has seen an upswing in popularity in the last couple of years. Today, its customers are also posh. They come here to sample the "grungy experience" before they head to a nightclub, where the sum of our entire evening's bill is the price of entry. An occasional family will once in a while also slip inside, fooled by the "Chinese and Thai restaurant" signage, and suddenly you'll find a child trotting about with a toy.
But a quick glance at the tables and you'll find people mostly drink beer, even the women. You can spot a newcomer, easily, if they're caught ordering a cocktail, or even opening the food-stained menu (which is filled with gems such as "tea totallers" and "tit bits"). The most common mistake people make here is when they bitch about someone on their table who has just gotten up and left for the loo: you can hear almost everything as entire conversations get lifted and sucked into the air ducts and played out while you're taking a whizz.
The afternoons continue to be shady. Every hour invites its class of sleaze and misunderstood. Every time you visit, a new legend has just taken birth: these days, I'm told, it is an American in his mid-40s who has a massive potbelly and drinks at least ten-fifteen bottles of beer every evening. Today, 4S isn't even cheap anymore.
I have stopped being a regular at 4S (some friends may disagree). Recently, they were closed for renovation. Unlike the last time, when the only change after a two-week closure was new giraffe print upholstery, this time it was not because they wanted to fix their menu, as we hoped, but because the kitchen wall had caved in.
I still feel though, that in this ruinous city, it is one of the few places where you can go and drink alone and come out with happy memories.
Every other Thursday, five of my friends—four journalists and one conflicted PR professional—collect and discuss stories, offer unsolicited leads, muse about the trade and attempt to unravel some of life's many unravelling mysteries. I don't make it so often. But every time I do, I miss Arjan. I am also reminded of what an old loved one would say, no matter how down and out you get: "May the 4S be with you."
[Excerpted with permissions of Speaking Tiger Books from House Spirit: Drinking in India - Stories, Essays, Poems; edited by Palash Krishna Mehrotra]