When did airports turn into torture chambers? It used to be so easy and organised. I refuse to buy the "air travel is now cheaper" argument because it is not that cheap! Add the cab fares and the food at the terminal and it all doubles up!
There are more private airlines than ever but airports seem to be bursting at the seams, no matter what time you go for your flight. The domestic airport is like playing the game "mine field" — there are so many shops and outlets at an airport now, there is no straight path left to walk, and one ends up zig-zagging through high-end merchandise.
Zig-zagging through crowds and high-end merchandise. (Photo: Indiatoday.in)
Who wants to buy a Rs 15,000 suitcase after they have already checked in their baggage? It's baffling.
And I understand selling bhujiya and kaju katli, but expensive jewellery? And this is not the transit lounge above the international departures or arrivals. These are people like us hurrying away for a day in Mumbai or Bangalore, hoping to make it on the last flight back.
The loos will never be great because we have such a lack of responsibility towards public utilities. How much can a couple of underpaid and overworked service staff do when people try to dunk used tissue-paper in the bins like a bad basketball player, never netting it. Does it take that much effort to walk a few steps and not litter? And what is with that hair combing in the sink?
So whenever I see a Facebook check-in of someone en route to some destination, I wonder if they are sending an update because they want to show off how much and how often they travel, or out of sheer boredom at yet another long wait in an overcrowded sitting area.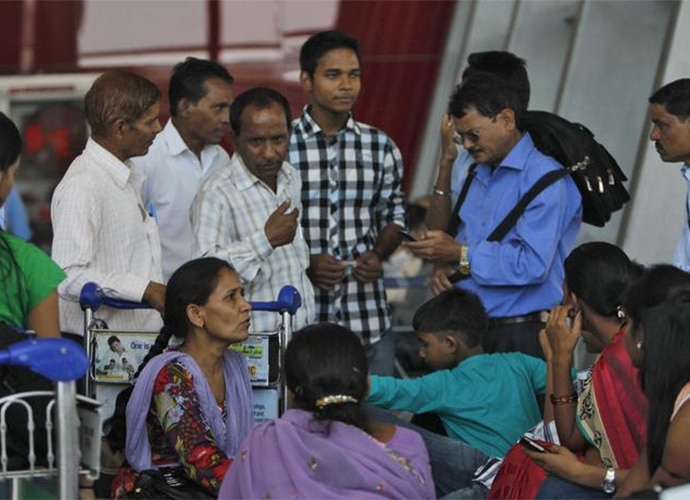 Airports always seem to be bursting at the seams, no matter what time you go for your flight. (Photo: Reuters)
The lounge privileges are hardly enough motivation. You are not going to drink Scotch for breakfast are you? And even if one does, then, by virtue of the inner cheapskate in all of us, one would obviously try to keep putting away all the free booze on the plane too and just pass out. That is a fault line. Still it does not justify the pains of having to go through airports even if Goa, Bali or London beckons at the other end.
To top it all, even if you book tickets in advance and manage to score off-season prices, just try checking in online. All you will see is a line of middle seats that you can choose from. Anything else and you will have to pay a premium. That is how bad air travel has become.
Even with first row seats with extra leg room, the laptop-wearers will stand at the gate and spread their feet apart so that no one can get past them to be first on the plane. They will plonk in their special seats and make such a show of ignoring the minions that I have often wondered if they get sore necks from that angle of aversion. These are the same people encash all their official miles for a monsoon break holiday and get hotel discounts for their points. There is a management theory about the amount of money an organisation loses because their staffs use the miles and points for personal gain!
Whn hurrying away for a day, hoping to make it on the last flight back, do we need really expensive jewellery stores? (Photo: Reuters)
Of course, I am not even going to talk about the business-class people because I do not know how and what they do. The walk and live on air… literally.
Days of lovely cuisine are long gone, as has the privilege around it. Getting a second glass of wine in an economy section is akin to getting glares from the haughty cabin crew. It is as if they couldn't be bothered, and warnings against inebriation are so deadly and frequent that it feels that it would be easier to carry contraband, than have a few laughs with the family or friends over a drink.
Getting a second glass of wine in an economy section is akin to getting glares from the haughty cabin crew. (Photo: Reuters)
Now I take a pack of cards, like us good old Indians sitting at the ISBT.
The dread of a car stuck in the overcrowded lane, where an eight minute wait is all that is allowed, fills me with such anxiety that I feel like a sprinter who has a foot out of the door even before the damn thing stops, grab a trolley — usually from another person who may have been tad slow — unload three suitcases and race to the gate where someone squints at a Korean passport without knowing a thing.
Line after line, I traverse, sweating, always finding myself behind someone with a baby in a special pulley thingy with a million little packets tied to it, each being untied and scanned while the kid wails away.
By the time it is all done, every vestige of self-control is squeezed out of me and all I want to do is put a wet cloth over my eyes and pass out. And then, the "mommy-babe", who has so far been jauntily taking in the sights, screams out: "Look at that bag! I wonder how much it costs!"