The national headlines screamed. International media too lapped up the momentous announcement that was heralded as progressive and a step forward in the right direction to usher in third gender representation in Indian politics. The shadowy, innocuous 'other' category in the voter binary was seen and speculated as having a face. And more importantly, a voice — a potential leader.
I spoke to Reddy recently, a day after she had filed her application seeking a party ticket to contest the Lok Sabha elections either from Karur or Arni constituency — her mood was more than upbeat.
"Rahul Gandhiji appointing me as the General Secretary was an important step towards mainstreaming the transgender community who are largely viewed as a gender minority, mostly underrepresented. Having a voice for transgenders in Parliament will herald true inclusion and equality. Often, important bills are curated with little or no consideration of our state of mind and the on-ground issues we face daily. Only when members from all minorities find their rightful place in Parliament can we amplify our voices and bring about empowerment in its truest sense. Transwomen have always been brushed off, laughed at, stigmatised or been humiliated and stereotyped in popular culture — as we are seen to constitute a niche category — and it is only when political powers grant us equal opportunities to contest elections and campaign for our constituencies can we break out of our shackles," she said. 
Apsara Reddy has become the first trans office bearer for the Congress. (Source: Twitter/INC)
In the past five years since the Election Commission first classified transgender and eunuchs as 'others' during the 2014 Lok Sabha polls, and since 25,527 individuals actually registered themselves as 'other' voters, there's been an actual leap of approximately 45% of the 'other' voters to 41,292 in 2019. Kerala, Manipur, Mizoram, Sikkim, Tripura, Andaman & Nicobar Islands, Chandigarh and Daman & Diu have registered a huge upswing in the 'other' gender voters since 2014. During the last Lok Sabha polls, the number of 'other' gender voters in these states stood at zero.
According to recent news reports, Uttar Pradesh (8426) is the front runner, with the highest number of voters registered as 'others', followed by Karnataka (6132), Tamil Nadu (5472) and Andhra Pradesh (3761).
The least number of 'other' gender voters, apart from those with none, are from Daman & Diu (1), Sikkim (2) and Mizoram (6).
I ask Reddy what her expectations are in a country that's riddled with patriarchy — where dynastic politics and sons, brothers and nephews, and, at the most, daughters-in-law inherit the political baton.
If she can, despite the warm welcome conferred by the party, turn a blind eye to the succession protocol that colours political muscle power?
Having a voice for transgenders in Parliament will herald true inclusion — and equality. (Source: Reuters)
Answering that, Reddy brings up the Women's Reservation Bill, which she labels as a 'token slogan' of a rival party, BJP. "In India, women are still largely dependant on men, being a mostly male-dominated society. But things are changing — and a smart electorate is wishing for new-age, progressive, clean leaders sans corruption. Democracy is a level playing field and transgender candidates deserve equal participation. In Tamil Nadu, across party lines, the women candidates are lesser than men and that should hopefully change — be it the national level, or at the Block and District level, we need women leaders."
Since 1962, women have occupied a higher percentage of seats in the Lok Sabha — but female representation in the Lok Sabha continues to be meagre and only surpassed 10% for the first time in 2009. In 2014, 8.1% of candidates for the Lok Sabha were women. Though very low, this figure was the highest ever. As per reports in 2018, women constitute a dismal 11.6% of directly elected members of Parliament.
The Economic Survey for 2017-18 tabled in Parliament held factors such as domestic responsibilities, prevailing cultural mindsets regarding the roles of women in society and the lack of support from family as the primary factors preventing women from foraying into active politics.
Quoting an Inter-Parliamentary Union (IPU) and UN Women report — Women in Politics 2017 — the survey added that the Lok Sabha had 64 (11.8% of 542 MPs) and the Rajya Sabha 27 (11% of 245 MPs) women MPs.
Lack of confidence and finance were also major deterring factors that prevented women from choosing a political career.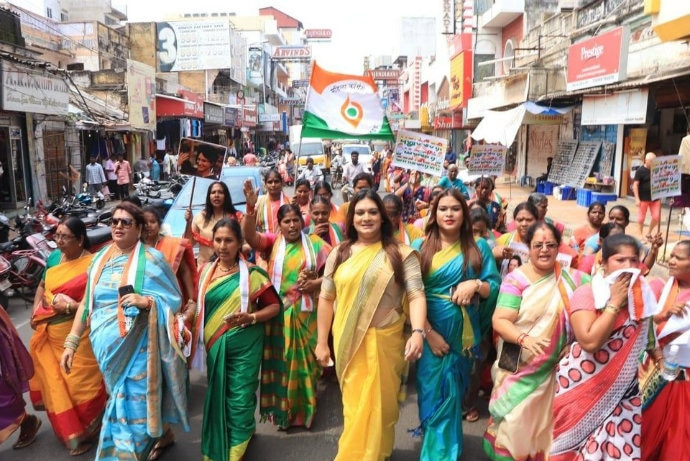 Could Reddy change the gender game? Could she be a pathbreaker — a real leader? (Source: Twitter/Apsara Reddy)
An Indiaspend report in 2018 claimed that while female voter turnout was increasing across India, from 51% in 1980 to 66% in 2014, it remains dismal when compared with the adult population sex ratio in most states. In the 2014 elections, Madhya Pradesh saw the fewest women voters exercise their ballot relative to their proportion in the state's population, while Arunachal Pradesh witnessed more women than men (in relation to the population sex ratio) turn out to vote.
The Election Commission of India, thankfully, has been making stupendous efforts to improve political participation among women through its SVEEP programme — with more updated electoral lists and huge voter registration and awareness drives under SVEEP, it may just as well be possible to analyse and understand the sex composition of voters in the upcoming elections.
However, will Reddy be a pathbreaker, only for her party? For now? Or, a champion for women's voices in our nation — mainstreaming the marginalised and changing the gender game — perhaps is a larger question and debate, for not just Rahul Gandhi and the Congress party, but a challenge to gender biometrics and all political parties alike.