For about 18 months now, Jawaharlal Nehru University (JNU) has been in the news. Opinion has been divided but many facts about the varsity are unknown. JNU was set up by a Parliamentary Act of 1966. Research students were admitted a few years later. That included CPM leader Prakash Karat, who had earlier studied at Edinburgh University and written a thesis on the nationality and language issue in India.
He later became a JNU Students' Union president in 1973, and then years later, a general Secretary of the CPI(M). Around that time, a socialist leader who had been president of the Banaras Hindu University Students' Union, Anand Kumar, and much later a leader of the Aam Admi Party (AAP), also joined JNU.
DP Tripathi, who too became president of the JNU Students' Union later, is now an NCP MP. Another distinguished alumnus of the varsity is defence minister Nirmala Sitharaman.
So various political streams, including the ABVP and the NSUI, flourished in JNU. The vice-chancellors of JNU were distinguished personalities: The first, G Parthasarathy, was a distinguished diplomat and a confidante of the national leadership.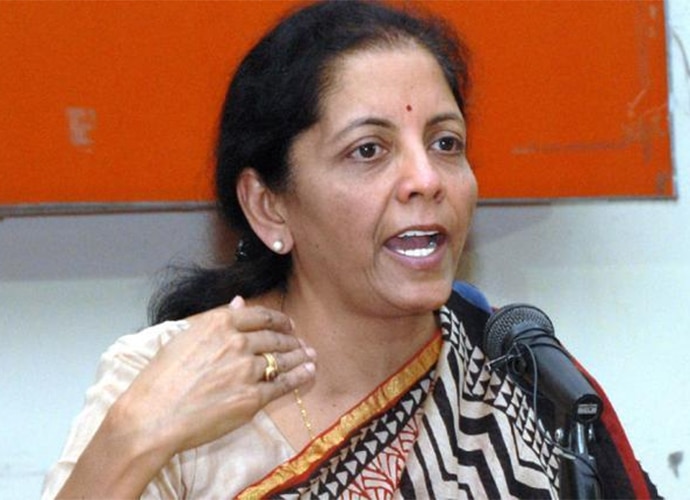 Defence minister Nirmala Sitharaman is a distinguished alumnus of the varsity. Photo: PTI
Dr BD Nagchowdhury, another V-C, was a distinguished defence scientist. Much later, a distinguished economist, Prof YK Alagh - after being JNU's V-C - became a minister of state in the Union Cabinet. A much respected and loved V-C was KR Narayanan, who later become the president of India.
So this diatribe against JNU being only, and later, mainly Left is a motivated exaggeration. But what is really happening in JNU is suppressed or distorted. For instance, the National Academic Accreditation Council (NAAC) has repeatedly assessed JNU highly, often listing it in the top two universities of the country.
This year, NAAC praised JNU and accredited it with an A++, the highest rating. Of course, at foreign universities, they rate a university on the basis of the faculty-student ratio - the fewer students to a faculty, the higher the rating. Indian universities have a higher faculty-student ratio since the student strength is much higher, and thus their foreign ratings are higher.
But let's return to the untoward things that have happened at JNU. Photo: Aaj Tak
But let's return to the untoward things that have happened at JNU. In early February, 2016, there were protests by some outsiders calling for a disremembering of India to liberate Kashmir.
No evidence was found against any student. Nonetheless, the JNU security and administration made unsubstantiated allegations against some students. Three of them, Kanhaiya Kumar, Umar Khalid and Anirban Bhattacharya were charged with sedition by the Delhi Police and jailed.
Later, the courts ruled these students were not guilty of the charge of sedition. In this period, Kanhaiya Kumar - a JNU student - was beat up while being taken to Patiala House courts.
Then Commissioner of Police of Delhi, BS Bassi, denied that Kanhaiya was injured in any way.
In 2016, three JNU students — Kanhaiya Kumar, Umar Khalid and Anirban Bhattacharya — were charged with sedition by the Delhi Police and jailed. Photo: Internet
However, the doctors at Ram Manohar Lohia Hospital found that he had indeed been wounded. No action was taken against the commissioner. Ironically, when he was sent for studies abroad, Bassi chose to study sedition. Lawyers and others associated with the ruling party assaulted Kanhaiya, but relatively little action was taken against them.
In early March 2017, Rajendra Jha, a journalist at The Times Of India, claimed that Kanhaiya, Umar Khalid and Anirban Bhattacharya were not involved with the slogan shouting in early February according to the Delhi Police.
The ToI report also said that six Kashmiris who were not from JNU were identified in the videotaped evidence. They were called to the police station, asked to give their testimony, and then allowed to leave. At least some of them left for Kashmir.
None of them were detained. How was this allowed? Why this treatment when the police and lower judiciary were pointing to sedition charges?
Was there involvement with the Kashmir government in which the BJP was a coalition partner?
But interesting things are happening in the teachers' front. According to the University Grants Commission (UGC), there is a laid down procedure for faculty selection. Selections should be chosen from a statutory body, in many cases the academic council - the V-C must choose only from the AC.
Instead, JNU V-C Prof M Jagadesh Kumar has violated the procedure and the JNU Act of 1966. Lawyers pleading for the JNU faculty have been given short shrift in the courts.
Instead, the V-C has continued to bring in less competent faculty without the presence of experts, so that positions can be filled by members/supporters of the ruling party.
A UGC scheme that came into effect around 2011-12, which asked V-Cs of central universities to select professors to extend their teaching and academic work for up to five years after they turned 65, has been virtually stopped by the MHRD.
Since 2013, the reemployed faculty has not been getting a professor's salary - of about Rs 1.6-1.7 lakh - and being paid less than Rs 38,000 per month. This was brought to HRD minister Prakash Javadekar's notice twice, on April 4 and September 4, 2017; in the presence of the senior CPI MP D Raja.
Javadekar was very positive and instructed his officers to resolve the issue at both meetings. But nothing has come of it yet. The JNU faculty also met Prof VS Chauhan, acting chairperson of the UGC.
Even he has not been able to come up with a solution. In the meantime, the re-employed professors are losing Rs 16 lakh a year. This is the case only in JNU.
A more hurtful issue, though not monetary, is the manner in which Teachers' Day was celebrated by JNU V-C Jagadeesh Kumar - the vast majority of JNU teachers were not invited on the occasion. In stark contrast, when a couple of us were with Javadekar on September 4, we saw the detailed arrangements made by the MHRD to fete teachers the next day.
From all this mistreatment and violations, it would seem that JNU is on another planet - to be subject to humiliation and a lawless administration.