What I learnt about the kindness of rank strangers on a trip to the hills
I began mapping the exit routes, but I was in for a surprise.
I worry too much. Perhaps it comes naturally to people with exposure to news, information and happenstance or may be its just me.
The month was April. We were in the hill town of Panchgani, located about 250km from Mumbai. My wife and I decided it was time to explore the forest in front of the villa we had rented apartments in. Earlier in the day I had spotted a fox or two and thought it would be good to look closely. With our trekking shoes on, we were on the go. I wouldn't say it was the best time to go because the sun was on the top and there wasn't much really to explore once we reached the place.
While we were walking, a woman called out to us. She was standing in front of what looked like an under-construction bungalow by the hill side. We'd seen the place from our villa and truth to tell, admired its location perched as it was on the edge of the hill, overlooking a gorgeous valley, several waterfalls, a dense forest and villages spaced out by several kilometres.
But what did the woman want?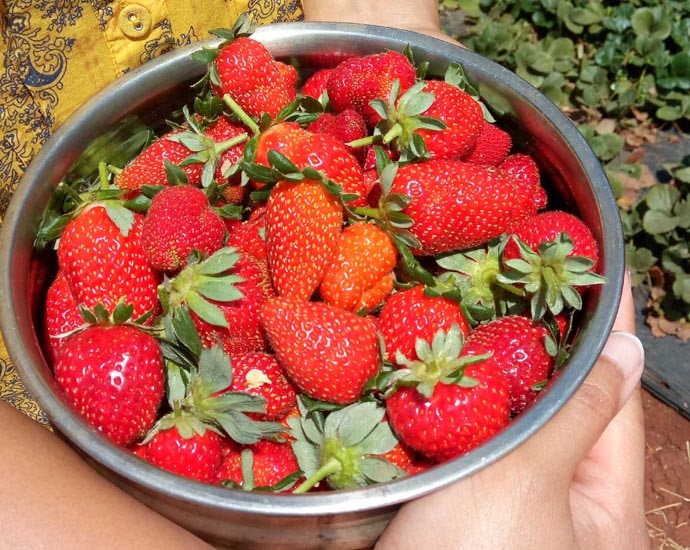 He took what we felt was forever in picking the best of strawberries and then came to us with a bowl full of them.
Well, all she did was invite us into the bungalow and showed us the rooms! While we were reluctant, she enthusiastically showed us the basement then the ground floor then the floor above followed by the common porch. She wanted us to admire the beds they had specially sculpted using workers from Mumbai and Pune. The toilets and the marble flooring and on she went. I still wondered what was it that the lady sought? Was this a ploy to rob us? May be get us to taste something, get us unconscious and then take away our valuables (which they would later discover had little value)? Why would someone just take some strangers around their property like this? While my wife indulged the woman, I began mapping the exit routes. In fact, it won't be an understatement to say I viewed the woman and the workers at the site with a heightened degree of suspicion. Out of nowhere, the lady summoned her husband and then her son!
By this time, we'd managed to wriggle out to the entrance of the building. Slightly better-placed to scoot should the need arise, we were at relative ease.
The husband later confided how he, an agriculturist, had emptied his savings into building that guest house for tourists. He owned the entire land and had decided to give in to his son's request to better utilise it. Apart from the room, they would rent tents, conduct guided treks, offer visitors a chance to soil their hands in strawberry farming among other things. The son told us of the difficulties they faced, the time they took since never before had their family of farmers had strayed into something "like this".
They spoke to us like we knew them for long. The son took our leave since he had to go someplace. We too were to depart when the father made a dash into his strawberry farm adjoining the property. He took what we felt was forever in picking the best of strawberries and then came to us with a bowl full of them.
"I will not accept this free of cost," the principled man in me thundered.
"You pay me tens of thousands but later on," he shot back with a disarming smile before neatly packing all them into a box for us. "We just want your best wishes as my son starts a new life. If possible, you can tell your friends to come and stay with us when they visit Panchgani. We will open shop soon," he said.
He had no visiting card ready so he gave me son's mobile number and told me those interested can call him to book.
I will be less suspecting the next time around.
The views and opinions expressed in this article are those of the authors and do not necessarily reflect the official policy or position of DailyO.in or the India Today Group. The writers are solely responsible for any claims arising out of the contents of this article.