Karwan-e-Mohabbat: Surviving the gau rakshak's trishul
Dispatches of Harsh Mander who is on a journey across India to raise awareness about lynchings.
This fifth day of the Karwan I arrived in Mangalore. Coastal Karnataka has been a laboratory for hate-mongering and hate attacks for many years now.
With local activists including Vidya Dinker and Samvartha, we drove to meet a family that has shifted recently to a village in neighbouring Kerala. Abdul Shameer was living the life of millions of wage workers in the country. At the age of 13, he went to Mumbai to serve at an eatery. He then changed many jobs, including spending a couple of years in the Gulf, and driving an auto-rickshaw in Mangalore. Just 20 days before he was attacked on August 23, 2014, he had switched jobs because the money was better. He was paid a thousand rupees a day to drive a tempo to transport old cattle sold by farmers for slaughter.
Passing through Mangalore one day, at the heart of the city, his tempo was suddenly blocked by a yellow bus. From this emerged a contingent of Bajrang Dal volunteers, armed with trishuls and rods, shouting terrifying slogans. He was too petrified to run away, as they smashed the window of his tempo. They pulled him out and attacked him with long rods. He recognised in the crowd a fellow auto-rickshaw driver, who he recalls ate beef with him on many occasions. He called out to him to save him, but he joined the attackers. The blows got worse, until one man pierced his skull with a sharp trishul. He fell unconscious, and remembers nothing after that.
He learnt later that the police chowki was just across the road from where he was attacked. They arrived much later, after he was almost dead, and took him to a public hospital. They did not inform his family. But worried because he had not got home, they called his mobile phone. A nurse from the hospital answered, that is how they learned where he was.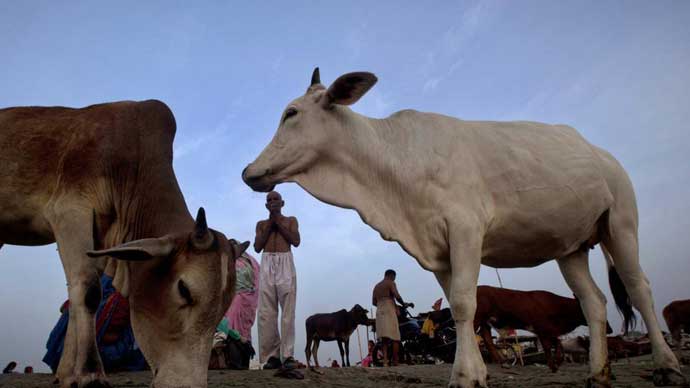 But the police also registered crimes against him, under the Karnataka Prevention of Cow Slaughter Act 1964, and he barely escaped arrest by applying for anticipatory bail. Photo: Reuters
His father insisted on shifting him to a private hospital. Over four months, he spent more than four lakh rupees, which he had paid for by selling their small house, and using up all his savings that he had accumulated for Abdul's sister's wedding. Abdul was unconscious for many weeks, and even when he regained consciousness, his body was entwined in tubes, and he could not even recognise his children, and could not stand or walk. After his discharge, his wife tended him night and day, carrying him in her arms.
Since then he has survived on extraordinary pubic charity, mostly from ordinary Muslims. Emotive television reports of his predicament spurred donations from all over, and this paid for his repeated hospitalisation, his sister's wedding and his family's daily expenses. The auto rickshaw union with many Hindu members paid for one of his hospital bills, of more than Rs 1 lakh.
Recently, a woman donated half the cost of a house for him, and the other half (of a total of Rs 12 lakh) was collected by crowdfunding. Today he can walk slowly and painfully a few steps with a walker, speaks with a slur, but his mind is alert. It appears that he will be disabled for life.
However, justice eludes him. The police arrested only a few men for attacking him, and they were out on bail in a few days. The trial has still to begin. But the police also registered crimes against him, under the Karnataka Prevention of Cow Slaughter Act 1964, and he barely escaped arrest by applying for anticipatory bail. Let us recall that it is a Congress government in Karnataka.
Also read - Karwan-e-Mohabbat: Disturbing trend of lynch mobs making videos of their kill
The views and opinions expressed in this article are those of the authors and do not necessarily reflect the official policy or position of DailyO.in or the India Today Group. The writers are solely responsible for any claims arising out of the contents of this article.