Yesterday, Nusrat — the woman who does my facials at the parlour I have visited since the time I was five in the city of my birth, Kolkata — lamented the ongoing heat wave there. The way she had not been able to save enough to buy an air conditioner this year again. Thanks to the increase in the school fees of her daughter, who goes to a neighbourhood English medium school, and her mother-in-law's medical expenses.
"It was Allah's wish that she be taken last month, or else we would be reduced to near penury," she sighed, spreading the thick herbal cream over my cheeks, using her hands in a criss-cross fashion. I was about to ask what ailment her deceased mother-in-law suffered from, when she added, slowly, "These days, my daughter chats back a lot. Think it's the influence of her peers. She was saying just this morning how in this blessed heat and mugginess, she won't perform her Roza..."
Looking From Afar: The holy Quran and the Hadith don't forbid gender segregation. (Source: Reuters)
There was a slow silence.
"She flared up when I said her father will be livid if he hears her talk this way, insolently thinking of breaking age-old religious customs, angering Allah... but but my daughter argued that what was the use of enforcing religion on a sex that cannot even enter and pray alongside men in a mosque... I told her about the Haji Ali judgment two years ago... Then she stormed out of the room, screaming, 'But that's one mosque, in a country swarming with Muslims and women'."
Ironically, the holy Quran and the Hadith don't forbid gender segregation, and views in the Islamic world are divided on the subject — so, while Canadian Islamic expert points out that in the Prophet Muhammed's time, men and women interacted freely and there is no need to segregate the sexes, the Islamic theologian based in Saudi Arabia, Abdul-Rahman al-Barrak, has issued a fatwa against all those who permit free mixing of the genders.
"I tried explaining the concept of napaak and paak to her — but then, my husband and son entered the kitchen, and I naturally couldn't continue this conversation... I started keeping my fasts since I was a little girl. It's the order of my faith," Nusrat said. Her words drifted, "I know it's sweltering and she has so many tuitions, plus she usually pitches in with the cleaning and washing of utensils... let's see... her father won't agree. His mother has just died, and if we allow my daughter to break this tradition, I will be blamed by my sisters-in-law for turning a reckless rebel, for being too liberated. Who are we to question these age-old religious traditions, after all?'
Nusrat's voiced was laden with regret. And while I did argue with her, on the lines of her teenage daughter telling how the Supreme Court had admitted for consideration a plea by a couple in Pune to lift the ban on Muslim women's entry into mosques across the country — thanks to the progressive judgment on the Sabrimala temple — Nusrat stuck to her guns.
Still Wounded: Women faced physical assault when they tried to enter Sabarimala after the Supreme Court lifted the ban. (Source: Reuters)
Was Nusrat scared of her husband's ire — the same man who walked beside her for over two and a half decades, the father of her two children, who insisted she hid her body behind a dark black hijab, her face conveniently camouflaged? Who allowed her to wax ladies' arms and legs and backs and privates, because he too was employed in the same building, with more or less the same work hours? Or was her fear more palpable? What if her daughter's new-found contrarian voice would extend to her exercising complete autonomy over her life choices?
I tried deciphering the abject dread in her eyes.
Her daughter falling in love outside the designated boundaries of her community? Watching porn on her cell phone? Chatting with boys on an online dating app? Rejecting her mother's conventional way of living her life, her faith — her fate?
Or was Nusrat's trepidation an extension of a dark, underlying fear in Indian women who are unfamiliar with their own bodies — who fall mutely into the bogey trap of male authority — grandfathers, fathers, neighbours, godmen, uncles, teachers, brothers, scholars, husbands, fathers-in-law, etc., who spell out the spiel, at whom you cannot look directly or lust after. At whose beck and call our lives were indebted. Whose touch was foreign and forbidden. Whose skin we must never brush past. Looking at whom, directly, desirously, would mean a gruesome character assassination. An agneepariksha of sorts.  
Just a few weeks ago, a friend whose daughter is the same age as my sister, Geru, who's just turned 10, came over for a night stay. In the morning, both of them decided on a bubble bath in my bathroom, which is where the big pink bathtub is. When my friend rang me from her workplace, I reported how much fun the two children were having, to which my friend expressed an exclamatory concern. Her young girl had already developed secondary sexual characteristics, pubic hair in particular. And she was terrified how Geru might react seeing her, sans clothes, frolicking as they were in the soapy waters of my bathtub.
"Chi (shame)," she kept repeating.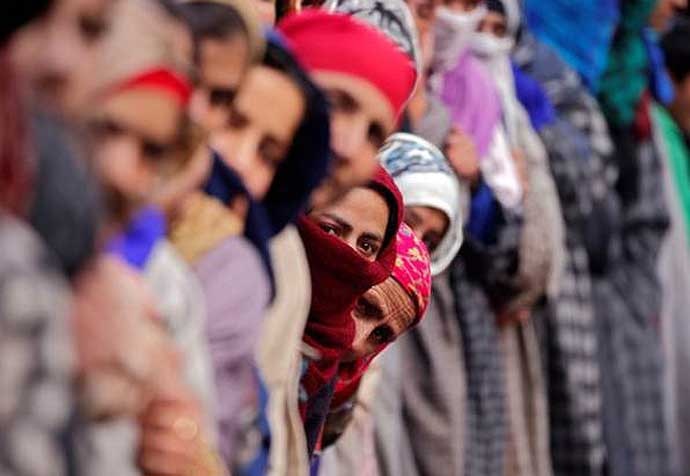 What are we covering up? We have ingrained shame deepl into our women's psyche. (Source: Reuters)
The way another girlfriend with kids of her own always expresses disbelief and admonishes me when I use the word 'fuck' in front of Geru, telling me, with her eyes rolling, how I should not use the particular profanity before her progeny. Like they would be defiled by its very utterance.
The same way last weekend my bestie in Mumbai, a Malayali, brought up the co-relation between menstruating women invading the sanctum sanctorum of the holy shrine, Sabrimala, that is the abode to an pre-pubescent Lord Ayappa, who, as the inference goes, would get polluted by the presence and touch of matured women in the height of their physical and therefore sexual prime.
Having been raised by a widow who lost her husband to suicide, and who was discriminated against by a large part of her mother's family, I remember how, as a young teenager, she would not be allowed to participate in marriage ceremonies like Gaaye Halud — where a bunch of married women usually circumferenced the blushing bride-to-be, delicately balancing wicker trays loaded with sacred commodities associated with the rituals of marriage like vermillion, etc. The way Ma, always a quiet, shy person, kept away herself, as if on purpose. The way I have been asked, many times, to not be a part of a puja when I am menstruating, the way I have seen women friends and relatives also do the same.
The way we are all the same.
A sum of our separate body parts — sin and sacrifice.
"She brought up some Baitul Futuh Mosque in London where apparently, the prayer hall for women is the same size as that of men. There were also baby changing facilities and even a sound-proof crèche so that everyone can attend the mosque with little distraction... but if men and women congregate in one spot, even with separate prayer rooms, it is natural that attraction may occur... and then the focus on Allah...," Nusrat resumed, removing my blackheads.
Women, us, you, me, our girlfriends, mothers, aunts, cousin sisters, lovers, colleagues, bosses, neighbours, and, my beautician Nusrat — was this movement a lot more than one Sabrimala temple or any Indian mosque?
Akin to the mysterious shadows that envelope our womb the day it acquires a divinely desirous power — to function both as the giver of life, and be the recipient and provider of pleasure to another.
Was religion the real threat here?
Or cultural conformism? That painted women into distinctly separate shades, for the rest of their life, anyway, spent playing one role or another.
Why can't we teach our girls, our women, to love their bodies, their physicality — and their soul? (Source: Reuters)
The temptress, the whore, the mistress, the r***i, the r*****l, the napaak, the apavitra, the chudail, the chinaal, the chamakchallo...
What if that was all there is?
I asked myself as I took in the sight of Geru, playfully splashing water on her friend's bare chest, the two little women, on the threshold of a momentous becoming, giggle unabashedly, their ankles twisted, criss-crossing each others'. As Geru helped her friend reach for her back, using a pink duck scrubber, as they closed their eyes, relishing the sight and feel of their naked bodies — droplets of moisture zigzagging past their faces, before disappearing into a vast, shapeless sea.
What if this battle is really ours?
Before and beyond a legal judgment.
After and above a religious scripture, a man made juxtaposition.
To normalise conversations with our daughters and sisters — to help them love and cherish their own body parts, with all its imperfections, to teach them to defy and break stringent gender rules that had held generations captive, guilty, shameful, pained, promiscuous.
To celebrate openly when they get their first period, instead of hiding stains and being embarrassed of the stink. Of being asked to demurely cover their heaving cleavages, the same way they were warned of the after-effects of taking on a lover, of pre-marital sex, of getting an abortion, the same way a woman had every right to decide on birth control, and birth, in particular. To say what we should have so many times, and couldn't or feared — that sex is beautiful and natural, the same way pleasure needs permission.
And that be it a distant deity in an ancient temple or a mosque where both sexes prayed together or a man who lay beside them — there was nothing impure about their carnal desires.
That creation was above God.